Ground cover for your rabbit
Order Ground Cover for your Rabbit easily and quickly at DRD Knaagdierwinkel® The online Rabbit Webshop for your Rabbit
Read more
Order Ground Cover for your Rabbit easily and quickly at DRD Rodent Shop ® The online Rabbit Webshop for your Rabbit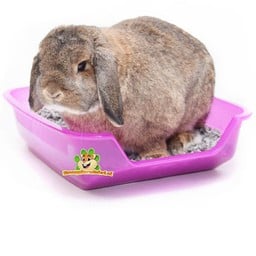 For rabbit ground cover for your Rabbit you are in the right place in our Rabbit Webshop . You will find different types and brands of ground cover here for an attractive price. Ordering is always easy and fast!
No rabbit ground cover?
More and more rabbits are kept without ground cover, but only a toilet. The smooth bottom of the cage can best be covered to prevent slipping. A nice covering of the bottom is for example the Hemp mat or the special plasma mat.
For the toilet it is best to use a good absorbent floor cover and for outside rabbits a thick pack of straw and warm ground cover for the night loft.
BOTTOM LAYER FOR RABBITS BOTTOM COVER

Because it is sometimes difficult to determine how much ground cover is required for a certain stay, we have made an overview for the most common stays and sorted by height of the soil layer. A thicker layer is recommended for excavable ground covers. A lower soil layer is recommended for non-excavable ground covers.
* Most ground covers are pressed-packed, increasing the volume by disassembling the ground cover and shaking it.