A toilet for your guinea pig can be handy and save time and bedding. Not all guinea pigs are toilet trained, one guinea pig will choose a corner and the other will do its business throughout the enclosure. However, there is a trick that can help the ca
Read more
Voor 17 uur besteld dezelfde dag verzonden!

Achteraf betalen!

10 JAAR het BESTE voor knager & konijn!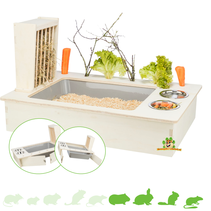 Order Toilet Bowls for your guinea pigs easily and quickly at DRD Rodent Shop!
A toilet for your guinea pig can be handy and save time and bedding. Not all guinea pigs are toilet trained, one guinea pig will choose a corner and the other will do its business throughout the enclosure. However, there is a trick that can help to potty train the guinea pigs.
Guinea pigs are herbivores (plant eaters). The Guinea pig's digestive system is kept going by the food that passes through it, so these animals need access to hay throughout the day. Because of this special digestion, guinea pigs defecate a lot where they eat. If they make a nibble at the hay rack, it may be an idea to place the toilet just under the hay rack so that the animals (unconsciously) go to the toilet. In this way a large part of the faeces can be collected and the rest of the ground cover stays clean for longer.