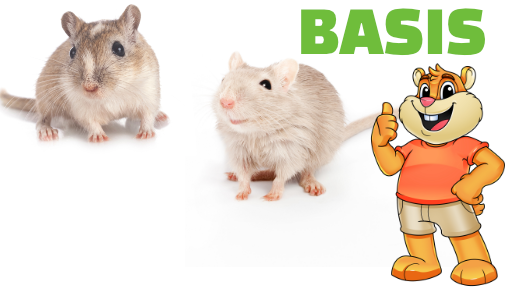 Basic equipment for the Gerbil
Most gerbil species are social, except the fat-tailed gerbil, which lives solitary. In our advice for basic furnishing, we pay particular attention to being able to display natural behavior in the animals.
Most gerbil species are social, except the fat-tailed gerbil, which lives solitary. In our advice for basic furnishing, we pay particular attention to being able to exhibit natural behavior in the animals. Gerbils are real diggers and that should of course be reflected in their stay in the form of a thick pack of bedding that they can dig in.
Gerbils, by the way, are great animals when it comes to grooming, as they are desert animals they urinate very little and you can hardly smell them.
gerbil cage
We have opted for a spacious terrarium with a high raised edge, which makes it possible to fill it well with a thick pack of bedding, so that the gerbils can dig. We have deliberately chosen a terrarium with sliding doors at the front so that the animals can be approached from the front. This is very important because gerbils are prey animals that are afraid to be approached from above. This will also help with taming the animals if approached from the front.
The minimum dimensions for a gerbil enclosure are 100 x 50 cm. For each additional animal, 20% - 25% extra ground surface must be calculated
Ground cover
We opted for Cotton & Wood Fiber plus a pack of Hemp Fiber as the bottom cover. The intention is to mix these two groundcovers with each other in order to achieve a wonderfully digable whole. It is important in a gerbil enclosure that the bottom is well covered when your gerbil pees on the bottom. It sometimes happens that some gerbils dig all the way down to the bottom of the enclosure and come up with their toilet there, with the result that the puddles remain on the bottom instead of in the bedding. This is virtually prevented by the combination of these two ground covers.
For gerbils, a layer of 30 cm is ideal!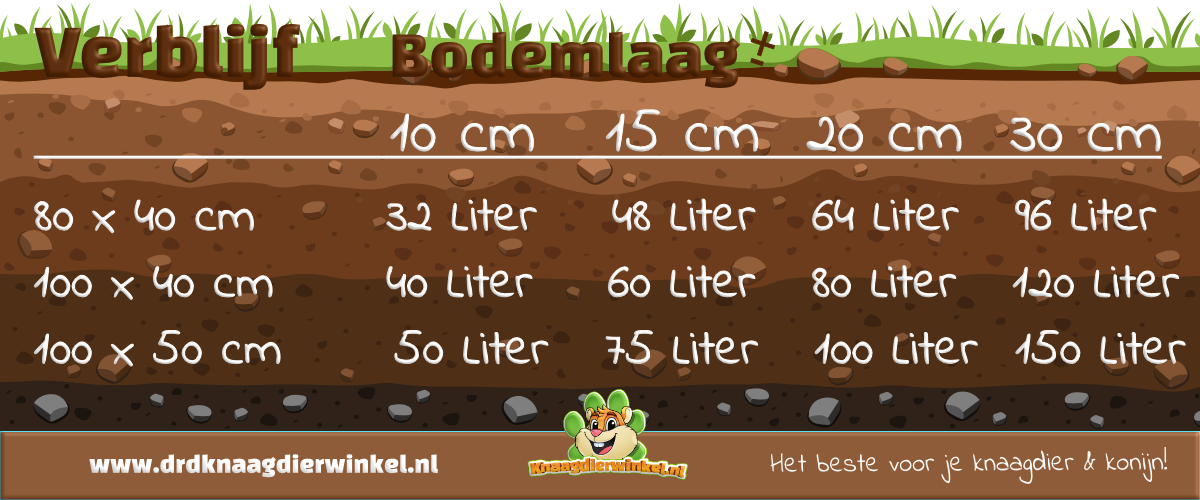 Sleeping house(s)
Gerbils also like different hiding places, but they are social animals so they want at least one house where they can sleep together. The thick pack of bedding provides plenty of opportunities to hide, but one or two stable houses are very welcome! For the basic house we opted for a multi-room house from Rodipet. Yes, it is a wooden house and wood + Gerbil does not always go well, but it is really an ideal house for the animals. It can be placed under the bottom cover or on legs at the top of the bottom cover, we have added the legs below. In addition, we have added a nice shelter to the basic interior, this house is 100% gnawing resistant and can best be placed above the ground surface as an extra shelter.
Nest material
Gerbils also like a nice, softly dressed litter. They often take soft materials into their house and use it to cover their sleeping place. We chose kapok as nesting material for the gerbils.
running wheel
As a running wheel we actually recommend the aluminum running wheel for gerbils, but since we are making a basic design, we don't want to make it too expensive right away. We therefore start with the running wheel that we would recommend after the aluminum running wheel, and that is the bare wooden running wheel. Yes we hear you thinking wood and gerbils don't go together, but this walking wheel is quite thick. If the animals do get to work with it, you save on gnawing material and they can gnaw on it for a long time! ... and run. You should then have the 29 cm.
gerbil food
Of course, your Gerbil must also have good food! We have chosen the beautiful food of the brand Little One as a basis. A very varied mixture that takes into account the susceptibility to obesity in gerbils.
gnawing material
As gnawing material we have chosen responsible gnawing material consisting of 100% natural hazelnut wood sprinkled with dried vegetables and herbs. The animals like to nibble on it and can also frame their teeth in this way.
snack
A delicious responsible snack that also provides activity is the linseed flax.
drinking bottle
They are the simplest bottles, but they work the best!
drinking bottle holder
We mainly keep gerbils in glass houses and it is a drama to place a bottle in this and an additional problem is that Gerbils are real rodents that gnaw almost everything. That is why we have developed special drinking bottle holders made of gnawing-resistant aluminum that you can easily attach to the glass with a magnet.
sandbox
Gerbils need a daily sand bath for a good coat and skin care. We have therefore opted for a stable sandbox where the sand stays in as much as possible! Let the bathing begin!


Below are all the products that we have described above. You can easily order the products below that you would like to include in your basic interior and if you have any questions or need help, please let us know!