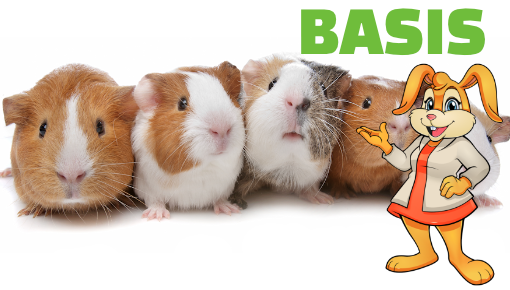 Basic furnishings Guinea pig
Would you also like to give your fluffy guinea pig friends a guinea pig casa where they can chill like royalty? No worries, we've got you covered with this great idea for a guinea pig paradise in your own room!
Here we'll show you how to create a true guinea pig villa - something that is not only guinea pig cozy, but also ensures maximum comfort for them and you!
The basis: Indoor C&C Run 140 cm
As far as we are concerned, this is one of the best enclosures for guinea pigs. The indoor C&C enclosure is endlessly expandable for the animals and therefore a very flexible enclosure. The panels can be raised using additional panels, this is especially recommended for rabbits, so that they do not jump over them. The low variant is suitable for guinea pigs. The accommodation can be further expanded with both barred and closed metal panels. There are also handy covers available and fleece blankets as ground cover.
✔ Endlessly expandable ✔ Ideal for Guinea pigs & Rabbits✔ Made of metal and powder-coated plastic x Exclusive Bottom Cover
Guinea pigs need space. Thanks to the C&C residence, this is now easier than ever. The panels can be ordered separately to expand, but also to shield parts of the living room (cables, plants) from the animals. The lattice panels consist of powder-coated plastic panels with metal lattices. The closed panels are made of metal.
The furnishings: Hide, play and discover!
Guinea pigs are social animals that like to be busy. They are prey animals, so we have to take their flight and hiding behavior into account. If they are startled or a little scared by something, they should always be able to retreat. Providing sufficient hiding places also gives the animals a safe feeling, which means they will feel more comfortable and will therefore become tamer towards you. We have suggested some fun and popular guinea pig houses and tunnels below.
Trixie Platter with hammock: You might not immediately think of it, but Guinea pigs
Ground cover
Guinea pigs need soft, dust-free bedding that absorbs well. We think the Bunnybedding Easy Plasmat 112 cm is a very nice bedding for guinea pigs. This is a soft dress made of anti-pilling fleece with absorbent flannel. The urine is absorbed into the molton. This way the guinea pigs always keep their feet dry. Depending on the size of the enclosure, at least 2 pee pads are required. The pee pads can be washed at 60 degrees. We have also added the Puppy Potty Mat to the selection, always handy to have as a backup.
Hay
Hay is very important in a guinea pig's diet. The guinea pigs must have unlimited hay available to them. The Vitakraft Alpine Meadow Hay 1 kg Vitaverde contains a natural content of tasty herbs and is generally very well eaten by the animals.
Hayrack
The Trixie Hanging Metal Hay Rack 20 cm with roof ensures that the hay stays neatly together. The rack is made of gnaw-resistant material and will therefore last a long time.
Drinking bottle
Of course, guinea pigs must always have access to fresh drinking water. The big advantage of a drinking bottle is that the drinking water remains clean. The Classic Drinking Bottle 1.1 L is large enough for several guinea pigs. You can also opt for, for example, 2 bottles of 600 ml.
Toilet
Guinea pigs are very difficult to potty train. However, they like to chatter while they eat. We can make smart use of this by placing a toilet under the hay rack! This way we will already collect a large part of the poop in the toilet. The Trixie Rodent Toilet Straight Nuno 36 cm is very suitable for guinea pigs.
Toilet bed
We use Back 2 Nature Ground Cover as toilet bedding. Back 2 Nature is made of paper and is completely dust-free. Moreover, it is also suitable for long-haired guinea pigs. The granules do not easily get stuck in the coat.
Gnawing material
Guinea pigs have a natural need to gnaw. This is also necessary for the teeth to wear out. In addition to hay to nibble on, it is important to also offer gnawing wood. Willow branches are very suitable and healthy gnawing material. The animals will gnaw it as needed. Don't they use it that much? Then that's not a problem, as long as they have it at their disposal.
Toys
Guinea pigs are active and curious animals. They need a challenge to keep them busy. This can be in the form of toys. Guinea pigs love nibble toys. The Trixie Toy Orange is a fun toy that can be nibbled, thrown and played with.
With these items you have a good basic furnishing for your guinea pigs. Of course you can adjust the design or add other things every now and then. You can view the products below and easily order what you like. Do you have any questions? Or do you need help furnishing the chinchilla enclosure? We would like to hear it!