Running wheels for Hamsters in the Hamster Webshop
Buy Hamster Running Wheels for your Hamster easily at DRD Rodent Shop®, the online Hamster Webshop for all your Hamster supplies. For walking wheels for your Hamster you are in the right place in our Hamster webshop. You will find different types here
Read more

Hamster and Dwarf Hamster Running wheels can be ordered easily and quickly at DRD Rodent Shop ® The Hamster Webshop for your Hamster!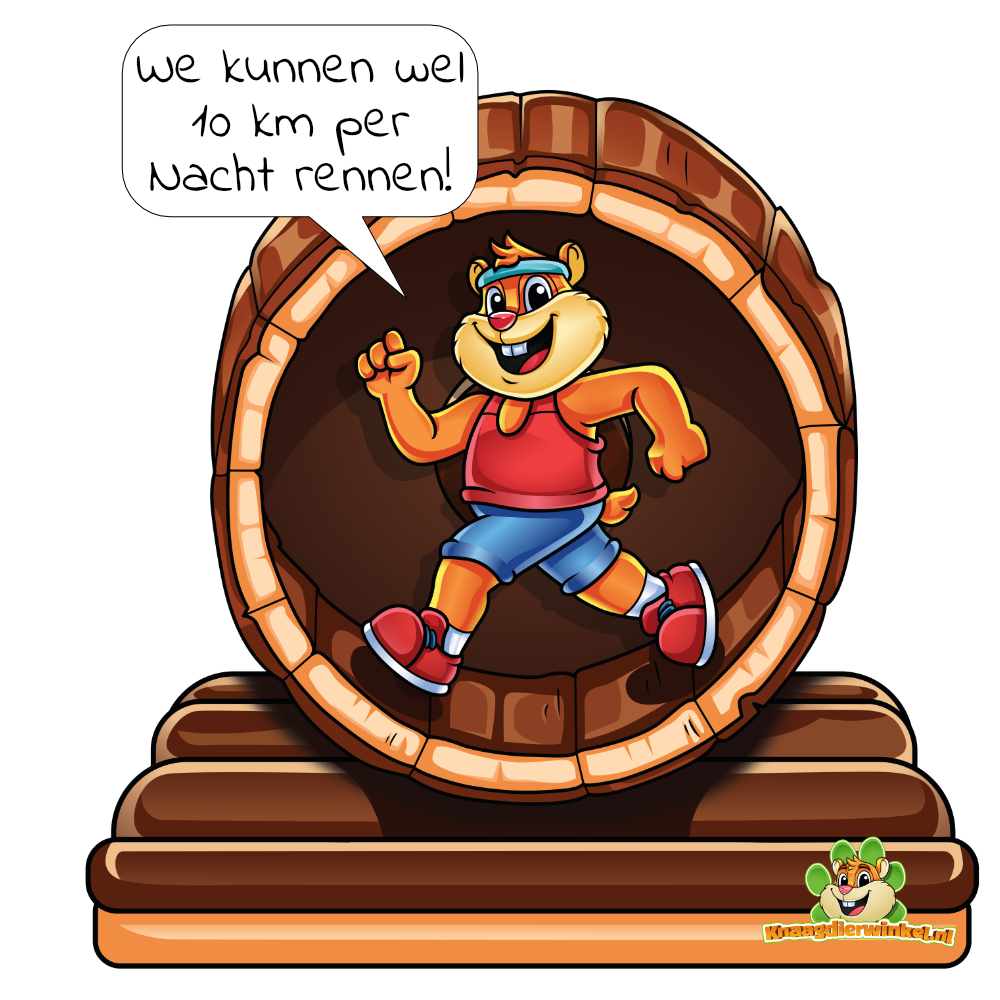 For Hamster and Dwarf Hamster running wheels you are in the right place in our Hamster webshop . Here you will find different types and brands of running wheels for an attractive price. Ordering is easy and fast in our Hamster webshop.
Hamsters and Dwarf hamsters need a running wheel
A Hamster or Dwarf Hamster needs a walking wheel. Research has even shown that the animals become much happier and stay healthier. Hamsters are active animals by nature and like to expend their energy. If they have too little space or too little to do in the cage, they can start to show neurotic or problem behaviors such as biting or railing.
Running wheel for different hamster species
Different running wheels are needed for different hamster species. A running wheel that is right for one hamster may be much too small or too big for another. Below we have listed the different hamster types and the size running wheel they need for convenience.
Roborovski dwarf hamster
Young animals 15/17 cm
Adult animals 17/20 cm
russian dwarf hamster
Young animals: 17 cm
Adult animals: 20 cm
Campbelli dwarf hamster
Young animals 17 cm
Adult animals 20 cm
Chinese dwarf hamster
Young animals: 17 cm
Adult animals: 20 cm
Syrian hamster
small up to 170 grams 27 cm
large from 170 grams: 30 cm
The material of the running wheel
What is the best material? Wood, Metal, Plastic? For the hamster it often doesn't matter what material the running wheel is made of, he is happy that he can run! A nice side effect of a wooden running wheel is that the nails wear out better than in a metal or plastic running wheel.
Cleaning wooden running wheels
It was always a challenge to clean a wooden running wheel, but luckily that is a thing of the past. There are currently two types of cleaning agents that can be used to easily clean wooden running wheels. The first is CSI Urine Spray and the second is the Eco Pets Urine Buster. Both cleaning products work on an enzyme basis and tackle the bacteria in urine. These bacteria provide the well-known urine smell. Both sprays remove the bacteria and dirt so that the running wheel is fresh and clean again.
Do not wash running wheels in water
It is not good for all running wheels to rinse them completely under the tap. It is very important that the turning mechanism (ball bearing) does not get wet. The more often the turning mechanism is flushed, the stiffer it becomes and can therefore start to squeak and run more smoothly.
We do not recommend washing wooden running wheels with water. Wiping with a damp cloth is not a problem, but it is not good for the running wheels to get them completely wet. Wetting the wheel can cause the glue to come loose.
Running wheel beeps
A running wheel can make more noise over time. For a squeaky running wheel, we recommend a drop of olive oil. This can be mounted on the turning mechanism.