Hamster & Dwarf Hamster Sand & Sand Bath
When it comes to grooming, a sandbox is recommended. The animals love to roll in the sand and clean their fur. The sand has an abrasive and degreasing effect. In the summer it even provides a little cooling
Read more
Buy a sand bath for your Hamster or Dwarf Hamster easily and quickly at DRD Rodent Shop ® The Hamster Webshop for your Hamster!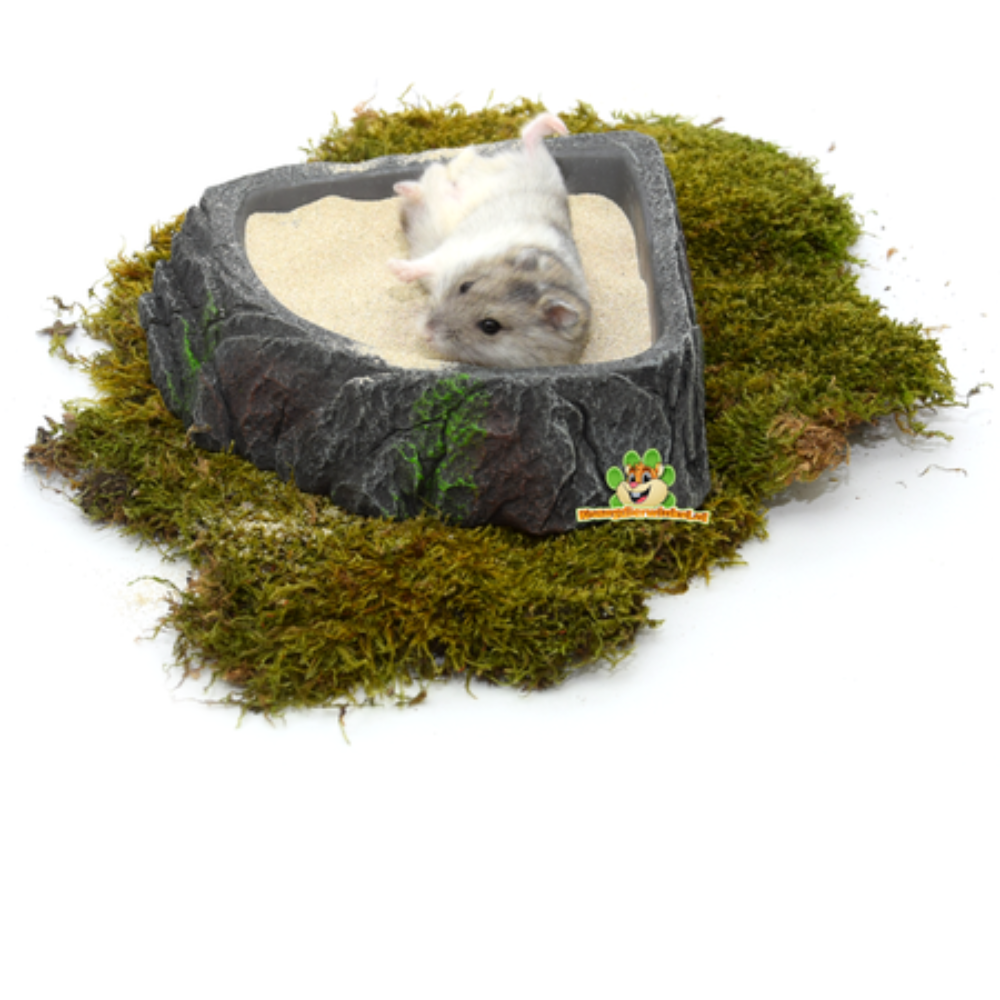 When it comes to grooming, a sandbox is recommended. The animals love to roll in the sand and clean their fur. The sand has an abrasive and degreasing effect. In the summer it even provides a little cooling thanks to its degreasing properties.
NB! Never use shell sand in the sandbox. This sand is too sharp for the hamster's skin.
Do Hamsters & Dwarf Hamsters need a sand bath?
In the wild, the animals use sand as needed. The Syrian Hamster mainly lives in sandy desert areas and therefore uses sand all year round for its night display. The Roborovski Dwarf Hamster also needs sand because it naturally comes from desert areas. The other dwarf hamster species, such as the Russian Dwarf Hamster, the Campbelli Dwarf Hamster and the Chinese Dwarf Hamster, like to use a sand bath if they need it.
Why use Chinchilla Sand?
We call it Chinchilla sand, but actually the sand is suitable for all small rodents that like to bathe. Chinchilla sand is a clay-based type of sand, which means that this sand best suits the natural habitat of the animals. The sand has a drying effect and that is also very important to be able to degrease the coat. Animals that don't naturally have a greasy coat will bathe in the sand less often.
For example, in the wild, Hamsters can only make tunnels in soils that contain clay, if only slightly. In this way, tunnels remain standing. The dried out clay soils are used by the animals as a sand bath.
Why do Hamsters and Dwarf Hamsters bathe in sand?
Hamsters and dwarf hamsters bathe in sand in the wild to keep the fur clean and grease-free on the one hand, but also to get rid of parasites, for example. Sand is also good for itching, because it has an abrasive effect. In addition, sand ensures that the coat is degreased and therefore stands more apart, which in turn ensures good ventilation and optimum humidity between the coat. The latter also prevents mold formation. Animals that really need a sand bath, such as Gerbils for example, can develop skin fungus in the absence of a sand bath.