Carefresh Pure White Ground Cover
Zaterdag besteld, maandag in huis!

Altijd 14 dagen bedenktijd
Veilig en achteraf betalen

Ordered before 4 pm, delivered tomorrow!
Product description
Carefresh Pure White for rodents!

Carefresh Pure White is a natural ground cover in a radiant white color. Carefresh Ultra is made from cellulose fibers. These fibers come from organic cultivation. Carefresh Ultra is also 2.5 times more absorbent than conventional ground covers. In addition, Carefresh Ultra is dust-free and therefore healthy for the airways of rodents. With this special ground cover from Carefresh you have the best quality at home! The cellulose fibers that are used for this are very soft and give your rodent an extremely warm feeling in his home and nest. A natural and soft white surface can also positively influence the mood.
The Carefresh Ultra ground cover convinces the entire range with its practical properties. For example, cellulose fibers absorb 2.5 times better than conventional soil cover. Carefresh Ultra is also 99% dust-free, which is very positive for the airways of your rodent. Carefresh has a special odor control that regulates odors for up to five days (large rodents). This way no unpleasant odors will spread through the house.
The cellulose fibers are biodegradable and therefore environmentally friendly. In this way not only your rodent is fully cared for, but also something good done for nature.
Advantages of Carefresh Pure White:
✔ Superior odor control
✔ Can absorb moisture up to three times its own weight
✔ Will last more than twice as long as wood shavings
✔ Is safe for humans and animals, without aromatic oils and toxic or harmful substances
✔ Offers Small animals natural comfort
✔ Environmentally friendly and can be disposed of with green waste
Instructions for use Carefresh Ultra
Fill the accommodation until the bottom is completely covered with Carefresh Ultra. The layer must be at least 5 cm so that the ground cover covers the floor of the accommodation well and can absorb it well. Below is a table in which we have indicated the approximate number of liters you need per change in time.
Save Save Save
Specifications
| | |
| --- | --- |
| Materiaal: | - |
| Liter: | - |
| Gewicht: | - |
| Geschikt voor: | Knaagdieren |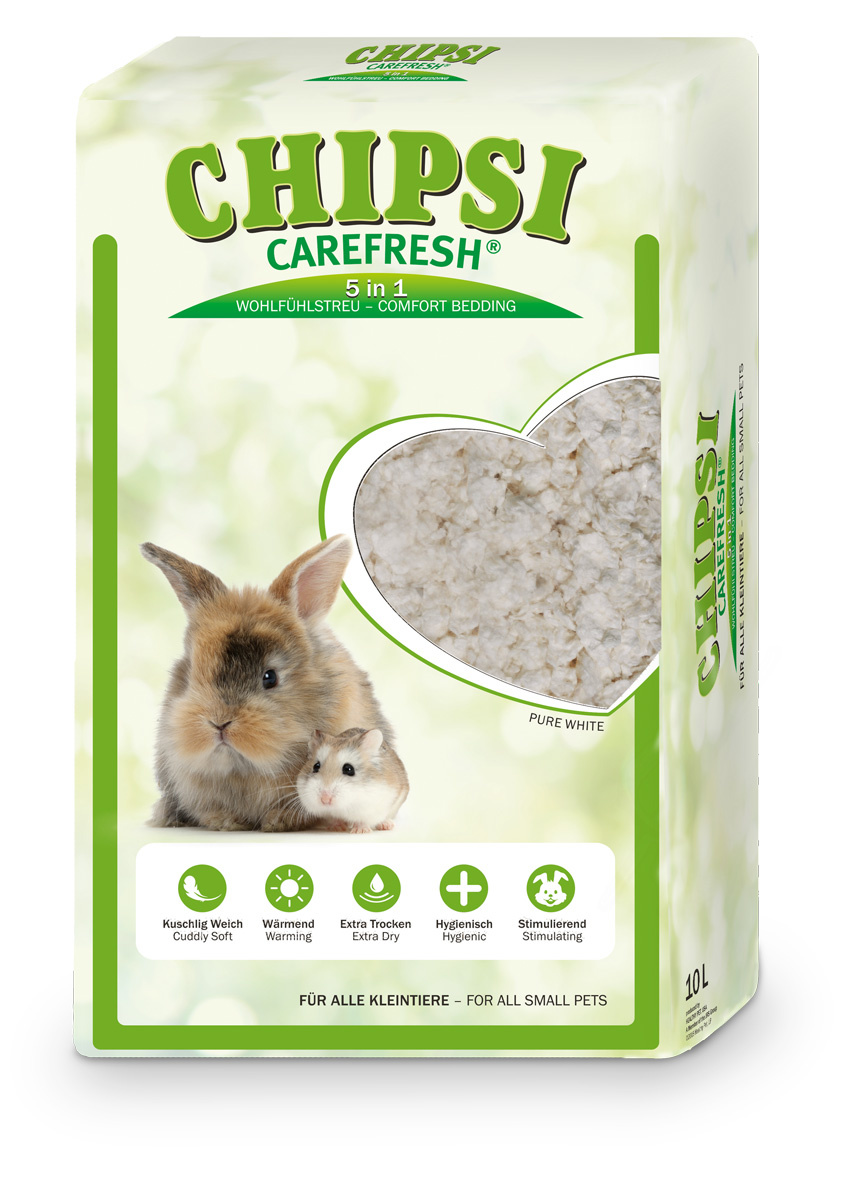 Het is een fijne bodembeddeking voor hamsters omdat de tunnels blijven staan en het is redelijk zacht, het enige nadeel is dat het in het begin heel erg naar stof ruikt maar het is niet stoffig. Later trekt dit wel weg. Als je bijvoorbeeld een klein pak koopt komt daar nog redelijk veel uit. Het is een aanrader!
Zachte absorberende bedding die lang meegaat. Mooie kleur ook goed te combineren met bruine of groene kleur bedding. Je kunt je hamster er ook goed in zien.
Hele fijne bodembedekking, geen luchtjes en heel fijn voor stof-gevoelige kids en hamsters
Perfecte bodembedekking; de hamster kan de goed in graven en spelen. En voor ons is het fijn dat het goed absorbeert en niet zoveel rotzooi maakt als houtvezel.
Supersnelle levering! Net voor 4 uur besteld en volgende middag al in huis, Top!!
Product is heel goed, fijne bodembedekker en houdt geurtjes lang tegen. Goudhamster is er blij mee!
Heel fijn deze bodembedekking en onze hamster is er dol op
wat een leuk spul! veel van gehoord dus was heel erg benieuwd! het is lekker zacht en ziet er leuk uit! mijn ene hamster vind dit spul super fijn en heeft ook meteen met een tevreden snoet een holletje gemaakt! mijn nieuwe hamster (vandaag gehaald) is er vast ook wel blij mee! ze is alleen nog niet tam en schuw dus heb nog geen complimenten van haar kant gehoord ;)
heel erg bedankt voor het plaatsen van dit product!
Ik heb heel veel van Carefresh gehoord, en het was allemaal zeer positief, dus ik besloot het zelf te bestellen en wauw. Ik was ten eerste verbaasd hoe klein de verpakking was; ik wist wel dat het 10 liter was maar toch. Er zijn geen grotere pakken te koop helaas :(. Ik was heel benieuwd hoe het aanvoelde, maar toevallig moest ik op die dag de hamsterkooi schoonmaken en als bodembedekking gebruikte ik natuurlijk Carefresh, en nu komt het positieve: het ging HEEL makkelijk uitelkaar, geeft niet echt veel troep want het zijn allemaal stukken zachte karton of zo en dat kun je heel gemakkelijk bij elkaar rapen. Het is heerlijk zacht en warm. Ik ben tevreden! Conslusie: het is een lekker zachte, warme en ook mooie bodembedekking, het enige nadeel is dus dat er geen grote verpakkingen te koop zijn, maar de bedekker zelf geef ik een hele, hele dikke 10!
Fantastisch! Heerlijk zacht! Helemaal niet stoffig, mijn hamster vindt het geweldig om er in te slapen. Kleine zak, ik zou er 2 bestellen. Mooie frisse kleur. Ik bestelde voor het eerst carefresh en dat zal zeker niet de laatste keer zijn..
Samantha
06 September 2015
Ik gebruik de Carefresh Ultra nu al een tijdje en ik ben er heel tevreden over. Ik vind vooral de witte kleur heel mooi. Af en toe wissel ik af met een andere kleur, maar de ultra vind ik toch wel het mooiste. Ik had het ook snel in huis!
Heb het nu voor het eerst voor mijn hamster gekocht. Heel fijn spul! Mijn hamster vind het fijn om er nestjes me te bouwen en er lekker in te liggen. Stuk zachter als zaagsel en blijft langer fris. Ruikt een klein beetje apart als je dichtbij komt, maar heb je verder geen last van. Vind het ook heel fijn dat het stofvrij is. Van zaagsel moest ik altijd niezen en hierbij niet. Stuk prettiger voor mij, en waarschijnlijk ook voor mijn hamster!