Rabbits Toys for playing and foraging in the Rabbit Webshop
Rabbit toys are fun for your rabbit and provide a challenge! Rabbits are very intelligent and curious animals that like to have something to do. Toys are therefore an important part for the Rabbit. For example, Rabbits love tunnels and diurnal
Read more
Order rabbit toys for playing and foraging for rabbits easily and quickly at DRD Knaagdierwinkel® The Rabbit Webshop!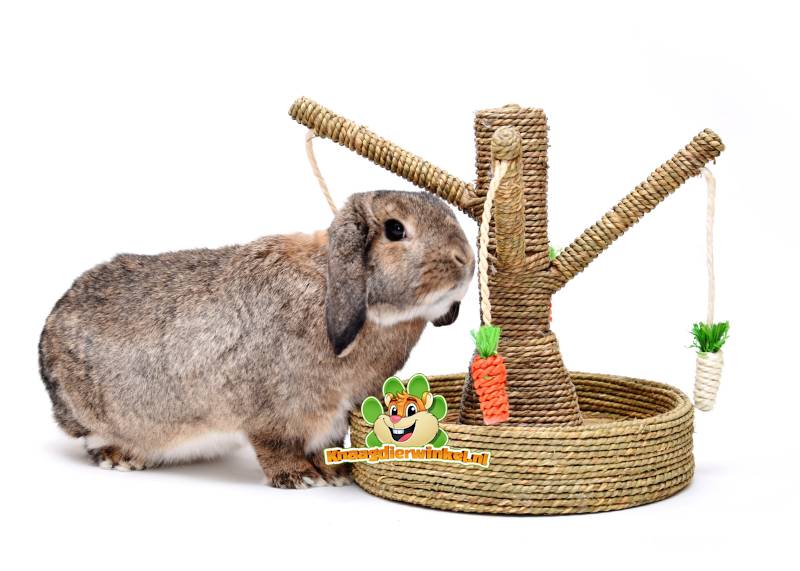 Rabbit toys are fun for your rabbit and provide a challenge! Rabbits are very intelligent and curious animals that like to have something to do. Toys are therefore an important part for the Rabbit. Rabbits love tunnels and daily challenges. It is important that the toys are suitable for rabbits, which is why you have come to the right place at DRD Rabbit Webshop. With us you have a wide choice of different types of toys for a competitive price! This way the rabbits will never be bored again!
Can rabbit toys prevent problem behavior?
Yes, that is certainly possible! Toys for rabbits are very important, because the animals really need something to do. As soon as rabbits start to become annoying, they can start to act "annoying" by, for example, gnawing on parts of the enclosure. Giving the rabbits toys gives them a challenge and makes them less likely to become bored.
What types of toys are there for rabbits?
There are different types of toys for rabbits, for example toys for gnawing, toys for demolition or toys with an extra challenge (training). The toys that can be demolished may be a strange category, but believe us, the rabbits love them. This includes, for example, willow balls, toys made of fibers, etc. It is intended to give free rein to the pent-up frustration. We prefer that the animals play on a toy rather than on each other or the enclosure!
Toys with a challenge are one of the most fun toys for rabbits. It not only gives the animals a fun activity, but also makes them think. Now it is often the case that a rabbit has a certain concentration time and if it takes too long they give up. That is why it is important to put intelligence toys together with the animal in the beginning. You have to encourage your rabbit a little and even show him how to do it in the beginning. It's not actually cycling, as soon as they can forget how to do it, they can't learn it anymore and they can enjoy it for years!
Why are foraging toys good for rabbits?
❤ Stimulate natural behavior: Foraging toys imitate the natural behavior of Rabbits , namely looking for food in their environment. Challenging them to search and dig for their food stimulates their natural instincts and keeps them active and satisfied.
❤ Physical Activity: Foraging toys encourage Rabbits to be active and exercise. They have to walk around, dig, push and pull to get to the rewards. This promotes exercise and helps maintain a healthy weight and good physical condition.
❤Enrichment of the environment: Foraging toys add an element of challenge and variety to Rabbits ' living environment. It makes their daily life more interesting and prevents them from getting bored in a monotonous environment. This can lead to better overall well-being.
❤ Prevents Overeating: Foraging toys make the feeding process slower and more challenging. This means that rabbits have to make more effort to get to their food, which means they cannot eat large quantities in one go. This helps prevent overeating and weight problems.
In short, foraging toys for Rabbits provide both physical and mental stimulation, help prevent boredom and promote natural behavior. It's a great way to improve their well-being and quality of life.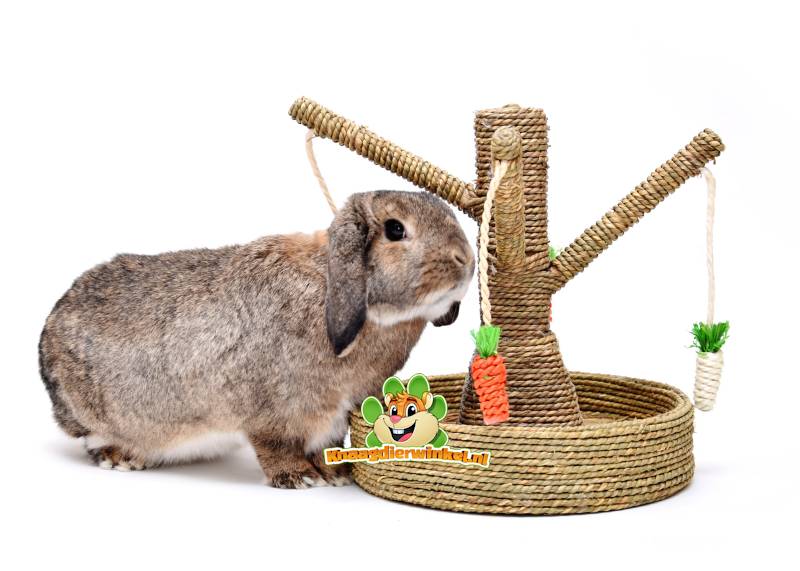 Save Save