Gnawing material for the Degu
Degus are among the real rodents when it comes to gnawing. They gnaw everything. Because the teeth of the animals are always growing, the Degus always need gnawing material. The teeth will largely wear due to the food and the
Read more

You can buy responsible gnawing material for your Degu easily and quickly at DRD Knaagdierwinkel ® De Degoe Webshop for your Degu!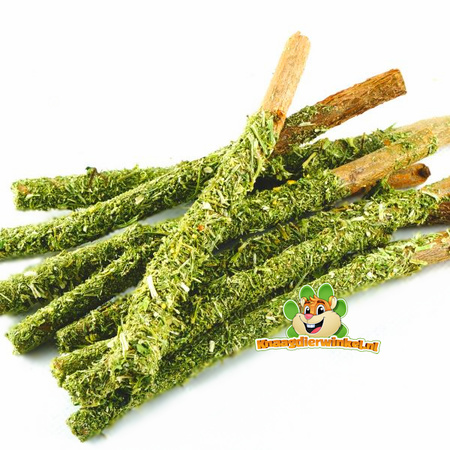 Degus are among the real rodents when it comes to gnawing. They gnaw everything. Because the teeth of the animals are always growing, the Degus always need gnawing material. The teeth will largely wear through feeding and eating hay, but many Degus get bored quickly and gnaw parts of the cage due to a lack of gnawing material.
In addition to a structure and fiber-rich hay, a degu must also have rodents at its disposal to meet its gnawing needs. Structured fibers ensure that the degu has to chew for a long time. By chewing, the teeth that grow throughout life wear out. Wearing of the teeth is very important for health. Teeth that do not wear well will eventually lead to dental problems, food intake problems and therefore also digestive disorders. Dental problems that have arisen must be treated and corrected by a veterinarian. Only by chewing large vegetable fibers for a long time do teeth rub continuously over each other and they can wear off. Long fiber particles ensure intensive chewing and therefore not only the necessary wear and tear of the teeth, but because the food stays in the mouth longer, it also ensures that enzymes from the saliva break down the nutrients. This eases further digestion in the gastrointestinal tract. Eating breaks (for example, from an energy-rich diet) can seem like serious digestive disorders and should be avoided. Normally, a degu eats a lot of small meals throughout the day and spends much of the day absorbing food.
Rodents are used by rodents to wear out their teeth. Because the teeth of rodents are always growing, they need to gnaw regularly so that they do not grow too long and grow crooked.
It is important that the gnawing material is responsible and safe, that is why we have selected a selection of gnawing material especially for the Degu that is really suitable for the animals. Because Degus are sensitive to diabetes, it is better not to use gnawing material enriched with sugary additives.
Most rodents, gnaw from boredom or from gnawing need (wear teeth).
It may also be nice to know that rodents mainly gnaw because they have to wear out their teeth. Every rodent has this gnawing need. Rodents may have their own preference when it comes to the type of rodent they like. One rodent will love to gnaw willow branches, while the other rodent will choose the Linde or Hazelnut. These specific preferences are great fun and must be invented by the owners. Ordering is always easy and fast at DRD Rodent Shop!