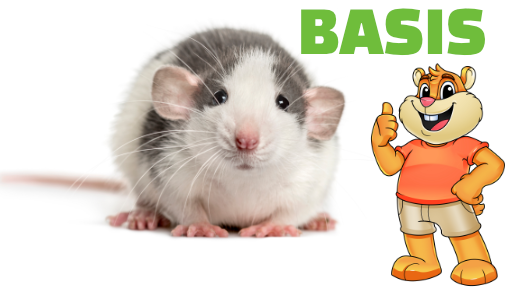 Basic equipment for Rats
Where to start when it comes to basic furnishings for Rats? We are happy to help! Rats are intelligent animals that need a lot of challenge in their enclosure.
Very important when keeping Rats is the fact that the animals are social, they really need to be kept together so that they can show their natural social behavior and be happy! In the summary below we explain why we chose this basic design. At the very bottom are the products we have come up with for the animals.
Ground cover
The bedding for Rats is something that we should pay close attention to. Many or perhaps most rats have very sensitive airways, which means they cannot tolerate dusty ground cover. In addition, rats produce a strong urine odor. The choice of ground cover is therefore very important. We have chosen a 100% dust-free ground cover as a basis: Back 2 Nature 30 Liter. This is the largest and most beneficial packaging for Rats. This can be used to cover the bottom of the enclosure and use it as filling for the toilet. For the rat enclosure, the base layer will be around 5 cm.
Playing layer
The play layer is a concept developed by us for different animals and can be applied in different ways. For the basic furnishings we choose the Cardboard & Cardboard Mix, because it is versatile and absorbs particularly well. For the Rats, we recommend partially covering the basic ground cover with a play layer. This layer ensures that the animals can forage (search for food). This is a very important part of natural behavior and takes away a lot of boredom. You can, preferably, scatter some of your own food around in the play layer so that the animals have to work for their food.
Toilet
This should absolutely not be missing, even if the animals are not (yet) toilet trained, the toilet must be in it! We have tried many different types of toilets and what we often see with Rats is that they are too lazy to climb all the way down to the toilet from their hammock at the top of the cage. Fortunately, we have managed to tackle this problem thanks to a toilet that you can easily hang at any height in the enclosure. Most toilets have a weak mounting system, but this one has a very robust mounting system so that the animals can do their business at great heights with peace of mind and that saves poop in other places where you don't want them!
PS: You can fill the toilet with Back 2 Nature
Urine Spray
Absolute MUST HAVE for Rats! Rats make small puddles to mark their territory. At a certain point the enclosure will smell strongly. It is mainly the parts that are difficult to clean, such as climbing ropes, climbing frames, etc. that are ideally treated with the CSI Spray. Just inject it, let it dry and a little later the urine is broken down.
Toys
Playing and climbing is what most Rats love to do, which is why we have added many climbing and playing options to our basic package. However, there is a difference between males and females. Females are more active than males. The males need more encouragement to take action, luckily we have tricks for that too. If you need help with this, please let us know!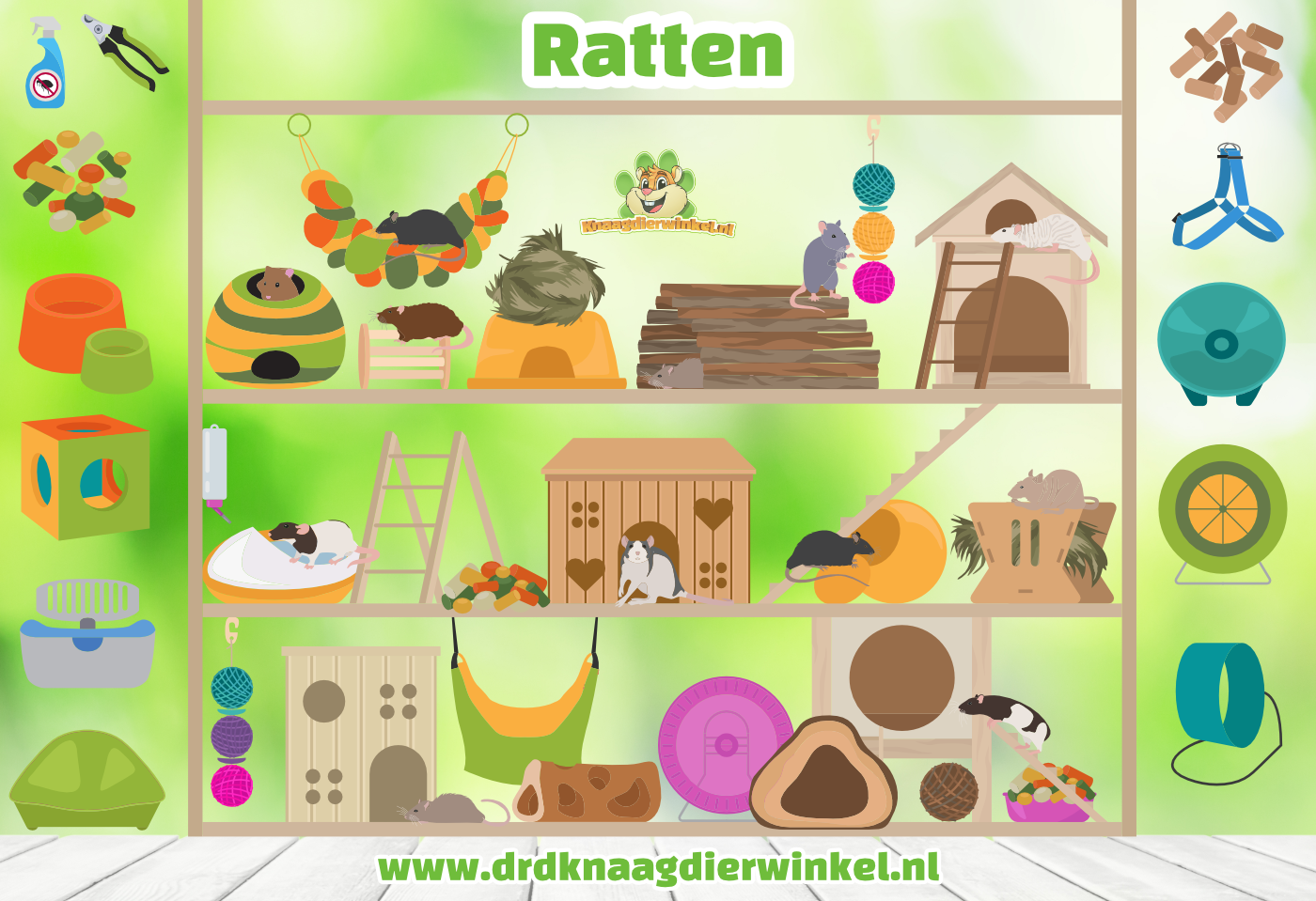 Sleeping house
We chose the Sputnik as a sleeping house, rats love it! All rats love it! We have not yet encountered a rat that does not like this hanging house. The sputnik is actually a cross between a sleeping house and a hammock made of plastic. As the animals' headquarters, it is wonderfully easy to keep clean = efficient for the owner! Below we will talk about nesting material that the animals themselves take to their homes. We have also added other hammocks and beds to our basic advice, because Rats love to lie in these. Rats are social animals, they like to sleep together, but if it is too hot or they want to isolate themselves for whatever reason, this should always be possible for them. Hence the extra hammocks and sleeping areas. In addition, they also offer an extra challenge.
Nesting material / Playing material
We officially call it nesting material, but for Rats it is also a bit of play material. The Crinkle paper is great fun, for example, to put in a digging bucket and let the animals search for sweets or treats. A nice side effect of playing and tossing in paper is that the fur becomes clean, which can be a good idea, especially for male Rats. The animals will also often take the Crinkle paper with them to their sleeping place. An advantage of paper is that it is dry and absorbs well.
Rat food
Only the best please! There are different types of rat food, we choose an all-in-one chunk from Supreme. We consciously chose this food, because it is made from vegetable proteins and the animals' urine smells less strongly.
Gnawing material
As a gnawing material, we have chosen responsible gnawing material consisting of 100% natural hazelnut wood that is sprinkled with dried vegetables and herbs. The animals enjoy nibbling on it and can also grind their teeth in this way.
Nails
We have added special climbing sticks that help wear the nails when the animals climb over them. It is nice to place these sticks diagonally above each other like a kind of staircase to a higher part of the enclosure.
Snack
As a snack we opted for a combination of tasty treats and a challenge. The sniffing forest game ensures that the animals have to think and make an effort to get to the treats. This provides a lot of entertainment on the one hand and satisfaction when they get the treat on the other. The sniffing forest can be filled with very responsible grain-free vegetable and herb drops.
Drinking bottle
They are the simplest bottles, but they work the best!


Below are all the products we described above. You can easily order the products below that you would like to include in your basic furnishings and if you have any questions or need help, please let us know!