Gerbil Care in the Gerbil Webshop
Gerbils need sand for optimal coat care. For Fat-tailed gerbils that is really a requirement. It is best to use special Gerbil sand or Chinchilla sand for this. These types of sand are very fine, safe for skin and coat of
Read more

You can buy Gerbil Care products easily and quickly at DRD Rodent Shop ® The Gerbil Webshop for your Gerbil!

Gerbils , like all rodents, need proper care. In addition to the general Gerbil care, there is of course the specific coat care of the Gerbil . We have placed the latter in its own category.
How should a Gerbil be cared for?
Care naturally includes good Gerbil food , a spacious Gerbil enclosure , ground cover , etc. But in this category we are talking about keeping the enclosure and the environment clean and fresh on the one hand, and products that enable supportive care of the Gerbil on the other.
Does a Gerbil need a heat lamp?
Gerbils are desert animals and certainly don't mind heat. They don't necessarily need a heat lamp , but they really like it. We have regularly observed our own Gerbils and seen that they lie down in the sun when it shines in the enclosure. They then really lie down in front of it, which is very nice to see. In winter, for example, a heat lamp could be very nice for the Gerbils, but certainly not a must.
Are Gerbils Clean Animals?
Yes Gerbils are very clean animals compared to many other rodents, they smell a lot less and the enclosure stays fresh and clean for a very long time. The only mess they make is knocking over the bedding, but we really like that because it means the animals are having a good time!
How should the Gerbil enclosure be cleaned?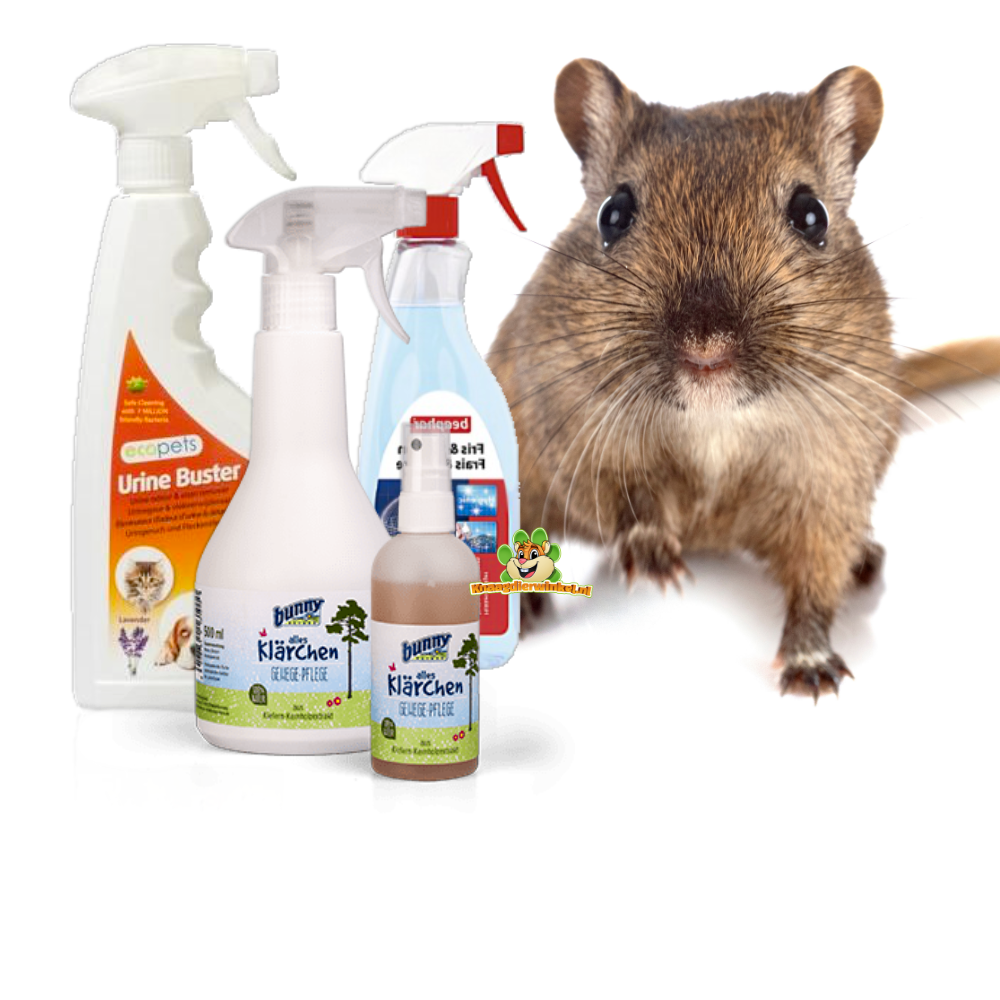 Because Gerbils are fairly clean animals, harsh cleaning agents are not necessary. It is very important that the cleaning products that are used are also safe for the Gerbils. Fortunately, we can help with this and we have made a selection of safe cleaning products in this Gerbil category.
Can a Gerbil be washed?
No, a Gerbil should not be bathed or bathed. The animals absolutely do not like water and can catch a cold if they get wet. A sand bath is sufficient for good coat care. If for any reason the animals become very dirty, a dry shampoo can be a solution.
What to do with food moths in Gerbils?
Feed moths are undesirable, but it can certainly happen that they come along with the Gerbil food, for example. We have special Feed Moth Pheromone Traps for this, with which these unwanted insects can be stopped quickly and effectively. For more information about the feed moth, we would like to refer to an extensive blog about the feed moth .