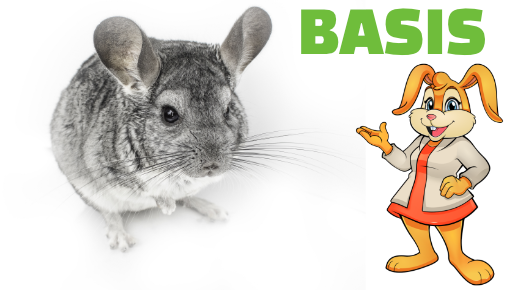 Basic equipment for the Chinchilla
Chinchillas are social animals that should always be kept with a friend. Chinchillas are mainly active at dusk and in the evening. They are very nice, but not easy animals to keep.
Chinchillas are social animals that should always be kept with a friend. Chinchillas are mainly active at dusk and in the evening. They are very nice, but not easy animals to keep.
Ground cover
We have chosen back 2 nature as basic bedding for chinchillas. This is a floor covering made of paper that is very absorbent.
Sleeping houses
The chinchilla cage must have sufficient hiding places. This means that there must be a hiding place for every animal. We have chosen the Trixie Rodent Willow House Basket 42 cm. As a second hiding place we chose the Trixie Wilgenbrug Blank 52 x 30 cm.
Sandbox
Chinchillas need chinchilla sand to care for their coat. As a sandbox we chose the stainless steel Chinchilla sandbox 29 cm. This sandbox is gnaw-proof. In addition, the open character is pleasant for the airways and provides a lot of freedom of movement. We use Chinchilla sand from Witte Molen to fill the sandbox. The sandbox must be filled so that it is heavy enough and will not fall over if a chinchilla stands on the edge.
Feed
Of course, chinchillas also need food. Hay is very important! Chinchillas should always have hay available. This is essential for their digestion. We have chosen the Alpine meadow hay 1 kg VitaVerde from Vitakraft. In addition to hay, chinchillas also need pellets. We chose Supreme Selective Chinchilla 1.5 kg.
Food trough
The chunks are best offered in a food bowl. We opted for the Hugo Auratus Cup. This is a beautiful, robust food bowl with a natural appearance. The food bowl is made of untreated birch wood and can therefore be gnawed to your heart's content!
Hayrack
We offer the hay in a hay rack. This way the accommodation remains as tidy as possible. A suitable hay rack is the Trixie Hay Rack Wood Square 15 cm. The rack is made of natural wood and is collapsible.
Gnawing material
Chinchillas are real rodents. We always have to be careful about what materials we can place in the cage, because they will gnaw almost everything to pieces. This seems like undesirable behavior, but gnawing is necessary to wear down the teeth! That is why we must ensure that there is sufficient gnawing material in the enclosure. We have chosen the JR Farm Back to Instinct Herbal Gnawing Carrot. This is a hard beech root filled with tasty herbs. The herbs make the root extra attractive to gnaw.
Snack
Of course we want to spoil the chinchillas every now and then. However, not all snacks are suitable for chinchillas. Chinchillas have a very sensitive digestive system and snacks should not contain too much sugar, fat or protein. We have chosen the Dried Rosehips here. A rose hip is a suitable snack for chinchillas. However, the following applies to all snacks: in moderation!
Drinking bottle
Of course, chinchillas also need drinking water. For chinchillas we recommend using a drinking bottle. A container can quickly become contaminated. In addition, chinchillas are very sensitive to pneumonia, so they should not get wet. The drinking bottle must be gnaw-resistant. That is why we chose the Trixie Glass Drinking Bottle 500 ml.
Toys
It is of course important that the chinchillas enjoy themselves. Chinchillas are curious animals and like to have something to do. The Colored Willow Balls 3.5 cm are great fun for chinchillas. These willow balls are colored with 100% natural dyes. Completely safe to nibble on! And now we just have to wait and see how quickly they are demolished!
With these items you have a good basic furnishing for your chinchillas. Of course you can adjust the design or add other things every now and then. You can view the products below and easily order what you like. Do you have any questions? Or do you need help furnishing the chinchilla enclosure? We would like to hear it!