Care products for Rabbits in the Rabbits Webshop
Buy Care products for your Rabbit easily at DRD Knaagdierwinkel® the online Rabbit Webshop for all your Rabbit toys and accessories For the best care products for your rabbits, you are at the right place in our Rabbit webshop ...
Read more
Buy care products for your rabbits easily and quickly at DRD Rodent Shop ® The Rabbit Webshop for your Rabbit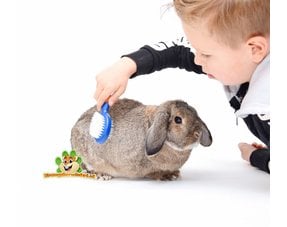 For the best care products for your rabbits, you are in the right place in our Rabbits webshop. Here you will find different types and brands of shampoo, brushes, combs and toilets for an attractive price. Ordering is easy and fast in our Rabbit webshop.
The care of rabbits differs per rabbit, but in general all rabbits need a good brush and a haircut every now and then and a good toilet is never gone.
A rabbit that is house-trained will always put his needs in the toilet and that will save a lot of work. To house a rabbit it is wise to place the toilet close to the hay rack. The toilet must be large enough for the rabbit to comfortably enter. Fortunately, with us you have a very wide choice of different types and sizes of toilets.
Rabbits that do not come out or have no ability to wear nails may get nails too long. It is therefore important to regularly check and cut the nails of rabbits. When cutting it is very important not to cut the life of the nail, because that is particularly painful for the rabbit! A rabbit nail can also not be cut with normal scissors, it must be cut with a special rodent scissors, so that the nail is cut smoothly and safely.