Everything for your Rabbit in the Rabbit Webshop!
Are you looking for Rabbit items and supplies? Then you are at the right place at DRD Knaagdierwinkel®! You will find a wide range of rabbit items with us, such as rabbit feed, rabbit toys, rabbit houses, rabbit nest material, rabbit
Read more
The Rabbit Webshop for all your Rabbit articles & supplies!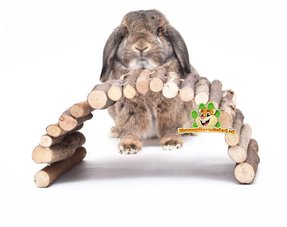 If you are looking for rabbit items and supplies then you are at the right place with our Rabbit Webshop! You will find a wide range of rabbit products, such as rabbit food , rabbit toys , rabbit house , rabbit nesting , rabbits gnawing material , rabbit bedding and much more.
Rabbits are one of the most popular pets and that is no wonder because they are very nice pets!
Rabbits are active, intelligent and social animals that must always be kept together. Rabbits that are kept together can show their natural social behavior and that is wonderful to see. They look after each other, play with each other and really seek each other out for attention. It is very nice to see how they treat each other! Read the rabbit information here!