Gerbil Hay, Herbs and Seeds in the Gerbil Webshop
Gerbil Herbs and Seeds are not only tasty, but also very healthy for Gerbils! The animals mainly eat seeds, plant parts and animal proteins. The plant parts usually consist of the stems, leaves and flowers of different herbs
Read more

You can order Gerbil Hay, Herbs and Seeds quickly and easily at DRD Rodent Shop ® The Gerbil Webshop for Gerbils!
Gerbil Herbs and Seeds are not only tasty, but also very healthy for Gerbils! The animals mainly eat seeds, plant parts and animal proteins. The plant parts usually consist of the stems, leaves and flowers of various herbs. Gerbils are granivores, the herbs are eaten according to need.
Which seeds are suitable for Gerbils?
There are many different seeds that are suitable for Gerbils. Gerbils are namely "Granivores", which means seed eaters. Only a limited number of seeds are available in Gerbils' home countries, but luckily there are many more in our home! In this category we have selected a wide range of seeds for Gerbils that are suitable for the animals and are even very healthy. Seeds contain essential oils and fats that the body needs for a beautiful skin, coat, but also for good brain function.
Can the seeds be used as an enrichment for Gerbils?
Yes, for sure and we strongly encourage that! That is why we have many seeds that are still on the plant, so no loose seeds, because that is boring! Because the seeds are still attached to the plant, gerbils can harvest the seeds themselves, which provides wonderful enrichment for the animals. We also call this food enrichment . In the wild, Gerbils run around the desert in search of food. It is very nice to also imitate this at home by placing the harvest here and there, for example by sticking it in the ground cover so that it stands upright.
Do Gerbils Need Herbs?
Because Gerbils in the wild also eat plant parts such as the roots, stems, leaves and flowers of various plants and herbs, it is advisable to give the animals in our home the opportunity to eat this as well. Most good Gerbil diets already contain some herbs. If, for whatever reason, an all in one lump is fed, then occasionally scattering herbs around is a good idea. The extra fiber will have a good effect on the intestines of the animals.
Can Gerbils Have All Herbs?
No definitely not! Always be careful with herbs. The herbs that we have selected are suitable for Gerbils, but there are also herbs that should not be given because they can have a bad effect. We also advise against giving fresh herbs without a good knowledge of herbs. Fresh herbs are many times stronger than dried herbs, which means that the effect on digestion can be many times greater due to the fresh ingredients. Gerbils are desert animals that mainly eat dry plant parts, just like in the desert (dry plants).
Do Gerbils Like Herbs?
Gerbils eat herbs as needed. To better understand this, let's take a look at how the animals live in the wild. Gerbils live in a warm and arid environment. It is vital to get as much energy as possible, which is why Gerbils prefer energy-rich food, but that is difficult to find. Energy-rich foods include, for example, plant seeds, which contain energy-giving carbohydrates in addition to essential oils and fats. Gerbils will therefore always prefer the seeds to the herbs, but fiber is also needed for good digestion and the herbs provide that.
Do Gerbils Need Hay?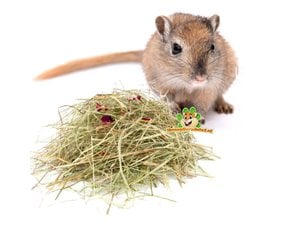 Hay is not only nice to nibble on, but can also be used as a reinforcement of the ground cover. In this way the animals can improve their gaits. In addition, hay is a source of fiber and helps to wear down the teeth of rodents. Gerbils also use the hay to cover their sleeping area.