Care products for guinea pigs in the Cavia Webshop
Buy Care products for your Guinea Pig easily at DRD Pets Cavia Webshop, the online Cavia Webshop for all your Cavia supplies. For the best care products for your Cavia you are in the right place in our Cavia webshop. You will find diff ...
Read more
Order Care products for your Guinea Pig easily and quickly at DRD Rodent Shop the online Cavia Webshop for all your Cavia supplies.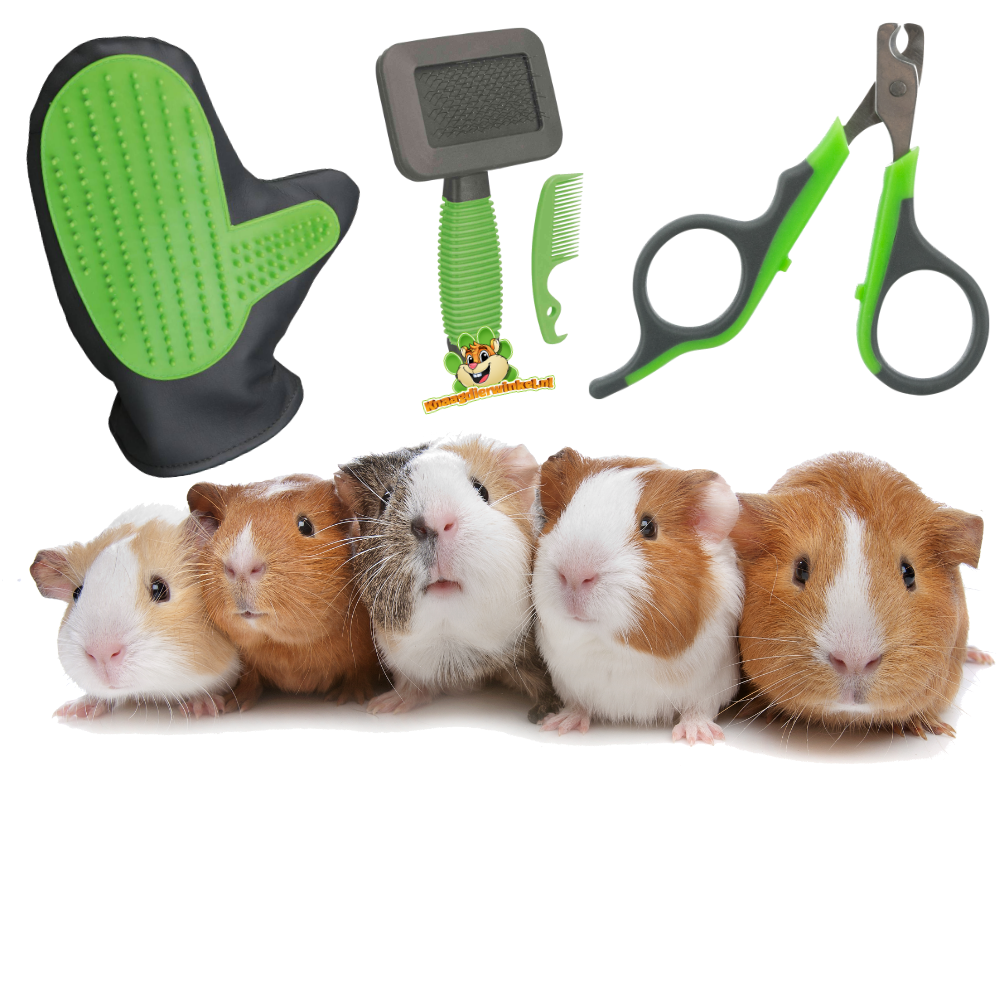 Long-Haired Guinea Pigs should be brushed regularly, especially during the shedding period. The shedding is triggered in guinea pigs by various factors such as day length, hormones, temperature and even humidity. Guinea pigs shed mainly in the spring and fall, but a little hair loss throughout the year is normal.
Guinea pigs take good care of their fur. For most short-haired guinea pigs, a glove removal is sufficient, but the long-haired guinea pigs need more attention when it comes to coat care.
For good coat care we recommend an anti-slip mat and the right brushes. An anti-slip mat can easily be placed on the table or even on your lap. The mat stays in place and the animals have a grip, which they find very pleasant. It is also soft and furthens any small joy puddles.
Check the guinea pig for tangles weekly. Try to untangle it with your fingers, it is easier and often softer than with a comb. If that does not work, it is advisable to cut it out. Do not brush or comb, it can be too painful. Make sure you keep a correct distance between the burdock and the skin!
Did you know?
Brushing stimulates blood circulation and the animals get better blood flow.
Cavia breeds such as the Rex and US-Teddy can be brushed with a fur brush. For long-haired breeds, a rotary tooth comb is better. Make sure you take all layers of the coat with you during the brush or comb turn. Always brush with the coat direction during coat care.
Myiasis (Maggot disease)
Be careful with guinea pigs that live outside, especially in summer. If feces get stuck to the coat, where flies come off, problems can arise. The flies will lay eggs in the guinea pig's fur and the maggots that come out can cause major health problems. Therefore, always make sure that the accommodation and the guinea pig are fresh and clean. There are also special protective equipment that keeps the flies at bay.
Cut guinea pig nails
A good nail length is about a quarter of an inch below life. Take care when cutting the guinea pig nails! The nail is hollow and nerves run at the base of the nail. If the nerve (life) is cut, this is very painful for the guinea pig. Life is easy to see with light nails, but with dark nails much less or not at all. If you do not dare, contact a guinea pig trimmer or your vet.
Pay attention! Never use normal scissors to cut the nails. The guinea pig nail must be cut with a special pair of scissors that are rounded. The guinea pig's nails are round and must be cut in a curve. If they are cut with normal scissors, the nail can split or break painfully.

Save Save