Gerbil Houses in the Gerbil Webshop!
Gerbils need their own sleeping house where they can retreat. In addition to a place to sleep, a house also provides an extra sense of security for the Gerbil. We understand this need! That is why you are looking for a house for your Gerb...
Read more

You can order gerbil houses easily and quickly at DRD Knaagdierwinkel® The Gerbil Webshop for your Gerbil!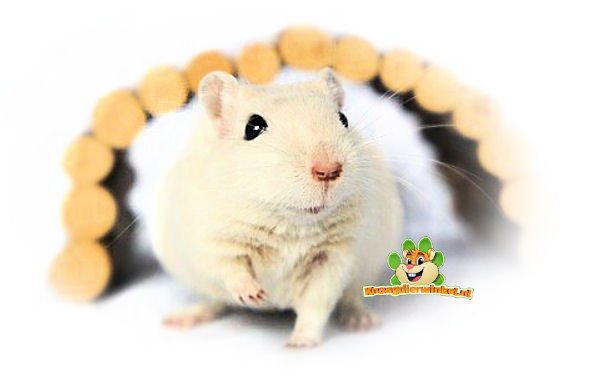 Gerbils need their own home where they can retreat. In addition to a place to sleep, the house is also a resting place for the Gerbil. However, the house must be safe and suitable for your Gerbils. You have come to the right place at DRD Knaagdierwinkel® !
How big and how many houses do Gerbils need?
Gerbils are herd animals . It is therefore important that the house or houses are spacious enough. The animals also like to sleep together. Our advice is to take at least one large house for the Gerbils and one or two smaller houses (depending on the group size). Although Gerbils like to sleep together, they sometimes want to isolate themselves, for example if there is a disagreement in the group. By giving the animals multiple houses, it is possible to sleep separately if necessary in the Gerbil group.
Do Gerbils gnaw the houses apart?
Gerbils are also real rodents . Although they do not necessarily have to gnaw everything to pieces, it is wise to choose wooden materials. This also helps with the wear of the teeth. To prevent Gerbils from gnawing on the houses, our advice is to give the animals gnawing material , preferably gnawing wood .
Which houses are suitable for Gerbils?
Gerbils are lucky! because many houses made for Hamsters are also a good size for Gerbils. Gerbils are prey animals and do not like to walk around the enclosure openly. If they occasionally come across a shelter where they can escape, they feel a lot safer . The best houses for Gerbils are multi-room houses . It is important that there is a part of a house that is shielded from daylight. Our advice is therefore to place at least one multi-room house in the enclosure and one more house per animal. Gerbils like to sleep together, so at least one house in the enclosure must be large enough to accommodate the entire group.
Are multi-room houses fun for Gerbils?
Yes for sure! Gerbils like multi-room houses . That has everything to do with the way they live together in the wild. In the wild, gerbils dig tunnels and in this way create entire castles where the group lives together. A multi-room house mimics the different rooms that animals have in the wild. We have already mentioned that Gerbils also need separate houses if they want to isolate themselves from each other. A multi-room house also offers this option. A multi-room house of three rooms provides space for three animals separately and at least twice as many if they sleep together. Most multi-room houses have a removable roof, so you can take a look at the Gerbils. This is always useful to check how things are going in the nest.
Are plastic houses suitable for Gerbils?
Yes and no. Gerbils are real rodents , they will quickly gnaw a plastic house and this can cause sharp edges or the animals can ingest pieces of plastic. Although not all Gerbils will gnaw on a plastic house, because they sometimes do not like the material, the vast majority of animals do. We therefore recommend Gerbils wooden houses made of untreated natural wood . In this category we have only selected suitable houses for the Gerbils and have actually omitted plastic houses.
Are grass houses suitable for Gerbils?
Yes, great fun and nibbleable for the Gerbils! It is true that a grass house will most likely be demolished quite quickly by the Gerbils, but what fun they will have! Just the LOL they have together tearing apart the house is reason enough to get one for the animals. While nibbling , the teeth also wear down and the animals even ingest some fibers.
Are houses made of polyresin (synthetic resin) suitable for Gerbils?
Yes, houses made of synthetic resin are certainly also suitable for Gerbils. Synthetic resin is very hard plastic. It is many times harder than plastic and free of toxins. Gerbils generally don't like gnawing because it is annoyingly hard. Of course there will always be Gerbils who do not shy away from this challenge :)
How should Gerbil Houses be cleaned?
Gerbil are very clean animals. Of all rodent species, Gerbils are among the cleanest animals . They almost never soil their house. But how does that actually happen? Most soiling is caused by urine. However, gerbils are desert animals that are naturally very economical with water and therefore urinate less than other rodent species. This means that Gerbils hardly smell and the houses therefore remain cleaner. If a house starts to smell after a longer period of time, we recommend a urine spray for wooden houses. This breaks down the urine.


Gerbils Save Save Save Save Save