Hay racks for chinchillas
Buy your hay rack for your chinchillas easily at DRD Rodent Shop®. For a hay rack for your Chinchillas you are in the right place in our Chinchilla webshop. Hay is a very important part of a chinchilla's diet. The hay k
Read more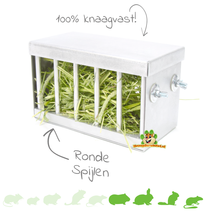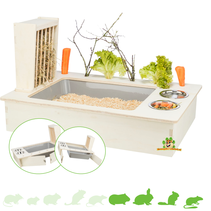 Voor 17 uur besteld dezelfde dag verzonden!

Achteraf betalen!

10 JAAR het BESTE voor knager & konijn!

Buy your hay rack for your chinchillas easily at DRD Rodent Shop®. For a hay rack for your Chinchillas you are in the right place in our Chinchilla webshop. Hay is a very important part of a chinchilla's diet. The hay is best offered in a hay rack. This keeps it together well and the animals cannot pee over it.
A good hay rack should be made in such a way that the animals can get their muzzle part between the bars, but this usually only works particularly well with vertical bars (because most animal noses are not that wide, but they are high/long). However, the animals must not be able to put their heads through them, otherwise their heads could get caught between the supports. If you see that your animal's head can go through the bars, then take the rack out of the enclosure and choose a rack with a smaller spacing. For chinchillas, a distance between the bars of roughly 2.5-3 cm is recommended. For young animals, of course, a smaller spacing between the bars should be chosen.
Wooden hay racks are very beautiful and have a natural look. However, it is possible that the chinchillas will also nibble on the rack in addition to the hay. A metal, or in particular an aluminum hay rack lasts a lot longer. There are many different types of hay racks available. Each hay rack can be used in its own way. For example, one hay rack can be hung and the other can be put down. It's also a nice idea to give the animals a fixed hay rack, so one that can be attached to the bars or the wall and another to hang up for extra challenge and movement.