Farmer's Straw Granule Ground Cover & Toilet Filling
Zaterdag verzending!

Altijd 14 dagen bedenktijd

Getest op geschiktheid

In stock soon!
Product description
Farmer's Straw Granule Ground Cover & Toilet Filling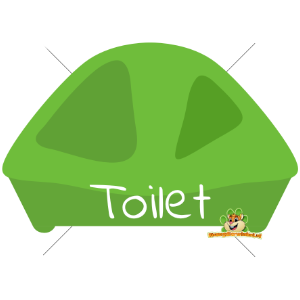 Toilet
This bedding is very suitable as a toilet filling for rodents and rabbits. Thanks to the great absorbent power, the toilet stays clean and fresh for longer.
Farmer's straw consists of 100% straw and therefore not only meets the natural nutritional needs of the rodent, but also effectively absorbs liquids. It is good for the environment because the straw (which is a completely natural product) is biodegradable and therefore easy to compost.
✔ Natural containment of odors
✔ Good Absorbent
✔ Suitable for rodents and birds
✔ Dust-free and very suitable for the toilet
Natural product made from wheat straw in pellets No chemical additives 100% compostable.
Directions for use Farmers Straw pellets
As a base for small rodents (Mouse, Dwarf Hamster, Hamster, Gerbil)
For small rodents, the straw pellet can be used as a bottom layer that protects the bottom of the accommodation. Gerbils in particular sometimes want to completely undercut themselves in the standard ground cover and then pee on the bottom of the enclosure. Thanks to an underlay this can be prevented. Straw pellets are not suitable as standard bedding for these small rodents because unfortunately it cannot be digged and the animals cannot exhibit their natural behavior.
As bedding for large rodents (Rat, Guinea pig, Rabbit, Chinchilla, Degu)
Fill the housing until the bottom is completely covered with Farmers Straw Pellet. The layer must be at least 5 cm, so that the ground cover well covers the floor of the accommodation and can absorb it well.
As toilet filling for rodents and rabbits
Thanks to the pleasant grain shape and good absorption, Farmers Straw Pellet is well suited as toilet fillings. The Straw pellet is only suitable as toilet filling for larger rodents, such as Rat, Guinea pig, Rabbit, Chinchilla, Degu and rabbits, for smaller rodents such as Mouse, Dwarf Hamster, Hamster and Gerbil, the pellets are too coarse.
Specifications
| | |
| --- | --- |
| Material: | - |
| Liter: | - |
| Weight: | - |
| Suitable for: | Knaagdieren |
| Particularities: | - |
Goede bodembedekking icm katoen
Ik vind het erg zwaar en grof. Het is wel eetbaar. Dat vind ik een plus, omdat ik een zieke cavia heb die bodembedekking eet. Mijn twee ladies vinden het echter niet zo fijn om erin te zitten. Maar goed, ik heb ook te dealen met twee prinsesjes. Ik zie dit dan ook meer als een aanvulling op andere bodembedekking.
Ideaal onder zaagsel neemt veel vocht op niet schadelijk als knaagdier het opeet