Houses for Dwarf Hamsters
Buy everything for your Dwarf Hamster easily at DRD Rodent Shop®. The Dwarf Hamster Webshop for all your Dwarf Hamster items & supplies. Are you looking for a nice home for your Dwarf Hamster? Then you are at the right place at DRD Hamster Webshop.
Read more
Buy houses for your Dwarf Hamster easily and quickly at DRD Rodent Shop ®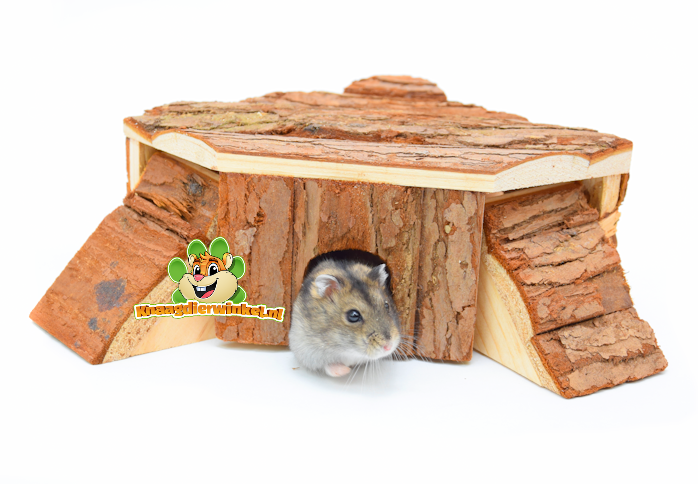 Are you looking for a nice home for your Dwarf Hamster? Then DRD Rodent Shop ® is the right place for you. You will find a wide range of houses for Dwarf Hamsters with us. Ordering is easy and fast in the DRD Hamster Webshop.
Is a Dwarf Hamster smaller than a Golden Hamster?
Dwarf hamsters are a lot smaller than the normal Golden hamster. The houses are therefore often a bit smaller. A house from 9 cm is already suitable for a dwarf hamster.
What is the function of a house for a Dwarf Hamster?
The Houses can have different functions. For example, there are houses that are also suitable as a sandpit or houses that consist of several floors, rooms or a tunnel system.
Do you have to be able to look inside the Dwarf Hamster?
It can sometimes help to draw out the dimensions that we have for the houses. That way you get a little more sense of the size of the house. Take a centimeter and draw on a piece of paper 20 by 20 by 15 cm, then you know exactly how much space your hamster will have.
SUITABLE FOR...
You can read in the article specifications for which animal a certain article is suitable. For example, the houses say "Hamster" or just "Dwarf Hamster". By "Hamster" we mean all hamster species and by dwarf hamster only dwarf hamster species.
Which material is suitable for a Dwarf Hamster house?
In itself, it does not matter to the hamster which material you choose for the hamster house. For yourself, it can be a matter of taste or the theme of the hamster enclosure. For example, a wooden house for a jungle theme or a plastic house for a Christmas theme. Fortunately, the choice is huge!
How should you clean a Dwarf hamster house?
Cleaning wooden houses used to be very difficult. We do not recommend submerging wooden houses in water, because then the glue layer can come loose. A very useful cleaning agent is CSI Urine Spray or Ecopets Urine Buster . Both agents work on an enzyme basis.