Health products for Gerbils in the Gerbil Webshop
For health products such as anti-parasites for your Gerbil you are in the right place in our Gerbil webshop. Here you will find different types and brands of health products for your Gerbils. Ordering is easy and fast at DRD Rodent Shop®
Read more
You can buy Gerbil health products quickly and easily at DRD Rodent Shop ® The Gerbil Webshop for your Gerbil!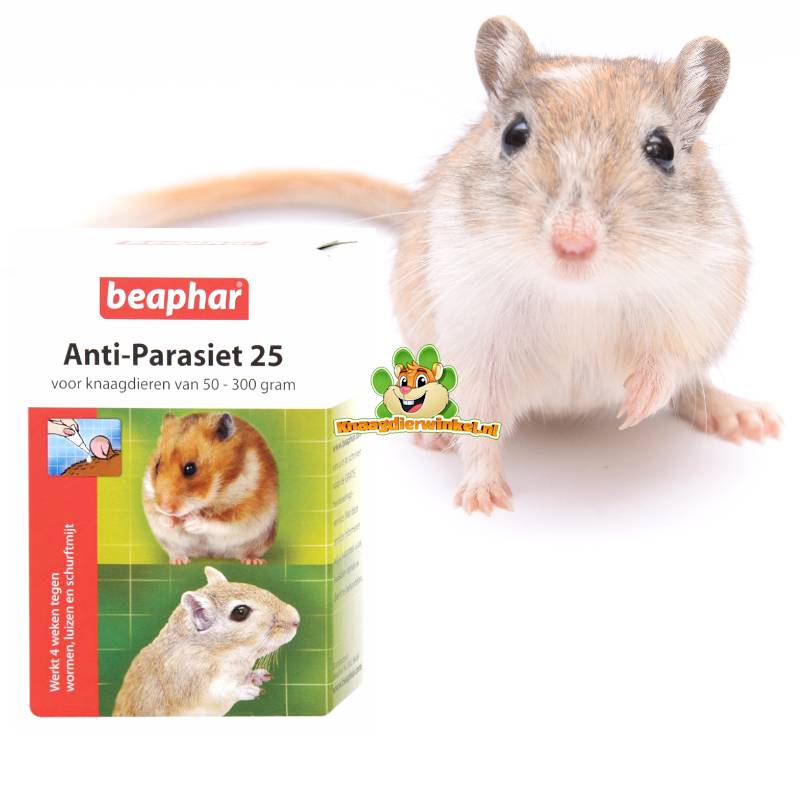 For health products such as anti-parasites for your Gerbil you are in the right place in our Gerbil webshop. Here you will find different types and brands of health products for your Gerbils.
How do you keep your Gerbil healthy?
Good health starts with good Gerbil food , a spacious Gerbil home , the ground cover and of course a lot of love. Gerbils are generally quite healthy animals that do not have many ailments. They have a predisposition to obesity (becoming fat), that's why nutrition and responsible Gerbil Snacks are very important
What Does a Healthy Gerbil Look Like?
A healthy Gerbil is active and curious. He likes to come and take a look and is busy digging passages and exploring his enclosure. A healthy Gerbil has a nice tight coat without bald spots, scabs or bald spots. Furthermore, a healthy Gerbil will eat his Gerbil food well and maintain his weight. The latter can be checked from time to time by weighing the animal. If the weight drops, this could be an indication of a health problem. In winter, however, the weight can drop by a few grams, which is quite normal, but more than 10 grams is alarming.
How do you recognize health problems in a Gerbil?
A Gerbil that is not fit will often be less active. Because Gerbils are prey animals, they are not likely to show weakness. It is therefore very important to check the animals regularly. The weight can drop as soon as the animals stop or start eating much less. This can indicate, for example, dental problems. A good periodic dental check -up and the right gnawing material are therefore very important.
Coat problems are mainly manifested by bald spots, scabs or red spots on the skin. The coat should be close on the Gerbil and generally glossy. Good coat care is very important for Gerbils. These animals produce more sebum than other rodents, which can quickly make the skin and fur greasy. That is also the reason why Gerbils must regularly take a sand bath to get rid of this excess sebum layer and to get the coat back in good condition. In the absence of a sand bath, the coat can become greasy and eventually fungus can develop with all its consequences.
What to do if the Gerbil has parasites?
Fortunately, this doesn't happen often with Gerbils. Parasites do not like the gerbil skin because Gerbils have a very thick skin and the parasites can hardly bite through it. We see parasites very occasionally in young and very old animals. This is probably due to a weakened or disrupted skin barrier, which allows parasites to take hold, but luckily there are good remedies that can help quickly and effectively. An example of this is the anti-parasite that can also be found in this category. Based on the logos with the product, you can see which product is suitable for Gerbils.
What to do with skin fungus at Gerbils?
The first thing to do is to contact the vet. Although not all vets understand Gerbils, they all understand fungi of the skin. If a Gerbil is prone to developing skin fungus, an anti-fungal agent can be used. This can be added directly to the bath sand, for example using Funghi Stop or on the skin itself using, for example, Anti Fungus .
How do you prevent skin fungus in Gerbils?
Coat care and ventilation are the main components here. The Gerbils should be able to groom their coat as we described above by taking a sand bath. In addition, the Gerbil house must have good ventilation, that is to say, sufficient grilles and preferably two grilles that suck in the air. Gerbils are desert animals that are used to a lower humidity, too high humidity can cause skin fungus. Measuring the humidity can be done with a Hygrometer .
Do Gerbils Need Extra Vitamins?
We believe that healthy Gerbils fed a balanced complete Gerbil diet do not need additional vitamins. Young, weak, sick, pregnant, lactating and older animals can benefit greatly from an extra vitamin boost.

Save Save Save