Back-2-Nature Ground Cover for Rodents
Grootste Knaagdierwinkel van Europa

Altijd 14 dagen bedenktijd

Zaterdag verzending

Ordered before 4 pm, delivered tomorrow!
Product description
Back 2 Nature for Rodents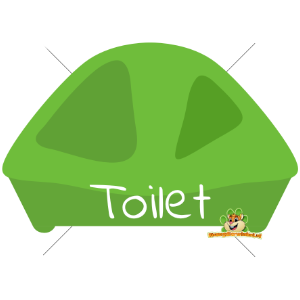 Toilet
This bedding is very suitable as a toilet filling for rodents and rabbits. Thanks to the great absorbent power, the toilet stays clean and fresh for longer.
Back 2 Nature Ground cover is one of the best ground cover for rodents!
The Back-2-Nature ground cover for rodents and rabbits is a very powerful absorbent ground cover. Puddles and odors are drawn deep into the paper grain and trapped, so that the stay remains fresh and clean for a long time.
✔ Natural containment of odors
✔ Extremely absorbent - superior quality
✔ Suitable for rodents, birds and reptiles
✔ Dust-free and very suitable for the toilet
Back 2 Nature is made from 100% recycled material without additives or chemicals. A big advantage of Back 2 Nature is that it does not fall apart when it gets wet, but rather locks in the moisture and odors. In addition, Back 2 Nature is dust-free, making it suitable for sensitive animals.
Instructions for use Back 2 Nature
Back 2 Nature as a base for small rodents (Mouse, Dwarf Hamster, Hamster, Gerbil)
For small rodents, Back 2 Nature can ideally be used as a bottom layer that protects the bottom of the accommodation. Gerbils in particular sometimes want to completely undercut themselves in the standard bedding and then pee on the bottom of the enclosure. Thanks to an underlay this can be prevented. Back 2 Nature is not suitable as standard ground cover for these small rodents because Back 2 Nature is unfortunately not excavable and the animals cannot show their natural behavior.
Back 2 Nature as bedding for large rodents (Rat, Guinea pig, Rabbit, Chinchilla, Degu)
Fill the enclosure until the bottom is completely covered with Back 2 Nature. The layer must be at least 5 cm, so that the ground cover well covers the floor of the accommodation and can absorb it well.
Back 2 Nature as toilet filling for rodents and rabbits
Thanks to the pleasant granular shape and excellent absorption, Back 2 Nature is one of the best toilet fillings available. A particularly big advantage is that the urine of the animals does not run along the grain, but is really immediately absorbed into the grain. This keeps the toilet cleaner than with many other toilet fillings. Back 2 Nature is suitable as a toilet filling for all rodents and rabbits.
Back 2 Nature for the Rat & Mouse
Although Back 2 Nature generally absorbs very well and retains odors, we have to praise this ground cover when it comes to the odors of Mice and Rats. Both mice and rats have a fairly strong urine smell, which can be smelled fairly quickly in most bedding. Back 2 Nature, however, knows how to retain the smells very well. We therefore advise to use Back 2 Nature certainly with the Rats in the toilet bowl.
Store Store Store Store Store Store Store Store Store Store
To keep
To keep
To keep
To keep
Specifications
| | |
| --- | --- |
| Material: | Paper |
| Liter: | 10 Liter | 20 Liter | 30 Liter |
| Weight: | 4 kg | 7 kg | 10 - 12 kg |
| Suitable for: | Rodents, Mouse, Hamster, Gerbil, Rat, Guinea Pig, Rabbit, Chinchilla, Degu |
| Particularities: | - |
Deze bedding gebruik ik voor het konijnentoilet, en ben er super content van, heb bijna alle bedding die er is uitgeprobeerd maar deze blijft de beste!
De fijnste bodembedekking voor een konijnentoilet.
Goed product maar niet echt bestemd voor hamsters
Ideale bodembedekking!
Ik heb 2 muisjes en met deze bodembedekking ruik je nauwelijks urine, zelfs na een week! Bovendien absorbeert het zo goed, dat de kooi heel makkelijk schoon te maken is. Alleen maar leeg gooien en afwassen, zonder dat de bodembedekking vastgeklont aan de bodem zit.
Ik raad dit product zeker aan!!!
Hele goede, stofvrije bedekking! Ik gebruik het voor de toiletten. Neemt goed geurtjes op.
Marieke
01 September 2020
Heel goede bodembedekking. Gaat niet stinken, zoals ik wel had bij de kartonsnippers die ik voorheen bij mijn ratjes gebruikte. Dit gooien ze de kooi niet uit, wat ook fijn is!
Prima bodembedekking voor onze cavia kooi.
Nauwelijks geurtjes, stoft niet en neemt goed alle vocht op.
Deze bodembedekking is echt top! Het verblijf blijft heel lang geurvrij, wat het grootste voordeel is. Ik vind het ook heel fijn dat dit na gebruik in de groene bak kan. Voor mijn muizen mix ik het met Chipsi Carefresh, omdat dat beter z'n vorm behoud met het graven van tunnels. Het is ook fijn dat het graven in de korrels niet te veel geluid produceert, want mijn muizen staan bij mij op de slaapkamer.
Ik heb nu al 4 verschillende bodembedekkingen uitgeprobeerd en is de enige die zo goed werkt. De kooi blijft met 3 ratjes zeker één week geurvrij, ik gebruik het in combinatie met de hennepmat. Handige grote verpakking waar je lang mee doet. Altijd snelle levering goed verpakte levering bij DRDknaagdierenwinkel.
Erg fijn spul, doet goed zn werk, alleen de hamster kan er niet goed in graven.
Snelle levering volgens afspraak.
Daarom bestellen we steeds opnieuw
Heel prettig, voor mijn kleurmuisjes,,, ruikt ook minder, maar ik verschoon vaak zoiezo, de hoeken goed, van hun terrarium. Elke dag, 1 /2.pw Gaat alles er uit, dan krijgen ze een schone terrarium dat ruik je snel. Genoeg.
Bent overgestapt van carefresh naar back 2 nature bodem bedenking omdat carefresh al me ratten niest om niet aan te zien. Al dat stof in care fresh
Heel fijn spul, je doet er lang mee en het stinkt niet! Fijn dat het zo'n grote verpakking is ook.
Ideale bodembedekking voor mensen met allergie. Mijn vrouw is allergisch voor het gangbare zaagsel. Via het YouTube kanaal van DRD op deze bodembedekking uitgekomen. Makkelijk in de kooi te plaatsen en op te ruimen. Geurloos en volledig afbreekbaar. Alleen jammer dat hier altijd verzendkosten voor worden gerekend: 2 zakken is minder dan 35 euro: dus verzenkosten 3 zaken is zwaarder dan 30kg....dus dan ook verzendkosten. Tevens heb je vrij veel nodig voor een schoonmaakbeurt van de Ferplast Duna. Het is niet geperst zoals dat mogelijk is bij zaagsel. Ondanks de minpuntjes, voor ons de ideale oplossing.
Suzanne D.
01 December 2017
Koper heeft geen omschrijving achtergelaten.
In verband met de stofallergie van ons zoontje back 2 nature aangeschaft in combinatie met carefresh voor de hamsterkooi.
Back 2 nature ruikt niet en gaat lang mee. Het absorbeert goed. Nu zijn de plasjes van onze hamster niet groot maar we hebben het al eerder gebruikt toen we nog cavia's hadden. werkt prima!!
Heel erg prettig deze bodembedekking! Ik gebruik het voor mijn Ratten en het bevalt mij erg goed.
Het gaat lang mee. Wat ik ook prettig vind is dat ik het meteen de volgende dag in huis heb, top!
Linda Bergsma
14 November 2016
super spul blijft lang schoon!
Back 2 nature is eem zeer goede bodembedekking. SStoft niet en gaat erg lang mee
Ik bestel de Back 2 Nature altijd bij DRD. Levering is super en ik doe voor mijn konijnen ongeveer een maand met de Back 2 Nature. Zeker een aanrader!
Ik ben zeer te spreken over back 2 nature! Het is echt een hele fijne bodembedekking. Het verblijf. Van mijn ratten blijft nu minimaal 4 weken fris
Ik ben erg tevreden over de Back 2 Nature bodembedekking. Mijn dieren zitten schoon en droog en ik hoef de kooi niet zo vaak meer te verschonen. Echt een aanrader! De levering is ook erg snel!
Rattery Riezz en Ratzz
03 May 2016
Eindelijk een product dat de tere longen van de ratten spaart (ik denk dat dit ook voor alle andere kleine knagertjes telt want wat hebben die stakkers allemaal geleden onder de stof verspreidende producten).
In aanschaf lijkt het een beetje prijzig als je een grote kooi hebt, maar uiteindelijk ben je veel goedkoper uit omdat het geuren en vocht geweldig absorbeert dus de kooi ruikt veel langer fris.
Ik ooit nog iets anders voor in mijn rattery???, nee, dacht het niet.
Wij gebruiken hier altijd Back 2 Nature voor de Cavia's. Bestellen het ook altijd bij DRD knaagdierwinkel.
Back 2 Nature is een erg fijne bodembedekker. Ik gebruik het voor onze konijnen. Het hok stinkt een stuk minder als we back 2 nature gebruiken
Samantha
28 December 2015
Ik koop de Back 2 Nature 30 L altijd bij DRD knaagdierwinkel. Super snelle levering altijd netjes verpakt. Zeer tevreden!
Ik gebruik alleen Back 2 Nature voor mijn Bellies. Het blijft lang schoon en ruikt fris.
Hier ook heel tevreden met Back 2 Nature bodembedekking. Onze Cavia's zitten er goed op.
Back 2 Nature is de beste bodembedekking voor Konijnen! Ik hoef nooit meer iets anders. Ik heb hiervoor zaagsel en stro gehad, maar qua geur kun je echt beter Back 2 Nature nemen. Ik doe in de winter nog wat stro en hooi erbij, maar de onderlaag is Back 2 Nature
Chocowitband-hammie
11 November 2015
Proef zakje mee gekregen van de fokker en de link van deze site...
Na lang zoeken naar een bodembedekker voor mijn hamster eindelijk de fijnste gevonden!
Back 2 nature, wil niet meer anders.
Deze bodembedekking is ideaal voor stinkerdjes vind ik. Diertjes met diabetes bijvoorbeeld plassen erg veel en dat kan best stinken. De korrels nemen het vocht goed op en je ziet goed wanneer ze nat zijn en dan kan je de natte plekken gemakkelijk verversen. Zo gaat het heel erg lang mee!
Ze hebben ons destijds bij DRD Knaagdierwinkel Back 2 Nature aangeraden. We hebben het toen besteld en sinds dien kopen we het altijd. Het is wat ons betreft de beste bodembedekker inderdaad. We gebruiken het voor onze konijnen. De groot verpakking Back 2 Nature is dan ideaal!
Back 2 nature is wat mij betreft de beste bodembedekking die er is. Ik gebruik het voor mijn konijnen
Dit is echt heel fijn spul, ook voor ratten. Je ruikt ze veel minder en het absorbeert heel erg goed. (Met 12 ratjes is dit zeker geen overbbodige luxe
Ik ben sinds vandaag overgestapt naar back 2 nature en vind het nu al super! Geen rondvliegend spul meer naast de kooi van de ratten! En ook bedankt voor de supersnelle levering! Echt top!
Ik vind dit een zeer goede bodembedekking. Het is zeer fijn in gebruik en blijft lang schoon. Het houdt inderdaad ook goed de luchtjes vast. Ik gebruik het nu ook in de toilet bak van mijn konijn. Het blijft lang schoon en het is eenvoudig te verschonen doordat het niet vast blijft plakken aan de bodem zoals andere bodembedekkers weleens doen. Dus voor mij een dikke 10!
De beste bodembekking die ik ken! 4 weken frisse kooien!
Sinds ik back to nature gebruik verschoon ik pas met vier weken.
Zelfs dan ruik of zie ik nog weinig dat vies is.
Ik gebruik back to nature. En ben daar erg blij mee. Echt een aanrader is dat.
Ik gebruik Back 2 Nature tegenwoordig voor in de konijnen toilet. Ons konijn is zindelijk en doet zijn behoefte netjes in zijn wc. Met back 2 nature in de konijnen wc hoef ik deze een week niet te verschonen. Je ruikt niets, het absorbeert heel goed. Als de wc verschoont blijft het ook niet plakken aan de bodem, je gooit het er zo uit. Echt ideaal!
Week 4: Het zelfde als bij corbo, nog geen vuiltje aan de lucht.
Erg fijne bodembedekking. Lijkt wellicht duur, maar je hoeft de kooi veel minder vaak te verschonen t.o.v. bijvoorbeeld zaagsel. Je doet er dus erg lang mee. Geeft geen chaos naast de kooi en ruikt niet.