Food for Hamsters in the Hamster Webshop!
Buy Hamster food for your Hamster easily at DRD Rodent Shop, the online Hamster Webshop for your Hamster! For food for your Hamster you are in the right place in our Hamster webshop. You will find different types and brands of hamster food for e
Read more
Order Hamster food easily and quickly at DRD Knaagdierwinkel ® The online Hamster Webshop for your Hamster!
For food for your Hamster you are in the right place in our Hamster webshop. Here you will find different types and brands of hamster food for an attractive price. Witte Molen, Hope Farms, Versele Laga, Beaphar, etc. Ordering is quick and easy in our Hamster webshop.

NUTRITIONAL NEEDS OF THE HAMSTER
Hamsters are omnivores (all eaters). The animals have a varied diet consisting of different types of seeds, nuts, herbs, fibers, but also animal proteins. Hamsters catch small insects in the wild, so it is good if their food also contains animal proteins.
HAMSTING OF THE HAMSTER
Hamsters carry their food in their cheek pouches. What you see is that the hamster stuffs his food into his cheek pouches and quickly takes it to his house or pantry. Transporting food in the cheek pouches is also called "Hoarding". Thanks to the cheek pouch muscle, the food is held in the cheek pouch and the hamster can transport it safely and quickly.
ALL IN A LUNCH OR MIX FOR THE HAMSTER?
If your hamster is really going to eat selectively, so that he only eats the tasty things, it may be wise to switch to an all-in-one kibble. The hamster can no longer eat selectively in this way. Each piece has its own composition. Hamsters do need a few weeks to get used to other food. It may also be that the hamster will eat less of the all in one kibble. This may be due to the composition of the kibble. Some all-in-one chunks have a very full composition so that less of it needs to be eaten to meet the same nutritional requirement.
SWITCH BETWEEN HAMSTER FOOD
Hamsters are much less sensitive than, for example, a guinea pig or rabbit. Changing between food is much easier with these animals. Nevertheless, we recommend that you always mix your own food with the new food for a few more days.
COPROPHAGY AT HAMSTERS
Did you know that, just like rabbits, hamsters eat their own night diets? It really is! The animals do this to absorb even better vegetable nutrients and to absorb the Vitamin B12 that is produced in the intestines.
The hamster is a small, granivorous (seed-eating) mammal and belongs to the rodent order. In nature it lives solitary. He only seeks social contacts to mate and while raising the young. It is therefore best to sit alone as a pet. The hamster has a life expectancy of 2 to 3 years and reaches a body length of about 18 cm and a weight of about 180 g.
The hamster comes from Syria and the south of Turkey. Here it lives largely in underground tunnels, which it prefers to make in sandy clay soils and it is active during the day. Hamsters that are kept as pets are more likely to be active at night.
Small but brave. The nutritional needs of the fast hamsters are manifold.
The Incisors
Hamsters have incisors that keep growing. The food must therefore be reasonably firm to chew on (e.g. with different seeds that can be peeled)
The stomach
The stomach consists of two 'chambers', namely the front stomach and the glandular stomach.
The cecum
The 'granivorous' (seed-eating) hamster has a small cecum. It can only process raw fibers to a limited extent. The optimal crude fiber content in the feed is therefore below 10%
Animal proteins
Animal proteins are required for the metabolism. The amount must be carefully adjusted to the needs of the animal.
High energy requirement
Hamsters are real bundles of energy. They like to move and have a greater energy requirement due to their high metabolism.
The natural rhythm of food collection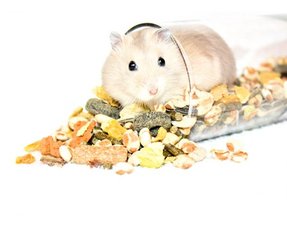 Hamsters are collectors by nature and only have food available for a short time. In the winter everything starts to run out and so they have to do their best in the summer to supplement the food supplies. The dwarf hamster is therefore always busy looking for and storing food. This behavior is very recognizable to many hamster owners.
The hamster follows its natural rhythm when it comes to food collection. He does not realize that the summer and the food availability in our home are endless. He happily continues to collect and if you let him do his thing, a large supply is built up.
Energy-rich food first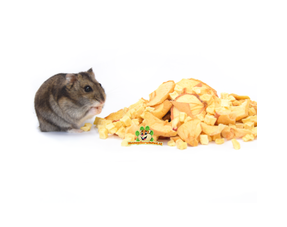 Life is hard in the wild, if you haven't collected enough, you can't make it. Those who do not have enough fat reserves will get cold and difficult. This is the main reason why hamsters eat high-energy foods first. Their instinct forces them to do this. Energy-rich food provides energy and makes it possible to build up a fat layer. The latter helps against the cold and provides a buffer for when it is difficult to find food. They simply do not know that the animals do not have to be afraid of this in our home and they continue to eat the energy-rich food first.
By energy-rich food we mean food with a higher content of: (natural) sugars, carbohydrates / starches and fats. The animals will therefore eat sweets (sugars / carbohydrates) first, followed by fruit (natural sugars), pea flakes (starch) and sunflower seeds (fats). We also call this preference selective eating .
Important: Carbohydrates, sugars and fats are indispensable for dwarf hamsters. They need these nutrients in abundance to fulfill their energetic existence. Too many of these nutrients isn't good, but too little is just as bad!
This is how we prevent selective eating!
Be strict!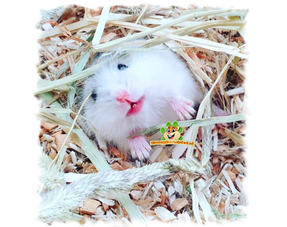 There is actually one good way to avoid selective eating and that is to be steng. The animals should be fed the prescribed portion of feed and not a new portion until the old one has been eaten. That way, selective eating is no longer possible. However, many owners find this difficult to be so strict with their darling.
If you suddenly decide to be strict with feeding, you can start to see that your hamster will eat less. This is a natural reaction of the animal. Its food supply is shrinking, creating a feeling of scarcity. He has to eat less now, otherwise he won't make it through the winter (he thinks). The owner is shocked by this, my animal suddenly eats less and probably also loses weight. These are signals we don't like to see!
Adjust nutrition
It can help to switch to a food with a different composition or to remove the tasty things that the hamster gets from the food and only give it when the other things have been eaten.
Everything in one piece
A last resort is the all in one chunk. These chunks are all the same, so that no selective eating behavior can occur and therefore no nutritional deficiencies. The all-in-one kibble does not entirely fit into the natural food menu. The animals therefore need a longer adjustment period, but once they get used to an all-in-one kibble, they eat it very well and remain stable in terms of condition and weight.
For rabbits and guinea pigs, the all-in-one kibble is already well established and is one of the primary ways of feeding. The animals are in better condition if they are fed an all-in-one kibble.
For an owner who wants to be 100% sure that his animal always gets all the nutrients, the all in one chunk is a godsend.
It remains an art to keep the hamster's eating habits in balance. Because of his collecting and thus hiding behavior it is sometimes quite a challenge to find all food supplies. If your hamster is eating selectively, but if it looks good otherwise there is no need to panic. Some animals seem to eat selectively, but secretly balance their nutrition in a good way. These animals have a good weight, nice fur and sparkling eyes.
ALWAYS FRESH FOR THE HAMSTERTJES!


As a specialist in the field of rodent nutrition, you as a customer benefit from our knowledge and experience. This is also reflected in our purchasing & storage policy, for example. We focus on fresh and fresh instead of much and cheap. Hay, herbs and food must be fresh and stored in the right way, which is why we purchase such products in a smart way so that you always benefit from fresh and fresh food!