Food for Gerbils in the Gerbil Webshop!
Order Gerbil food easily and quickly at DRD Rodent Shop® The Gerbil Webshop for your Gerbil! For Gerbil food for your Gerbil you are in the right place in our Gerbil webshop! Do you want to spoil your Gerbil with healthy, balanced gerbil food? You fin
Read more

Order Gerbil food easily and quickly at DRD Rodent Shop ® The Gerbil Webshop for your Gerbil!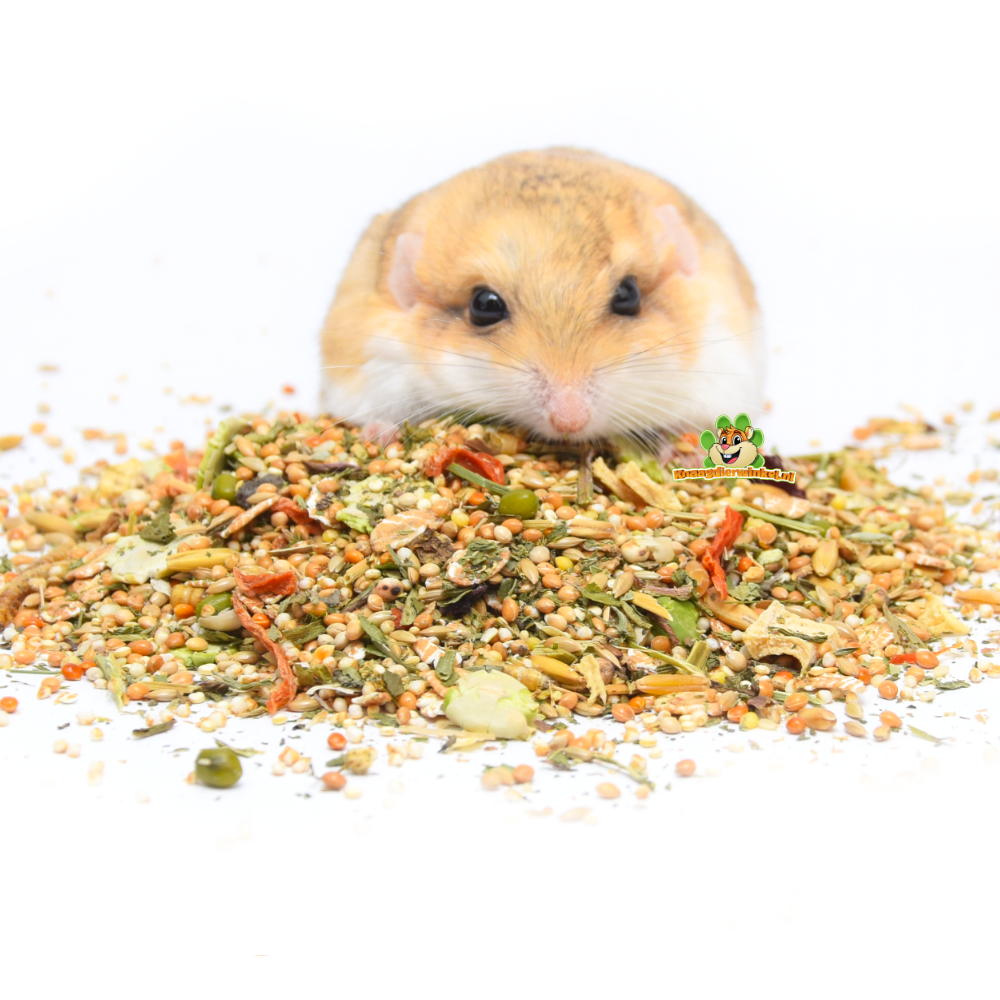 For gerbil food for your Gerbil you are in the right place in our Gerbil webshop! Do you want to spoil your Gerbil with healthy, balanced gerbil food? Here you will find different types of food for an attractive price. Ordering is easy and fast at DRD Rodent Shop!
What kind of food is suitable for Gerbils?
Gerbils need a balanced diet that is tailored to the nutritional needs of the animals. Because Gerbils are desert animals, they need a scant diet. In the Gerbil's natural habitat, food and water are difficult to find. Characteristic of the Gerbil is that it drinks little compared to other rodents. They are sparing with food and drink. The Gerbil's body is not used to too much fat and sugars, which is why these components should preferably not be part of a good gerbil diet.
Gerbils that are still growing eat approximately effectively between 5 to 6 grams of dry food/day or 8 to 10 g of food/100 g bw. Gerbils drink about 4 to 10 ml of water/100 g bw/day. Total daily water intake (including water in food and metabolic water) is estimated to be 8 to 13 percent of body weight.
An optimal protein percentage for growing gerbils appears to be 16%. A magnesium or sodium deficiency can cause baldness and convulsions in Gerbils.
Gerbils eat seeds, grains, plant parts and insects in nature. Because gerbils naturally occur in dry areas, they are very economical with water. Gerbils do not drink much and produce little urine. However, they must always have fresh and clean drinking water available. However, you don't have to worry if your Gerbils don't drink much. Gerbils' food should not contain too much fat and sugars. Gerbils need animal protein. A small amount of green fodder can be given as a supplement. Gerbils' incisors continue to grow throughout their lives. By breaking open seeds and gnawing on larger feed ingredients, the incisors wear down. The gerbil has a small appendix.
Protein: Gerbils need animal protein. The diet should contain a protein content of 14-15%. This can be supplemented with, for example, mealworms as a snack. Animal proteins are essential for proper metabolism. The valuable amino acids are important for cell renewal and various metabolic processes.
Fats: Gerbil food should not contain too much fat. A percentage of up to 4% fat in the diet is desirable. Gerbils easily become overweight. That is why it is important that no more than 4% of fat is in the diet.
Fiber: The fiber content in the diet should not exceed 7%. Gerbils need easily digestible energy because they have a fast metabolism. This is mainly obtained from seeds. Many fibers provide too little energy.
Calcium: The calcium:phosphorus ratio should be between 1.1:1 and 1.5-1.
How does a Gerbil's digestive system work?
The stomach of the Gerbil is simple and the cecum and large intestine are not particularly well developed, which is consistent with animals that eat mainly low-fiber foods, such as seeds, in nature.
The gerbil is a small granivorous (sperm-eating) mammal belonging to the order of rodents. In the wild, in addition to seeds, the animals also eat herbs, grassy crops, plant stems and
roots and all kinds of insects. The protein content of the different gerbil species differs, for example, the fat-tailed gerbil has a higher need for animal proteins and the Mongolian Gerbil has a very low need.
Incisors: The gerbil's incisors continue to grow, so the animals need a proper diet that helps to wear down the teeth.
Stomach: The stomach consists of one chamber and is separated by a mucous membrane into a part without a gland and a part with a gland.
Small Cecum: Gerbils have a small cecum. As a result, they can only process raw fibers to a limited extent. Therefore, feed with a crude fiber content of less than 10% is optimal.
Does the Fat-Tailed Gerbil need any other food?
The Fat-tailed gerbil must also receive (dried) insects in addition to its main food. Fat-tailed gerbils are insectivores by nature. This is also clearly visible on the pointed snout. Gerbil food is a very good basis for the Fat-Tailed Gerbil, but it must be given daily (dried) mealworms, crickets, beetles and other insects. To meet this nutritional requirement, we also have various insect mixes for the animals.
Did you know?
Fat-tailed gerbils naturally eat more insects? Therefore, occasionally give fat-tailed gerbils extra (dried) insects.
Where does the Gerbil hide its food?
The Mongolian gerbil lives in steppes, semi-deserts and deserts in southeastern Mongolia as well as in neighboring Russia and China. He likes to stay in fields and pasture. There he digs underground tunnels and makes nests and storage rooms. Gerbils have their own nutritional needs.

Save Save Save