Hamsterscaping for Hamsters and Dwarf Hamsters
Hamsterscaping is not only fun for the Hamster or Dwarf Hamster, but also for the owner. The goal of hamsterscaping is to furnish the hamster home in a creative way. The most popular theme is the natural look with many uses
Read more

Hamsterscaping and all accessories and supplies can be ordered easily and quickly at DRD Rodent Shop ®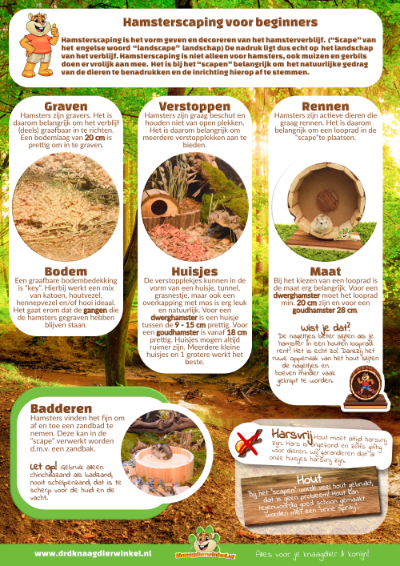 Hamsterscaping is not only fun for the Hamster or Dwarf Hamster but also for the owner. The goal of hamsterscaping is to furnish the hamster home in a creative way. The most popular theme is the natural look in which a lot of use is made of natural products such as wood and moss.
Thanks to our extensive knowledge of both hamsters and dwarf hamsters, we know exactly which products should and which should not be used. Below we would like to give you some guidelines for hamsterscapes.
The Ground Cover at Hamsterscaping
Of course, a thick pack of ground cover is a lot of fun. Most hamsters like to dig and will gladly do this in a thick pack of bedding. A guideline is a layer 20 - 30 cm deep. In the next category we have made a handy overview of all hamsterscape ground covers .
Tip! If your hamster does not want to dig, this may be due to the bedding. If the burrows collapse quickly, the hamster may lose interest in digging. Therefore, make sure that the ground cover allows for cavities.
Which bedding for hamsterscaping?
The best bedding for hamsterscapes is one that makes tunneling possible. Many ground covers are not airy enough for this and quickly collapse. Of course we have checked which ground covers will remain.
Mixing ground covers is also a lot of fun!
Mixing different ground covers such as wood fiber and hay or cotton with Carefresh gives the soil extra volume or a nice touch! The most popular ground cover is Cotton & Cotton or Cotton & Wood Fiber . High layers can be made with this and tunnels remain intact!
Be careful with heavy parts
It is good to place heavy running wheels or other cage components on a platform. Some things can also be secured with the help of vines. Placing a heavy object on the ground cover can present a burial hazard. The hamsters can dig under the object until they reach the bottom and get stuck.