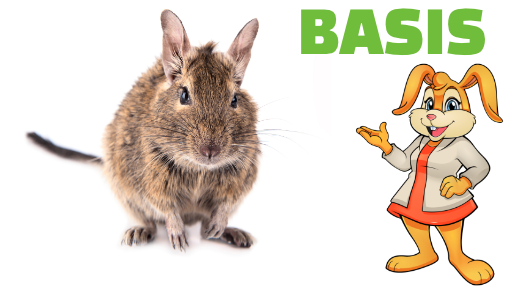 Basic equipment for the Degu
Degus are true group animals and should always be kept together with others of their own kind. In the wild, degus live in large groups. They are active and climb, clamber and dig. Degus are not cuddly animals, but they can be tamed by hand.
Degus are true group animals and should always be kept together with others of their own kind. In the wild, degus live in large groups. They are active and climb, clamber and dig. Degus are not cuddly animals, but they can be tamed by hand.
Ground cover
In the wild, degus dig entire tunnel systems. To give the degus the opportunity to dig, we use Cotton & Cotton as ground cover. The tunnels remain beautiful in this ground cover. We recommend a layer of at least 20/30 cm deep, but here the more the merrier!
Shelter
Although degus are group animals, they like to be able to withdraw. We recommend having at least one shelter available for each animal. The Trixie Wooden Bark Tunnel is a nice shelter that the degus can also climb over. As a second shelter, the Rodipet Degoe House Granite 33 cm is great fun! This is a spacious house with two openings and a removable granite roof. The granite roof offers cooling on hot summer days.
Nesting material
In nature, degus collect all kinds of things to take with them to their nest. So they also need nesting material. The Hemp Nesting Material is made of hemp fibre, offers protection against drafts and provides woolly warmth.
Climbing and scrambling
Degus love to climb and clamber. The Corner Plateau Blank with Edge can be attached to the bars in various places in the enclosure. The plateau is available in 17, 30 and 40 cm. It is fun to use several platforms in different sizes. In addition to plateaus, a Vine is great fun to climb on. It is important that it is firmly placed in the enclosure. The XL variant is a beautiful climbing frame for the degus!
Feed
Degus need a diet that is specifically tailored to the nutritional needs of the degus. It is important that the diet is low in fat. In nature, degus eat grasses, seeds and dry plant parts. They are therefore used to scarce food. Beaphar's Care+ Degoevoer consists of an all-in-one chunk. This prevents selective eating behavior. One degu needs about 10-15 grams of food per day.
Food trough
The chunks are best offered in a food bowl. This way it is clear to the degu where the food is offered and the food does not become contaminated. The Trixie Ceramic Feeding Bowl 10 cm is available in 4 different colors. It is nice to have its own food bowl in its own color for each degu.
Hay
In addition to feeding pellets, hay is extremely important. Degus must have unlimited hay available to them. This is essential for digestion and dental wear. The fiber from the hay is absolutely necessary for digestion. In addition, grinding the hay ensures that the ever-growing molars can wear down. It is therefore very important that the degus always have access to hay! Vitakraft's Alpine meadow hay contains a natural content of tasty herbs. This hay is generally very well eaten.
Hayrack
We offer the hay in a hay rack. The hay rack ensures that the accommodation does not become a mess. The Trixie Hanging Metal Hay Rack 20 cm with roof immediately ensures that the degus cannot jump into the hay rack from above. The hay rack is made of gnaw-resistant material.
Drinking bottle
Of course, there must always be fresh drinking water available for the degus. Degus are real rodents and must therefore have a gnaw-resistant flesh. The Trixie Glass Drinking Bottle 500 ML is large enough for several degus and cannot be gnawed to pieces.
Gnawing material
Degus are real nibblers, they will gnaw everything. However, they don't just do this. They have such a great need to gnaw because their teeth continue to grow throughout their lives. It is therefore very important to provide sufficient gnawing material to prevent dental problems. The Back to Instinct Herbal Gnawing Root from JR Farm is a hard beech root that has been made extra attractive with tasty herbs. In addition, willow branches are very healthy to nibble on.
Sandbox
Degus need a sandbox with chinchilla sand. They use this to clean their fur. The Green Chinchilla & Degoe Sandbox is made of zinc and is gnawing resistant. The high edge ensures that as little sand as possible ends up next to the sandbox. The sandbox can be filled with Chinchilla sand from Witte Molen.
Running wheel
A running wheel gives the degus the opportunity to run. A degu needs an exercise wheel with a diameter of at least 33 cm. The Aluminum Exercise Wheel is of very high quality. The running wheel runs smoothly and quietly and is 100% gnaw-proof. Extremely suitable for degus!
Snacks
Of course we also want to spoil the degus a little every now and then. Always be very careful when offering snacks. Do not give sugary products or fruit. You quickly overfeed degus, resulting in the degus becoming too fat and developing digestive problems. The Degoe Snack from JR Farm is a mixture of responsible snacks.
Toys
Degus are active animals and like to be busy. They like toys that they can nibble on. The Natural Living Willow Ball from Trixie is made of 100% willow and combats boredom. The Degus will completely destroy the ball. Fun guaranteed!
With these items you have a good basic setup for your degus. Of course you can adjust the design or add other things every now and then. You can view the products below and easily order what you like. Do you have any questions? Or do you need help with furnishing the chinchilla enclosure? We would like to hear it!