Zaterdag besteld, maandag in huis!

Altijd 14 dagen bedenktijd
Veilig en achteraf betalen

Voor 16:00 uur besteld morgen in huis!
Product description
Joris No Smell Cotton N Card 30 Liter
Smell and moisture in three steps
Cotton N Card contains three components, each with its own absorption rate. As a result, the ground cover absorbs odors and moisture immediately and for a long time.
+ Small pieces of cardboard absorb very quickly
+ Small pieces of egg box absorb slightly slower
+ Squeezed cotton seeds absorb slowly and draw the moisture from the other two components
Cotton N Card consists of environmentally friendly materials: cardboard, egg box and cotton seed. The cardboard is from remains of the cardboard production, and the pieces of the egg box are from the remains of the egg box production. Cotton N Card can therefore simply be used in the green container after use.
✔ Is Stovefree
✔ Is soft, warm and comfortable
✔ Is ultra-absorbent, so the loft is always clean and dry
✔ prevents lung problems, irritation of eyes and skin, and sole of the foot offers natural protection, and the possibility of playing, digging tunnels, hiding and nesting
Cotton N Card is also pleasant and healthy for carers, because Cotton N Card:
✔ Makes your rodent happy
✔ is animal-friendly, so it is also nice for your wallet: you save veterinary costs
✔ keeps the accommodation dry, clean, dust-free and odorless
✔ is attractively priced and lasts a long time: you don't have to change your stay often
✔ is sustainable and relieves the environment
✔ can be used in the green container after use
Instructions for use Joris No Smell Cotton N Card
Fill the accommodation until the bottom is completely covered with Cotton N Card. The layer must be at least 5 cm so that the ground cover covers the floor of the accommodation well and can absorb it well. Below is a table in which we have indicated the approximate number of liters you need per change in time.
BOTTOM LAYER OVERVIEW
Because it is sometimes difficult to determine how much ground cover is required for a particular stay, we have made an overview for the most common stays and sorted by height of the soil layer. A thicker layer is recommended for excavable ground covers. A lower soil layer is recommended for non-excavable ground covers.
* Most ground covers are pressed-packed so that the volume is increased by taking the ground cover apart and shaking it up.
Save
Save
Save
Specifications
| | |
| --- | --- |
| Materiaal: | - |
| Liter: | - |
| Gewicht: | - |
| Geschikt voor: | Knaagdieren |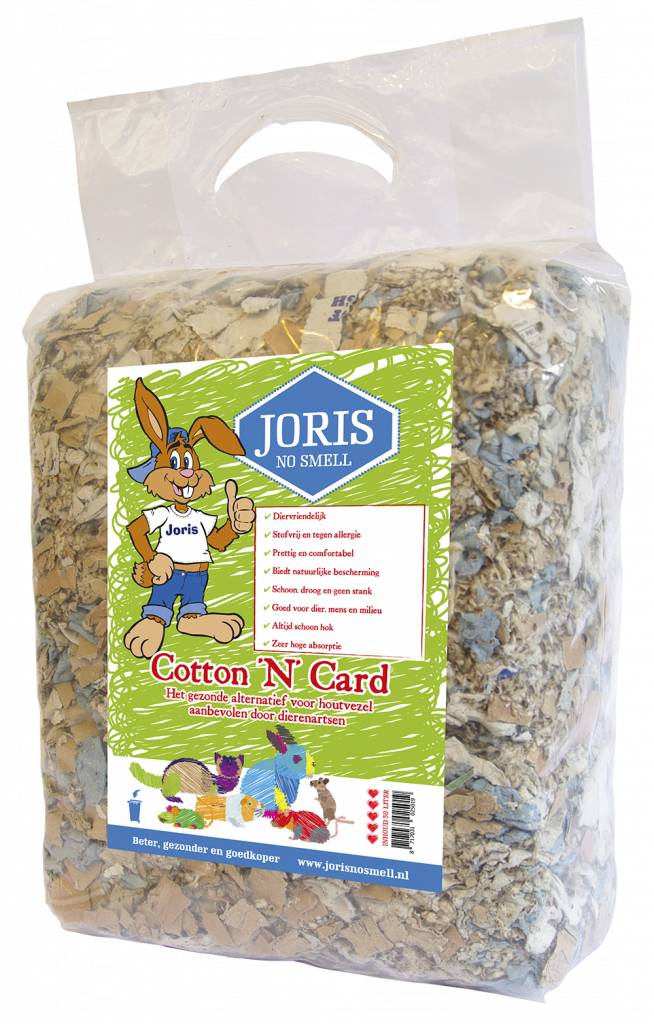 Zeer tevreden met deze bodembedekking voor de ratten. Savic Royal Suite vul ik met twee van deze zakken -- maar met vier zindelijke ratten (losse poepbakken met houtkorrels) kan je daar ook gemakkelijk twee weken mee vooruit zonder geurtjes. Zoals altijd ook zeer tevreden met de enorm snelle verzending, fijn dat je daar op kan vertrouwen!
Fijn ik gebruik het als boven laagje de hamsters nemen stukjes mee voor hun nestje en het ziet er leuk uit
ik gebruik de cotton N card bedekking in het hok van mijn konijntje dat incontinent is. Had hierdoor ook zere hakjes. sinds ik deze bodembedekker gebruik zijn zijn zere hakjes genezen en is hij weer droog. een echte aanrader!
Ideale bodembedekking! Stoft niet, ze kunnen het karton in stukken knabbelen en de katoenvezel gebruiken als warm en zacht nestmateriaal. Het ziet er ook erg leuk uit!
Leuke bodembedekking! Muisjes doen het er goed op. Ik gebruik cotton n card als tweede laag eronder ligt back 2 nature
Ik koop de cotton n card altijd voor mijn hamsters. Ik vind het zo"n leuke bodembedekker. De dieren kunnen er lekker mee aan de slag en ze spelen er ook mee. Vooral en doorheen kruipen en onderdoor kruipen en de kartonstukjes nog verder versnipperen.