Gratis verzending binnen Nederland vanaf €35,-
Gratis verzending naar België vanaf €45,-
Altijd 14 dagen bedenktijd
Veilig en achteraf betalen

Voor 16:00 uur besteld morgen in huis!
Information
Joris No Smell Cotton N Card 30 Liter
Odor and moisture away in three steps
Cotton N Card contains three components, each with their own absorption speed. As a result, the ground cover absorbs smell and moisture immediately and for a long time.
Small pieces of cardboard absorb very quickly.
Small pieces of egg box absorb slightly slower.
Pressed cotton seed absorbs slowly and draws moisture from the other two components.

Cotton N Card consists of environmentally friendly materials: cardboard, egg carton and cottonseed. The cardboard is made from remnants of cardboard production, and the pieces of egg carton are made from remnants of the egg carton production. Cotton N Card can therefore be used in the green box after use.
Is Stovrij
Is soft, warm and comfortable
Is ultra-absorbent, so the loft is always clean and dry
prevents lung problems, irritation of eyes and skin, and foot sole problems offers natural protection, and possibility to play, dig tunnels, hide and make litters

And also for carers, Cotton N Card is pleasant and healthy, because Cotton N Card:
Makes your rodent happy
is animal friendly, so also nice for your wallet: you save vet costs
keeps the stay dry, clean, dust-free and odorless
is attractively priced and lasts a long time: you do not have to change the accommodation often
is sustainable and relieves the environment
can be used in the green box after use

Instructions
Fill the stay until the bottom is completely covered with Cotton N Card. The layer should be at least 5 cm so that the ground cover covers the bottom of the stay well and can absorb it well. Below is a table in which we have indicated how many liters you need approximately per change.
Size

residence

Required soil

low 5 cm


50 x 30 x 30
7.5 liters
60 x 30 x 30
9 liters
80 x 40 x 40
16 liters
100 x 50 x 50
25 liters
Save
Save
Save
Specifications
| | |
| --- | --- |
| Materiaal: | - |
| Liter: | - |
| Gewicht: | - |
| Geschikt voor: | Knaagdieren |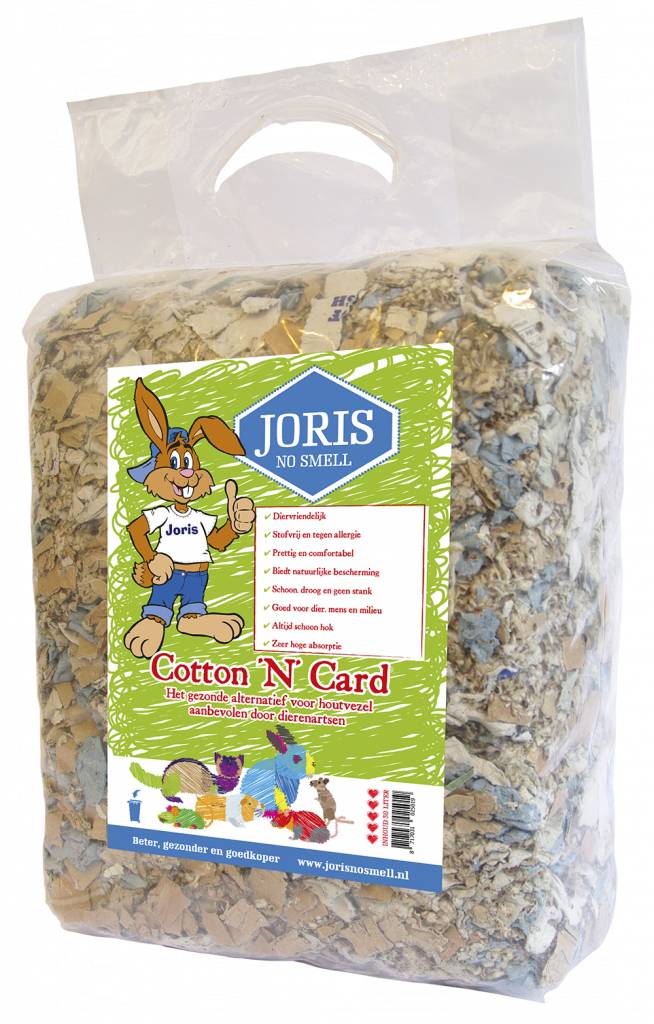 voor muizen, of hamsters misschien oke, maar 30l is dus 2x een binnenbak van 1m20 krap gevuld voor 2 cavia's, waar het mij om te doen was.. Veelsteduur dus!! En zie de poepjes moeilijk door rommelig effect om deze eruit te halen en absorbeert hetzelfde als gewoon een goede laag houtvezel..Sorry; niet voor ons!
ik gebruik de cotton N card bedekking in het hok van mijn konijntje dat incontinent is. Had hierdoor ook zere hakjes. sinds ik deze bodembedekker gebruik zijn zijn zere hakjes genezen en is hij weer droog. een echte aanrader!
Ideale bodembedekking! Stoft niet, ze kunnen het karton in stukken knabbelen en de katoenvezel gebruiken als warm en zacht nestmateriaal. Het ziet er ook erg leuk uit!
Leuke bodembedekking! Muisjes doen het er goed op. Ik gebruik cotton n card als tweede laag eronder ligt back 2 nature
Ik koop de cotton n card altijd voor mijn hamsters. Ik vind het zo"n leuke bodembedekker. De dieren kunnen er lekker mee aan de slag en ze spelen er ook mee. Vooral en doorheen kruipen en onderdoor kruipen en de kartonstukjes nog verder versnipperen.