Farm Food Gerbil Adult 500 grams
Zaterdag besteld, maandag in huis!

Altijd 14 dagen bedenktijd
Veilig en achteraf betalen

Ordered before 4 pm, delivered tomorrow!
Product description
JR Farm Farm Food Gerbil Adult
Discover the natural food from JR Farm! This unique combination of a balanced, expertly developed complete feed mix with more than 35 different seeds and four high-quality animal protein sources brings the original diet of your gerbil to your home. The present farm complex supports the intestinal flora with prebiotic inulin (from the root of the parsnip) and yucca extract reduces the odor of urine. The Farm Food recipe provides all the nutrients, vitamins and minerals that are necessary for the life of an adult animal.
✔ 35 different seeds
✔ four high-quality animal protein sources
✔ with prebiotic inulin
✔ yucca extract reduces the odor of urine
JR Farm has not exaggerated when it comes to the composition of the Farm Food Gerbil food!
The content is impressive.
Silver millet, La Plata millet, carrots, dari, milk grain, grass seed seeds, manna millet, canary seed seeds, corn, wheat flakes, rice, Senegal millet, 2.8% parsnip, pea flakes, wild seeds (consisting of, among others, Alexandrian clover) , swamp, daisies, goosefoot, millet, shepherd's purse, chamomile, knotweed, cornflowers, meld, poppy, red fescue, spinach seeds, violets, chicken sauce, plantain, German ryegrass, wicker grass, meadow plume, wind straw), wheat, cornflakes, beetroot , oats, flax seeds 1.6%, Buckwheat, Carob dried, striped sunflower seeds, red mohair millet, hemp seeds, spelled, shrimp 1.3%, fennel seeds, mung beans, Gammarus 1%, meal worms 1%, fenugreek seeds, peeled sesame, amaranth, blue poppy seeds, marigold flowers, parsley 1% Thistle seeds, silkworm dolls 0.8%, peanuts, tomatoes, peppers, courgettes, cucumber, alfalfa seeds, black cumin, Knaulgrassate, Lieschgrassate, dill seeds, rosehip seeds, yucca 0.2%
Nutritional advice JR Farm Farm Food Gerbil
Only fill the food bowl if it is almost completely empty. Only give as much food as can be fully eaten within 24 hours.

Specifications
| | |
| --- | --- |
| Inhoud: | - |
| Samenstelling: | - |
| Analyse: | - |
| Geschikt voor: | Knaagdieren |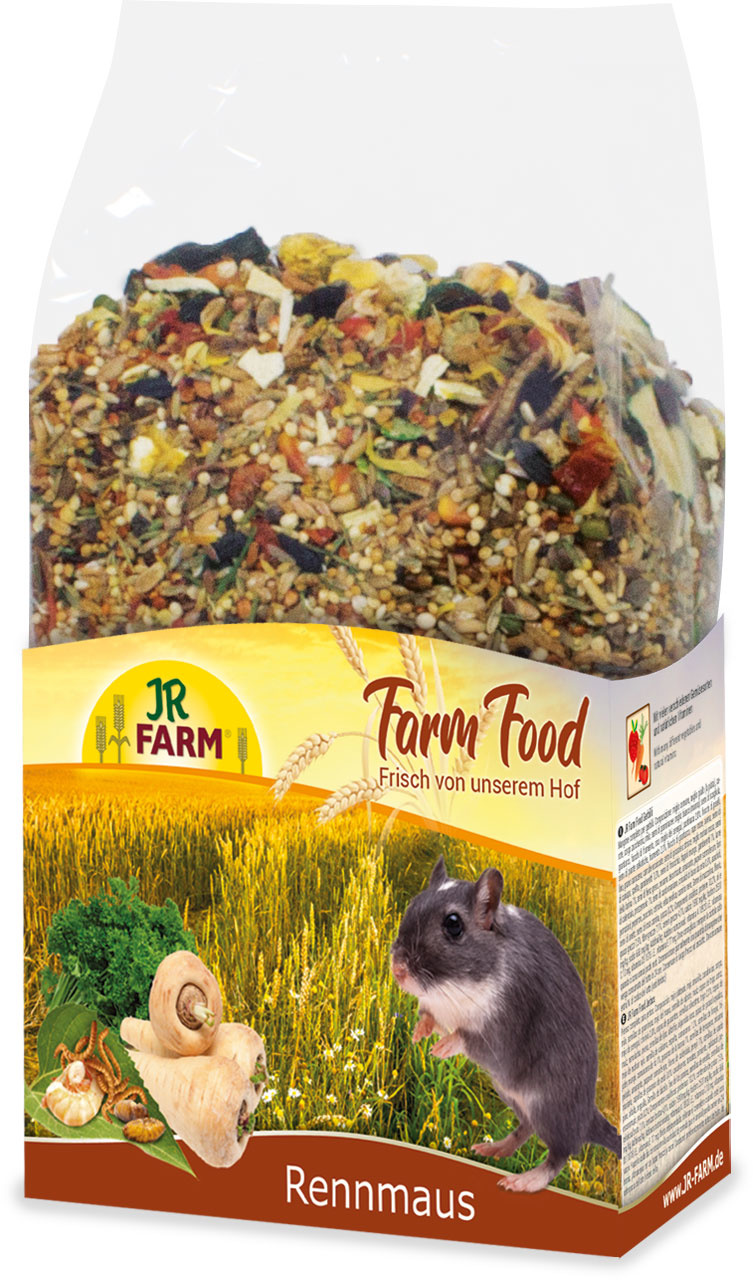 Reviews
No reviews found
Read or write a review