Gerri Gerbil 850 grams Gerbil food
Grootste Knaagdierwinkel van Europa

Altijd 14 dagen bedenktijd

Zaterdag verzending

Ordered before 4 pm, delivered tomorrow!
Product description
Supreme Gerri Gerbil
Supreme Gerri Gerbil is a complete gerbil food for gerbils of all ages. This gerbil mix has a low fat content and is rich in delicious ingredients. which gerbils love. Without sunflower seeds, because these are not always healthy for gerbils.
Benefits of Supreme Gerri Gerbil:
✔ Complete, balanced nutrition
✔Improves Digestion
✔ Promotes natural foraging behavior
✔ Promotes dental wear
✔ Very tasty
✔ No added sugars
The Supreme Gerri Gerbil food is completely tailored to the nutritional needs of gerbils. Attention is paid to fat content and essential nutrients that gerbils need to stay healthy. In addition, no sugars are added.
The Fat-tailed gerbil must also receive (dried) insects in addition to its main food. Fat-tailed gerbils are naturally insect eaters. This is also clearly visible in the pointed snout. Gerbil food is a very good basis for the Fat-tailed Gerbil, but it must be fed (dried) mealworms, crickets, beetles and other insects daily. To meet this nutritional requirement, we also have various insect mixes for the animals.
Specifications
| | |
| --- | --- |
| Content: | 850 grams |
| Composition: | Wheat, soybean meal, braised maize, torrefied wheat, whole oats, whole maize, flaked soybeans, flaked peas, alfalfa meal, pumpkin seeds, dried carrot flakes, wheat feed, linseed, soybean oil, soybean hulls, extruded |
| Analysis: | Crude protein: 17.0%, Crude fiber 4.0%, Fat content 8.0%, Inorganic matter 5.0%, Calcium 0.8%, Phosphorus 0.6%. |
| Suitable for: | Rodents, Gerbil |
| Particularities: | - |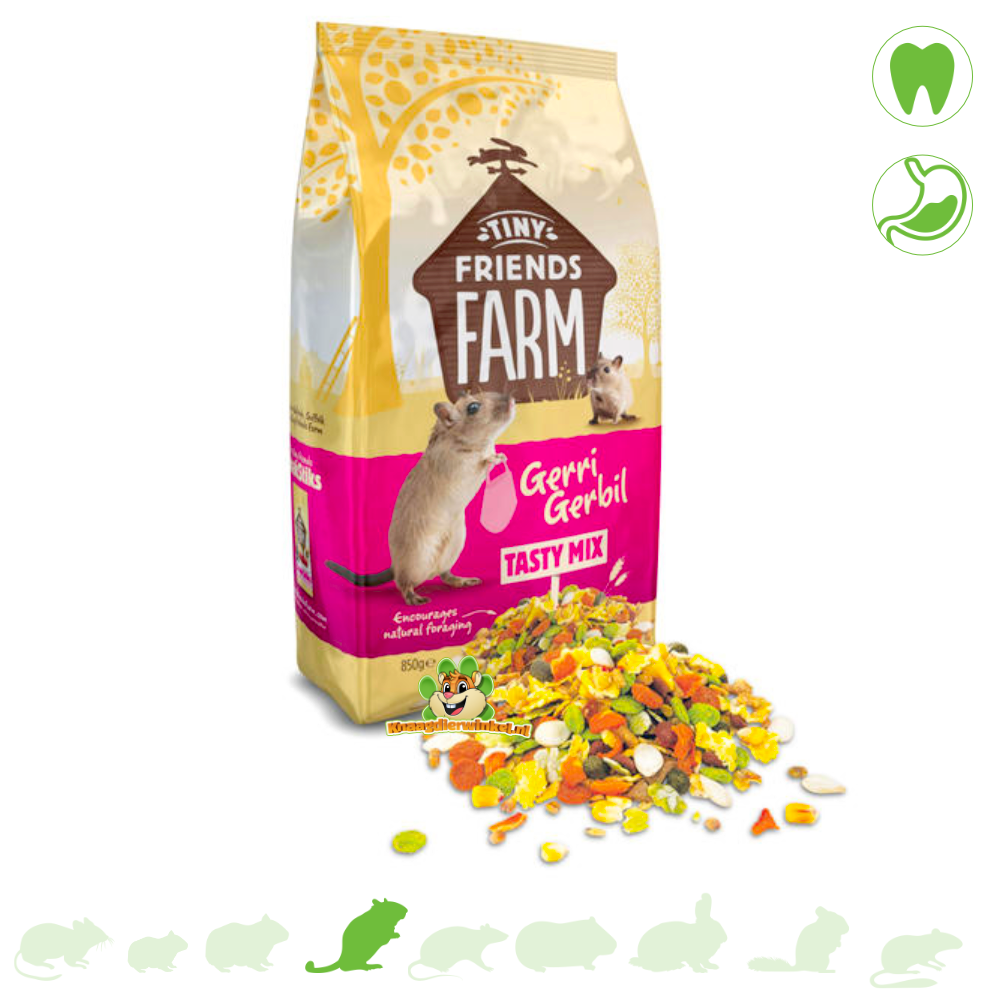 Ik gebruik deze voer voor mijn gerbils voor al een jaar. Ze zijn echt selectief eters en ze vinden bijna alles in deze mix lekker.
Ik heb aan de gerbils gevraagd of ze het lekker vinden maar ze zeggen niets... Zelf heb ik het niet geproefd.
Meteoschoonebeek
23 February 2018
Gerbils vinden dit een heerlijke voer waar veel lekkere dingen inzitten
Mijn Gerbils krijgen altijd de Supreme Gerri Gerbil voer. Ze vinden het heerlijk, ook nu de samenstelling is veranderd eten ze het goed. Ik blijf dus mooi bij de Gerri Gerbil van Supreme. Wel jammer dat deze niet in grootverpakkingen verkrijgbaar is