Menu Vital dwarf hamster food 400 grams
Zaterdag verzending!

Altijd 14 dagen bedenktijd

Getest op geschiktheid

Ordered before 5 pm, delivered tomorrow!
Product description
Vitakraft Menu Vital Dwarf Hamster Food
Dwarf hamster food from Vitakraft Menu Vital is the classic among hamster food: the sugar-free recipes from menu vital are the perfect basis for good hamster food, which your hamster will enjoy. The dwarf hamster food is tailored to the nutritional needs of the different types of dwarf hamsters such as: the Roborovski Dwarf Hamster, Russian Dwarf Hamster, Campbelli Dwarf Hamster and the Chinese Dwarf Hamster. The hamster food consists of delicious corn, nuts and is specifically tailored to the needs of the dwarf hamster with regard to animal proteins, for example. The Hamster food also contains a vital complex, which gives your hamster an extra boost of vitality. A healthy hamster food for hamsters. Hamster food with selected seeds, pellets and extrudates.
✔ Contains vitamins and minerals
✔ With animal proteins
✔ Sugar Free Recipe
✔ Free from artificial flavors
✔ No Artificial Dyes
✔ No Artificial Preservatives
✔ Fresh aroma in resealable bag
Nutritional advice Vitakraft Menu Vital Dwarf Hamster
Per day per dwarf hamster approx. 5-7g. Always have hay and fresh water available. Keep food cool and dry.
Specifications
| | |
| --- | --- |
| Content: | - |
| Composition: | - |
| Analysis: | - |
| Suitable for: | Rodents, Dwarf Hamster, Roborovski Dwarf Hamster, Campbelli Dwarf Hamster, Russian Dwarf Hamster, Chinese Dwarf Hamster |
| Particularities: | Complete feed |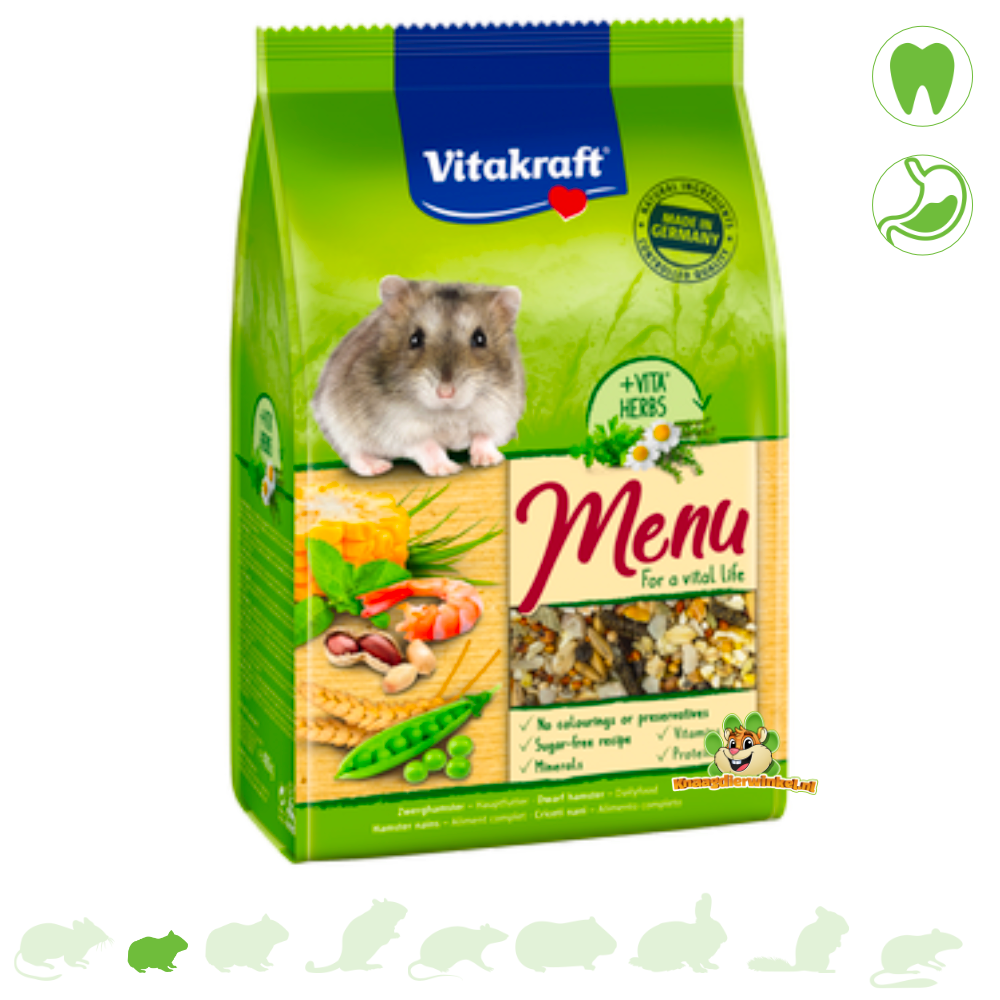 Mijn hamster is er dol op!
Prima website, prima service en snelle verzending!
Caroline
03 September 2020
Onze hamster wil niets anders!
Uitstekend voer voor een zwarte Russische dwerghamster! Met dit voer krijgen de drukte makers geen last van wangzak ontsteking.
fantastisch voer, veel kleine zaden en granen en geen grote brokken, en ook heel belangrijk GEEN suiker en dat is zeker als je mandarijn hamstertjes hebt heel belangrijk GEEN suiker.
Goed voer! Alleen bezorgkosten van bestelling aan de hoge kant.
Op zich is het voer een goed basisvoer alleen zou ik dit niet als enige voer geven maar nog mixen met bijv puur mini hamster van witte molen,, hier favoriet
silvia v.
01 February 2018
zeer prettig voer omdat er geen suiker in zit en omdat het kleine zaden zijn, mijn hamstertjes vinden het heerlijk om er lekker in te graven en alles in de wangzakken te stoppen. Alles wordt opgegeten
Mariska H.
28 October 2017
Koper heeft geen omschrijving achtergelaten.
Humphrey
24 February 2017
Voer met mooie, pure ingrediënten zoals sorghum (milo), gedroogde visjes en garnaaltjes, boekweit en andere pitten en zaden. Het voer is helemaal natuurlijk zonder kleurstoffen en bevat veel soorten zaadjes en granen. Mijn hamster blijft met dit voer en zijn snacks mooi op gewicht met glanzende vacht en is actief. Een nadeel is dat mijn hamster de vezel pellets in het voer niet aanraakt, en mijn hamster lust ook geen mais en tarwe wat er wel in zit. Tja, dat ligt misschien meer aan mijn hamster dan aan het voer. Verder bevat dit voer te weinig eiwit om op zichzelf te geven. Ik geef daarom bij het voer nog lab blocks/pellets van Mr Johnson, linzen (28 gr eiwit per 100 gram) en meelwormen. Ik heb hem eerder ook volgertjes gegeven. Allemaal op deze site besteld. De sprinkhanen van Trixie heb ik nu ook besteld als eiwit verhogende snack. Dat hij de vezel pellets niet eet zie ik verder niet als een probleem. De lab blocks zijn goed voor zijn tandjes en hij krijgt veel vezels ook met rauwkost. Al met al aan te raden als bijvoer en niet als op zichzelf staand voer.