The spookiest season of the year is here again, and why should our beloved rodents and bunnies be left out of the Halloween fun? We've put together a great selection of Halloween treats and toys
Read more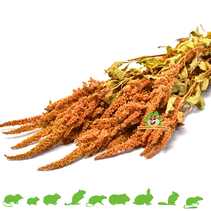 Ordered before 5 p.m., shipped the same day!*

Postpay!

12 YEARS THE BEST for rodents & rabbits!
Celebrate Halloween in Style with Our Spooky Treats for Rodents and Rabbits!
The spookiest season of the year is here again, and why should our beloved rodents and bunnies be left out of the Halloween fun? We've put together a great selection of Halloween treats and toys that are perfectly tailored to the needs and fun of your little furry companions.
Halloween Toys for Adventurous Spirits
Our collection of Halloween toys brings the spirit of the season to life in your rodent and rabbit's enclosure. From spooky play balls to pumpkin-shaped chewing toys, there's something for everyone. These toys are not only fun, but also safe and made from materials that your rodents will love to discover and explore.
Creepy Treats for Tasty Pleasures
Treat your rodents and rabbits to tasty Halloween treats that will enchant their taste buds. Our specially formulated treats are both nutritious and delicious, made from high-quality ingredients that your pets will love. From hay snacks to crunchy vegetable chips, we have the perfect treats to celebrate Halloween in a healthy way.
Spooky Good Health Benefits
Our Halloween treats and toys are not only intended to bring fun, but also to promote the health of your pets. They stimulate the gnawing instinct, help keep teeth short and healthy, and provide mental and physical stimulation for a happy and healthy life.
So what are you waiting for? Make this Halloween season extra special for your rodents and rabbits by surprising them with our spooky treats and toys. At [Your Brand Name], safety and fun come first, and we're proud to provide your pets with high-quality products that make their Halloween as special as yours. Happy Halloween to you and your furry friends!