Tiny & Natural Goodbite Gnawing Stone
Zaterdag verzending!

Altijd 14 dagen bedenktijd

Getest op geschiktheid

Ordered before 4 pm, delivered tomorrow!
Product description
Tiny & Natural Goodbite Apple (Apple)
Natural rodent stones for your rodent.
Many rodents contain too many minerals, salts and other substances that rodents cannot tolerate well. The Tiny & Natural line of gnawing stones puts an end to this and introduces a completely natural gnawing stone.
The gnawing stones from Tiny & Natural are made entirely of corn. No minerals, no proteins.
In this way, the gnawing stones ensure healthy and safe dental wear. ✔ Natural product made from corn
✔ Contains no fat, minerals and proteins
✔ Without genetically engineered components
✔ Organic and environmentally friendly
✔ No added sugars
This gnawing stone is supplied per piece.
Specifications
| | |
| --- | --- |
| Content: | 7 x 6,5 x 1,6 cm | 1 piece (50 grams) |
| Composition: | Corn |
| Analysis: | Corn |
| Suitable for: | Rodents, Mouse, Hamster, Gerbil, Rat, Guinea Pig, Rabbit, Chinchilla, Degu |
| Particularities: | - |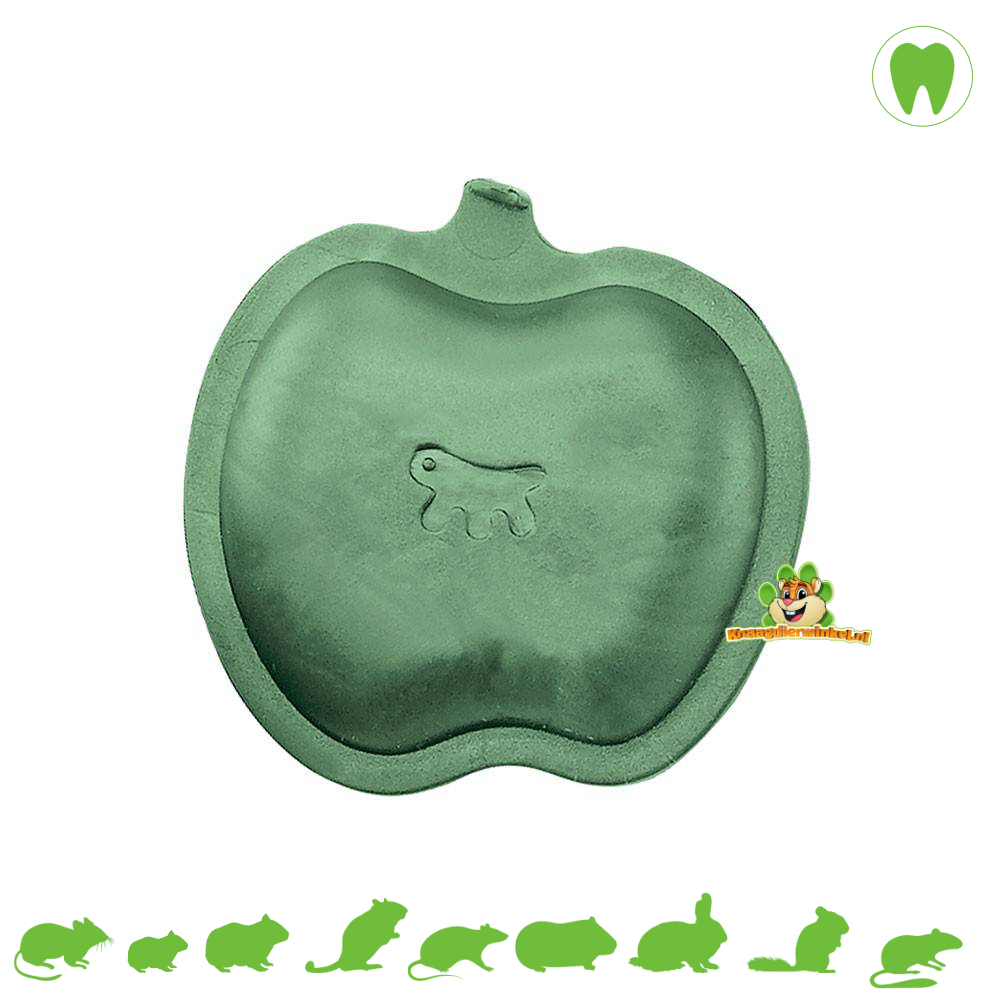 Maureen
01 September 2020
Mijn hamster begon tralies te knagen. Van alles gekocht dat hielp niet. Tot ik deze knaagsteen heb gekocht. Super!
Konijnen zijn er dol op, gaat verschillende dagen mee.
Al deze knaagstenen vinden mijn konijnen heerlijk. En het scheelt daardoor ook geknaag aan de meubelen en hok. Ook een fijne bijkomstigheid is dat het geen invloed heeft op het menu van de konijnen. Als deze knaagsteen boven op het twee etage hoge hok ligt, klimmen ze op mijn rug om er bij te kunnen! Dus ik houd mijn voorraad wel op peil. De appel vinden ze heerlijk. Ze lusten ze allemaal, kaas is favoriet.
Ik vind het erg goed!
Mijn hamstertje is er dol op! Hij sleept de knaagsteen overal naartoe en knaagt er erg veel aan.

Ik had andere knaagstenen geprobeerd maar daar was mijn hamstertje niet geïnteresseerd in.

Ook vind ik het erg goed dat het uit natuurlijke producten is gemaakt zodat het niet schadelijk is voor het hamstertje als hij het op eet.

Ik kan niet beloven dat het voor iedere hamster werkt, maar het is zeker het proberen waard!
Liesbeth H.
01 December 2017
Ik heb deze gekocht voor mijn ratjes. Ze vonden hem schijbaar erg lekker om op te knagen, want hij was zo op;)
Het enige wat handig zou zijn is een gaatje of iets in de knaagappel, zodat je hem kan ophangen.