Supreme Selective for Rodents & Rabbits
The best ingredients mixed into tasty chunks. Food that meets the nutritional needs of your rodents for 100% and that prevents selective eating is Supreme Selective.
Read more
Voor 17 uur besteld dezelfde dag verzonden!

Achteraf betalen!

10 JAAR het BESTE voor knager & konijn!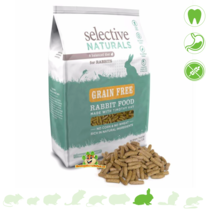 Supreme Selective for Rodents & Rabbits!
Science Selective is the most comprehensive vet-recommended range of species-specific foods formulated to meet the nutritional needs of small pets. The foods are rich in natural ingredients and naturally delicious with no added sugars. The food is irresistible, small pets love Science Selective's unique crunchy texture. The diets for small herbivores - ie rabbits, guinea pigs, chinchillas and degus - are carefully mixed with a balance of short and long fibers, as well as natural prebiotics to optimize digestion. Science Selective also offers pets a larger portion size per calorie compared to other foods to maintain weight and promote active chewing for healthy teeth. Each recipe is formulated specifically to meet your pet's exact nutritional needs and contains fortified and stabilized vitamins and minerals that are easier for pets to digest.
✔ Composed without added sugars
✔ Pets just find it irresistible
The recipes are made according to fixed formulas to provide pets with the same high quality food time after time to keep their tummies happy. Our recipes will never change due to ingredient prices.