Selective Rabbit Mature 4+ Rabbit Food
Buy 4 for €9,45 each and save 5%
Zaterdag verzending!

Altijd 14 dagen bedenktijd

Getest op geschiktheid

Ordered before 4 pm, delivered tomorrow!
Product description
Supreme Selective Rabbit Mature 4+ Rabbit Food
The Supreme Selective Rabbit Mature Rabbit Food has been specially developed and tailored to the older rabbit. Supreme Selective Rabbit Mature Rabbit food contains timothy hay & thyme. The food has been specially developed for the changing nutritional needs of rabbits older than 4 years.
Older rabbits make less vitamin C, so extra vitamin C has been added to the food of Supreme Selective Mature Rabbit Food. The high fiber content in the Supreme Selective Mature food ensures that the digestion of the older rabbit is supported and that tooth wear can take place. The diet prevents selective eating, which prevents many problems, such as obesity or vitamin deficiency. The Supreme Selective Mature food is complete and tailored to the older rabbit.
✔ Prevents selective feeding – a common problem in many rabbits
✔ Complete Nutrition
✔ High fiber content – ​​22% (improves digestion)
✔ Added Vitamin C – 500mg/kg
✔ With Timothy Hay & Thyme to maintain appetite
✔ Contains Flaxseed – an excellent source of Omega 3 & 6
✔ With extra antioxidants to promote the immune system
✔ Low sugar and protein content to prevent obesity in older, less active rabbits
Rabbits 4 years + have special nutritional needs. Supreme Selective Mature is formulated with 22% crude fiber and balanced calcium:phosphorus, so you can be sure that you are providing your senior rabbits with the best nutrition that supports the immune system and promotes vitality.
Supreme Selective Mature 4+ is for rabbits 4 years and older. It has a lot of fiber to promote well-being and vitality. Without added sugars and the best quality ingredients.
Thanks to the high fiber level (22%) the intestinal motility is supported as fully as possible. The diet is low in sugar and protein to prevent obesity in less active, older rabbits. Without added sugars and high in fiber, it also helps to maintain healthy teeth.
Supreme Selective rabbit food for young bunnies
Do you have young rabbits between the ages of 4-20 weeks, or a pregnant/nursing nurse? Selective Rabbit Junior is specially formulated to support the nutritional needs of young rabbits and for pregnant and lactating nurses. It contains extra protein to support growth and development. Supreme Selective Rabbit Junior is additionally fortified with a blend of amino acids, vitamins and herbs to provide a natural source of antioxidants, helping to give rabbits a great start in life. Read more about Supreme Selective Rabbit Junior here .
Specifications
| | |
| --- | --- |
| Content: | 1.5 kg | 3 kg | 10 kg |
| Composition: | Alfalfa meal, soy hulls, timothy hay (min. 20%), wheat, wheat flour, linseed (min. 1.6%), pea flakes, minerals, thyme (min. 1%), soya oil, herbs (min. 1%; spinach, bilberry , milk thistle seeds, hawthorn fruits, green tea extract, grape seed |
| Analysis: | Crude protein 12% Crude fiber 22% Crude fat 4% Crude ash 8% Calcium 0.6% Sodium 0.3% Phosphorus 0.4% Vitamin A 14000 IU Vitamin C 500 mg/kg Vitamin D3 1300 IU Vitamin E 50 mg Copper 10 mg Iron 50 mg Iodine 0.4 mg Manganese 30 mg Zinc 50 mg Selenium 0.1 m |
| Suitable for: | Rodents, Rabbit |
| Particularities: | - |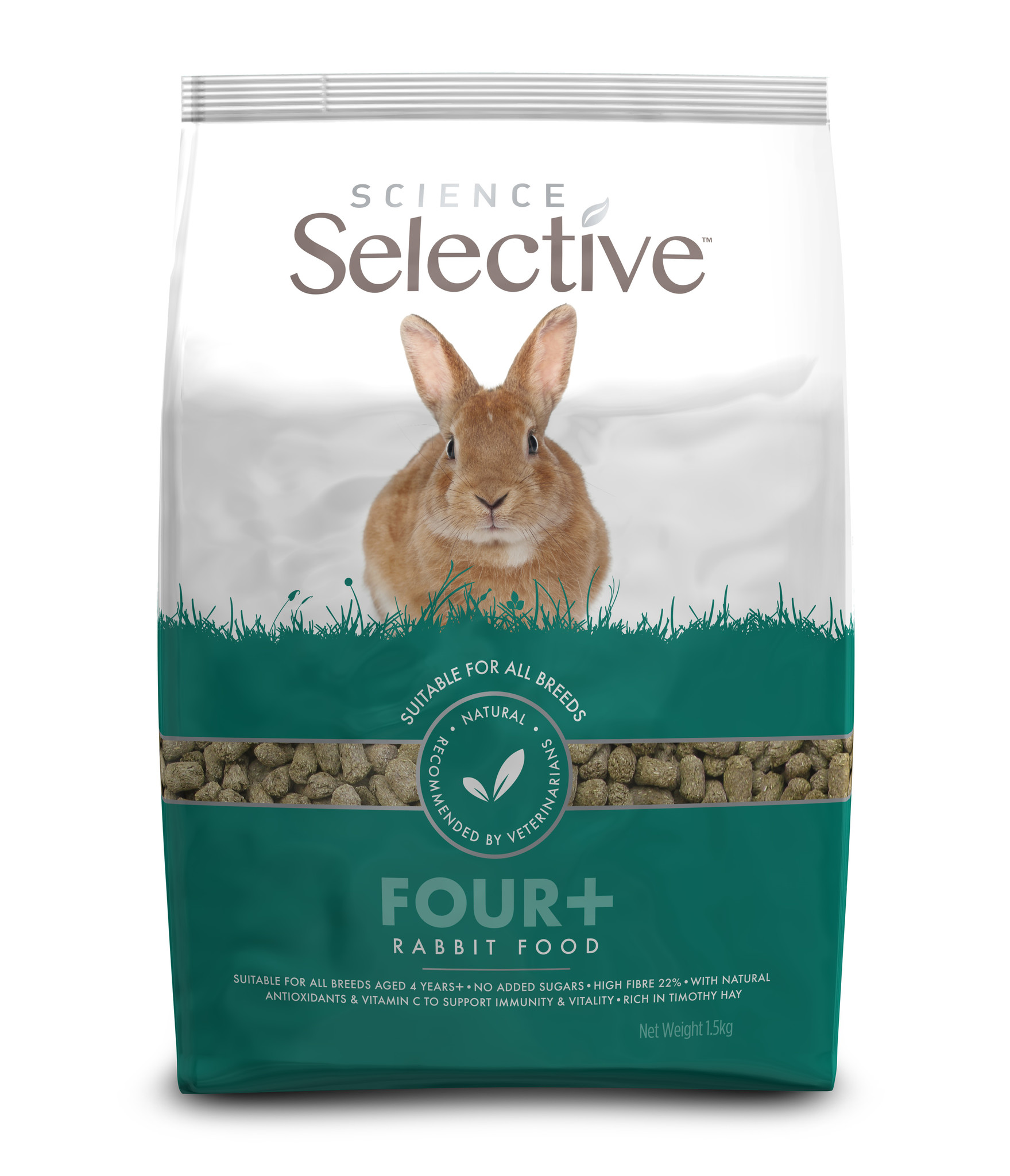 Onze konijnen zijn dol op dit voer. Hun vacht glanst mooi en hun lijfjes blijven mooi in model.
Koop deze altijd. Heel goed voer voor mijn volwassen dwergkonijn en hij vindt het erg lekker.