Zaterdag verzending!

Altijd 14 dagen bedenktijd

Getest op geschiktheid

Ordered before 4 pm, delivered tomorrow!
Product description
Supreme Selective Rat & Mouse
Supreme Selective Rat is composed of a combination of high-quality ingredients and forms a complete and balanced diet for your rat. Selective Rat prevents your rat from eating selectively and choosing only its favorite ingredients from a mixed diet. The food also contains a number of ingredients that make an additional contribution to the health and well-being of your rat.
Supreme Selective Rat & Mouse is recommended by veterinarians and is nutritionally complete and balanced diet that is perfect for rats and mice.
The Supreme Selective Rat and Muis contains fruit such as apple and black currant because of their antioxidant properties and high vitamin content to promote optimum health. It also contains many polyunsaturated fatty acids and low saturated fatty acids and cholesterol to promote cardiovascular and circulatory health. Selective Rat and Mouse has been specially developed to keep the skin and fur of your rat and mouse in good condition.
✔ Unique vegetarian recipe - without compromising the nutritional value
✔ Prevents selective food
✔ Promotes the health of the teeth
✔ Contains apple and black currant (antioxidants and vitamins)
✔ Rich in polyunsaturated fatty acids
✔ Low content of saturated fatty acids and cholesterol
✔ Soy proteins (high quality proteins for a healthy life)
✔ Very tasty
✔ Without added sugars
✔ Without added dyes
✔ Mono component, fully extruded diet
It is only important what is NOT added to selective
Have you ever checked your rat food label lately? Take a look, because some foods contain molasses or syrup or other sugary ingredients. This extra sugar in the diet of rats can lead to overeating and being overweight. It can also lead to dental problems.
Gradually switch to Supreme Selective
If you are feeding Supreme Selective Rat to your rats for the first time, make sure that you gradually switch over in 10-14 days. In the beginning, you must selectively mix a small amount with the rat's current food, slowly reducing the old diet, while gradually increasing the amount selectively. A sudden change in the diet can cause digestive problems, even if you switch to a better quality diet, so be careful!
✔ Ensures healthy skin and coat
✔ Zero added sugar
✔ Rich in natural ingredients
✔ Prevents selective input
✔ Balanced diet
✔ No artificial colors
✔ Very tasty
✔ Helps maintain a healthy heart
✔ Promotes dental wear
✔ Supports digestion
✔ Suitable for all varieties
If your rats are used to a sugar-containing diet, they will have to get used to this sugar-free diet, hold on for a while, as this will benefit the health of your rats in the long term.
Specifications
| | |
| --- | --- |
| Content: | 1.5 kg | 3 kg |
| Composition: | Wheat, soy flour, barley, oats, soybean oil, dried apples, dried blackcurrants, wheat feed, limestone flour, salt |
| Analysis: | Protein 14.0%, Crude fiber 4.0%, Fat content 4.0%, Inorganic matter 5.0%, Calcium 0.6%, Phosphorus 0.4%, Vitamin A 15000 IU, Vitamin D³ 1500 IU, Iron sulphate monohydrate 152 mg, calcium iodate anhydrous 1.5 mg, copper sulfate pentahydrate 20 mg, manganes |
| Suitable for: | Rodents, Mouse, Rat |
| Particularities: | - |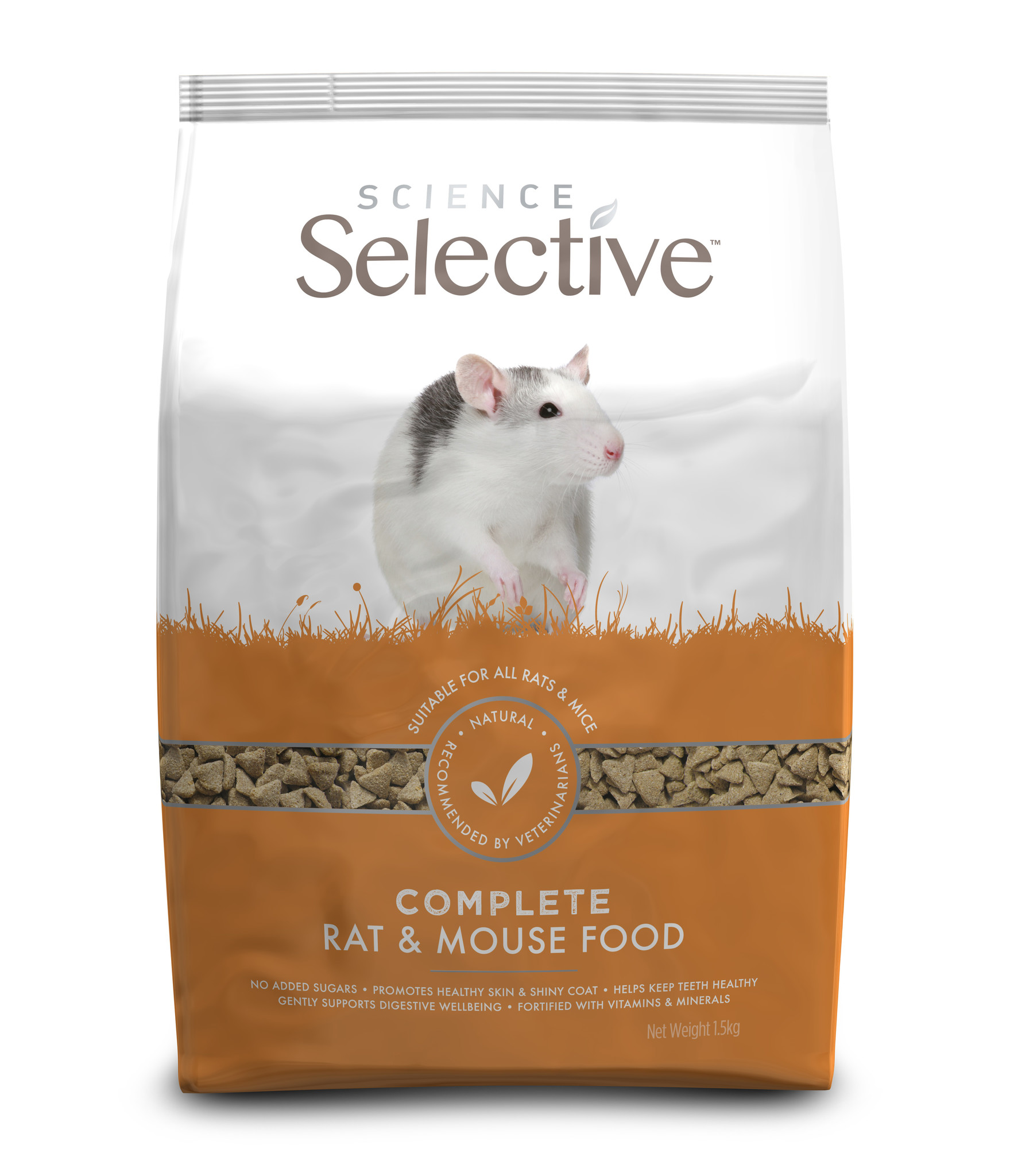 Het oude recept van Selective vond ik beter, maar het is wel fijn dat er nu een grotere zak van is.
Perfect. Dankzij dit voer krijgen onze ratjes alles binnen wat ze nodig hebben.
Mijn ratten houden van dit voer! Heeft een goede geur en zorgt er voor dat hun ontlasting niet zo stinkt (heb in het begin labbrokken gehad en toen stonk hun ontlasting wel erg)
Prima product! Mijn ratten vinden het erg lekker
Mijn ratten zijn er gek ip!
Marianka
01 November 2019
Mijn ratten willen dit voer vanaf het begin, heb voor de afwisseling keer een proefverpakking van iets anders geprobeerd maar daar trappen de dames niet in.