Toys for playing and foraging for Guinea pigs
Guinea pig toys are fun for guinea pigs! Guinea pigs are very friendly and curious animals that like to have something to do. Toys are therefore an important part of the guinea pig. Guinea pigs love nibble toys. It is important that the spe
Read more
Order Guinea pig toys for playing and foraging for Guinea pigs easily and quickly at DRD Knaagdierwinkel® The Cavia Webshop!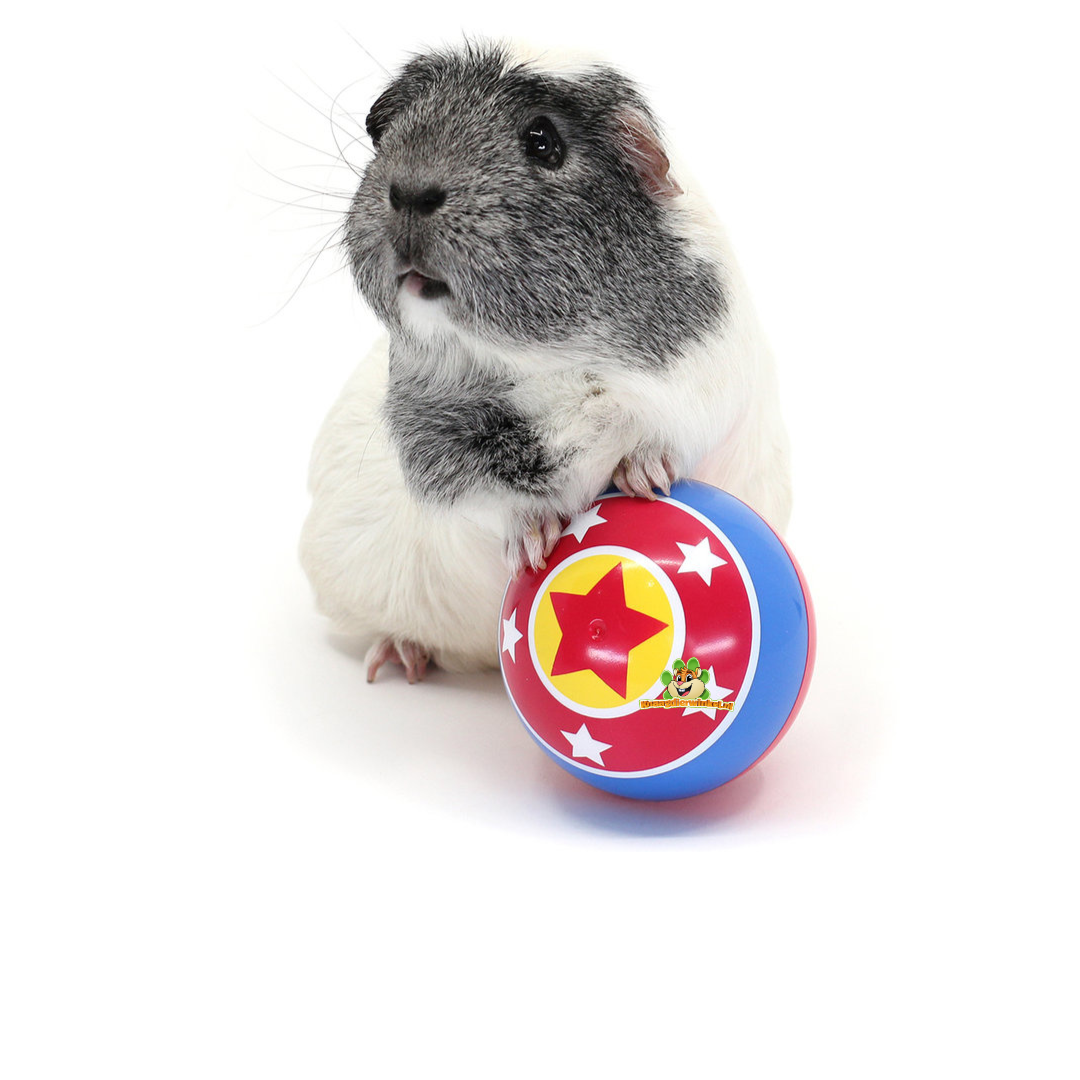 Guinea pig toys are fun for guinea pigs! Guinea pigs are very friendly and curious animals that like to have something to do. Toys are therefore an important part of the guinea pig. Guinea pigs love nibble toys. It is important that the toys are suitable for guinea pigs, which is why you have come to the right place at DRD Cavia Webshop. With us you have a wide choice of different types of toys for a competitive price!
Why do Guinea pigs need a challenge?
Guinea pigs are active and curious animals, they need a challenge! There are many different toys, but it is nice to offer playing in a challenging way so that the animals do not get bored.
In the wild, the guinea pig spends all day looking for food and socializing with others of its kind. In our home the guinea pigs have much less to do. Food and drinks are served neatly by their people and they are often presented with everything they need in a simple manner and that is of course very good, but they do need a bit of a challenge.
Why are nibble toys fun for guinea pigs?
We call this type of toy nibble or demolition toys. The animals can throw it, nibble on it, pull it apart, make noise, etc. Nice to burn off energy or meet their gnawing needs. It is of course very important that these toys are suitable for guinea pigs and also safe.
Did you know that guinea pigs experience a colorful world?
Known for their adorable looks and lively personalities, guinea pigs have surprisingly well-developed eyesight. While many other mammals are limited to perceiving shades of gray, guinea pigs have the ability to perceive colors such as green, blue and yellow!
This means that guinea pigs can enjoy a colorful environment, just like us humans. They can distinguish between different colored foods, toys and environmental features. Imagine what their world looks like, with a spectrum of vibrant hues and nuances!
It is fascinating to think about how guinea pigs react to different colorful toys, but also vegetables, for example. You may notice that they get excited at the sight of a bright green piece of pepper or become curious about a blue toy they discover in their environment. Their ability to perceive colors adds an extra dimension to their interaction with the world around them.
So, the next time you see your guinea pig enjoying a colorful snack or intrigued as they frolic around with a colorful toy, remember that they are experiencing a colorful world where they can distinguish colors. It is simply fantastic to observe their reactions and behaviors!
Why are intelligence toys fun for guinea pigs?
This is where things get interesting for the animals! Intelligence toys are guinea pig toys that aim to stimulate and excite the animal. The guinea pigs now have to work for their food or snack and they get the treat as a reward. This type of toy is highly recommended by behavior experts because it provides a lot of enrichment and activity. It combats boredom and therefore also problem behavior that is often associated with boredom. Guinea pigs are smart animals that are determined. When we look at the perseverance of rabbits and guinea pigs, the guinea pig often scores better, they are not quitters and that makes them suitable for intelligence toys.
Intelligence toys are best done together. The Guinea pigs certainly have to learn how it works in the beginning, but once they know, they will go completely wild as soon as they see the toy again!
Why are tunnels fun for guinea pigs?
Guinea pigs are prey animals and do not like to stay in open areas for too long. They often run from one shelter to another and live in the wild in tunnels and burrows. This is also why guinea pigs love tunnels and shelters so much.
Why are foraging toys good for guinea pigs?
❤ Stimulate natural behavior: Foraging toys imitate the natural behavior of Guinea pigs , namely looking for food in their environment. Challenging them to search and dig for their food stimulates their natural instincts and keeps them active and satisfied.
❤ Physical activity: Foraging toys encourage Guinea pigs to be active and exercise. They have to walk around, dig, push and pull to get to the rewards. This promotes exercise and helps maintain a healthy weight and good physical condition.
❤Enrichment of the environment: Foraging toys add an element of challenge and variety to the guinea pig's environment. It makes their daily life more interesting and prevents them from getting bored in a monotonous environment. This can lead to better overall well-being.
❤ Prevents Overeating: Foraging toys make the feeding process slower and more challenging. This means that guinea pigs have to make more effort to get to their food, which means they cannot eat large quantities in one go. This helps prevent overeating and weight problems.
In short, foraging toys for Guinea pigs provide both physical and mental stimulation, help prevent boredom and promote natural behavior. It's a great way to improve their well-being and quality of life.