Selective Rabbit Rabbit food
Zaterdag besteld, maandag in huis!

Altijd 14 dagen bedenktijd
Veilig en achteraf betalen

Ordered before 4 pm, delivered tomorrow!
Product description
Supreme Selective Rabbit Rabbit food
Supreme Selective Rabbit 1.5 kg is a naturally tasty and healthy rabbit food! Adult rabbits have specific nutritional needs. Supreme Selective Rabbit is composed of 25% crude fiber and balanced calcium: phosphorus ratio, so you can be sure that you are providing your rabbits with the best quality food that supports well-being and promotes vitality. That is why veterinarians recommend Supreme Selective.
✔ High-quality fibers for dental well-being
✔ No added sugars
✔ Prebiotics to support digestion
✔ Fortified with vitamins and minerals
✔ Flax seeds for healthy skin and fur
Supreme Selective Rabbit 1.5 kg is suitable as a complete diet for adult rabbits. It contains a lot of natural fibers to promote well-being and vitality. With no added sugars and the best quality ingredients, Selective is tooth-friendly and ensures that your rabbits experience a great taste sensation and the highest satisfaction.
Veterinarians believe that fiber-rich rabbit food is the most important thing! Wild rabbits eat mainly grass, which naturally contains 20-25% fiber. Supreme Selective Rabbit contains no less than 25% fiber.
With food as the main source of fiber, Selective also contains many other tasty, natural ingredients - flax seeds with Omega 3 and 6 that help keep your rabbit's skin and fur in top condition, as well as natural prebiotics to help promote friendly bacteria.
Supreme Selective Rabbit 1.5 kg for the first time?
If you are feeding Selective to your rabbits for the first time, make sure you gradually switch from one food to another in 10-14 days. In the beginning you need to mix a small amount of selective with the old food of your rabbits, then slowly reduce the old diet, while gradually increasing the amount of selective. A sudden change in the diet can cause digestive problems even when you switch to a better quality diet, so be careful!
If your rabbits are used to a sugary diet, you may find that it takes a while to persuade the animals to eat a healthier diet, but the keeper wins and because it will benefit your rabbits' health in the long term It is important not to give up too quickly.
And don't forget fresh hay and water! Your rabbits must have an unlimited supply of both at all times.
Supreme Selective food for older rabbits
Do you have adult rabbits that are four years old or old? In that case you better switch to the Selective Rabbit Mature 4+. This rabbit food offers a diet that is specifically tailored to the nutritional needs of older rabbits that are less active and is mixed with the best quality Timothy Hay. It contains tasty herbs that are full of natural antioxidants, to maintain appetite and to keep your older rabbits happy and healthy. Read more about Selective Rabbit Mature here .
Supreme Selective rabbit food for young rabbits
Do you have young rabbits between the ages of 4-20 weeks or a pregnant / lactating nurse? Selective Rabbit Junior has been specially formulated to support the nutritional needs of young rabbits and for pregnant and lactating nurses. It contains extra protein to support growth and development. Supreme Selective Rabbit Junior is also enhanced with a mix of amino acids, vitamins and herbs to provide a natural source of antioxidants, and helps give rabbits a good start in life. Read more about Supreme Selective Rabbit Junior here .
Supreme Selective Rabbit rabbit food nutrition advice
A typical adult rabbit, weighing 2.5 kg, needs approximately 60-70 g per day of Supreme Selective Rabbit food. Supreme Selective Rabbit can be fed as needed, but weight and well-being must be checked regularly. Store in a cool, dry place before and after opening. Fresh hay and water must always be available.
Specifications
| | |
| --- | --- |
| Inhoud: | - |
| Samenstelling: | - |
| Analyse: | - |
| Geschikt voor: | Knaagdieren |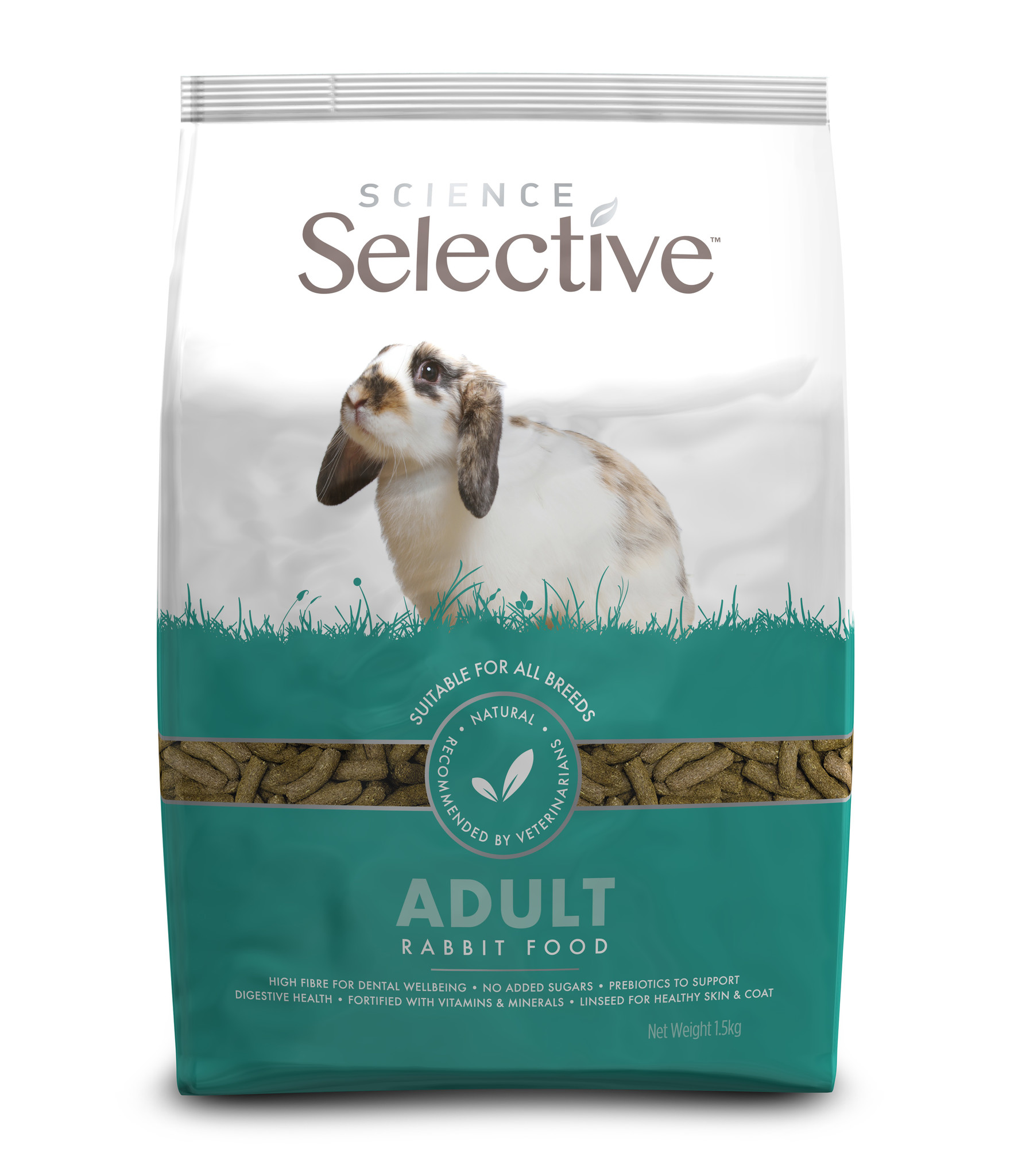 Het is echt super voer ben er erg blij mee en mijn konijnen ook :-)
Wij geven onze konijnen al jaren Supreme Selective Rabbit. Heel tevreden over deze konijnenvoeding.
Melissa
11 September 2015
Ik gebruik de Supreme Selective Rabbit al sinds een jaar en ben er zeer blij mee. De konijntjes smikkelen er echt van.