Zaterdag verzending!

Altijd 14 dagen bedenktijd

Getest op geschiktheid

Ordered before 4 pm, delivered tomorrow!
Product description
Supreme Selective Guinea Pig
Supreme Selective is a complete, balanced diet for guinea pigs. with addition of dandelion, fennel & nettle. Composed of a combination of high-quality ingredients, it forms a complete and balanced diet in the form of a tasty chunk. With alfalfa as a fiber source and a fiber content of 19%, this diet offers the ideal fiber content and fiber type in the right amounts, to promote bowel activity and to support natural dental wear.
✔ Prevents selective eating - a common problem with many guinea pigs Complete and
✔ balanced diet
✔ With added Vitamin C - 800mg / kg - an essential daily requirement
✔ Improves digestion and promotes dental wear through an optimal fiber content
✔ High fiber content - 15% Lucerne (known for its high quality fibers and proteins)
✔ Contains linseed - an excellent source of Omega 3 & 6 for healthy skin and fur
✔ Without added sugars to prevent obesity
✔ High quality food for satisfied guinea pigs
The Supreme Selective Guinea Pig diet contains no added sugars to prevent obesity. It contains linseed, an excellent source of omega 3 and 6 fatty acids. This mix of herbs promotes the natural drainage of moisture. This relieves constipation, stimulates digestion, prevents bloating and is good for a healthy bladder.
Nutritional advice Supreme Selective Guinea pig
If you are feeding Supreme Selective Guinea Pig to your guinea pig for the first time, make sure you gradually switch from the old to the new food in 10-14 days. First, you must selectively mix a small amount with your guinea pig's current food, slowly reducing the old diet, while gradually increasing the amount selectively. A sudden change in the diet can cause digestive problems even when you switch to a better quality diet, so be careful!
If your guinea pigs are used to a sugar-containing diet, it may be a little harder for them to get used to this low-sugar diet, but perseveres, as this will benefit your animal's long-term health.
And don't forget fresh hay and water! Your guinea pigs must always have an unlimited supply of both, along with a small daily amount of delicious fresh vegetables!
Specifications
| | |
| --- | --- |
| Content: | 1.5 kg | 3 kg | 10 kg |
| Composition: | Alfalfa, whole grain, wheat feed, soybeans, soybean meal, flaked peas, linseed, sugar beet pulp, soybean oil, fennel seed, monocalcium phosphate, salt, calcium carbonate, dried dandelion. |
| Analysis: | Protein 16.0%, Crude fiber 15.0%, Fat content 4.0%, Inorganic material 6.5%, Calcium 0.8%, Phosphorus 0.5%, Vitamin A 23000 IU, Vitamin C 800 mg, Vitamin D³ 1500 IU, Iron Sulfate Monohydrate 152mg, Calcium Iodate Anhydrous 1.5mg, Copper Sulfate Pentahydra |
| Suitable for: | Rodents, Guinea Pig |
| Particularities: | - |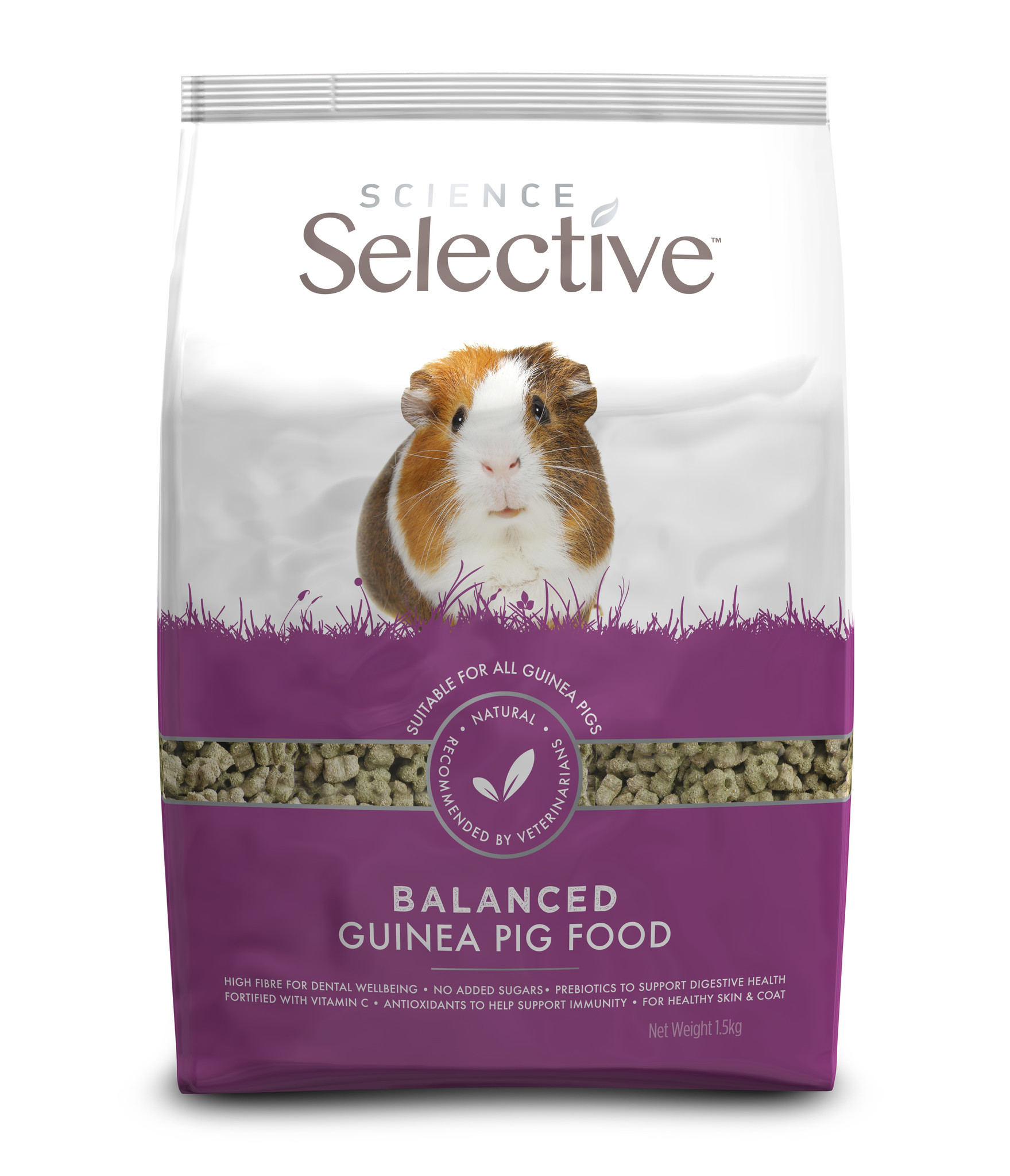 Hannah Hilbert
09 March 2021
in mijn mening, het beste eten die er is. Bij veel voeding wordt de geur in de kooien van mijn jongens ondragelijk maar nadat ik een week lang dit eten gaf werd de geur al veel beter. De cavia's eten hun kommen volledig op en genieten ervan.
Frederik
01 February 2020
De beste cavia voeding op de markt !
Echt super eten voor cavia's
Lekker gezond en mijn cavia's vanden het ook nog lekkerder echt een aanrader dus
Op aanraden van de dierenartsen eten onze cavia's deze brokjes al jaren!
Twee van mijn drie cavia's vinden ze heel lekker en het is ook nog eens gezond voor ze
GDPR deleted
01 December 2018
Mijn cavia's vinden het heerlijk
Hartstikke gezond en m'n cavia's vinden het lekker! Een echte aanrader.