Selective Chinchilla 1.5 kg
Zaterdag verzending!

Altijd 14 dagen bedenktijd

Getest op geschiktheid

Ordered before 4 pm, delivered tomorrow!
Product description
Supreme Selective Chinchilla 1.5 kg
Supreme Selective Chinchilla is a balanced diet for chinchillas with tasty parsley, plantain and linseed for a healthy and shiny coat. The high fiber values are very important for the digestive system of a chinchilla and also help to wear continuously growing teeth. The fat levels in Supreme Selective Chinchilla are very low because chinchillas can easily develop overweight. Flax seeds are an important ingredient in the diet to ensure that the soft chinchilla coat stays in top condition!
✔ High fiber content 19%
✔ Zero added sugar
✔ Rich in natural ingredients
✔ Prevents selective eating behavior
✔ Balanced diet
✔ No artificial colors
✔ Very tasty
✔ Promotes dental wear
✔ Supports digestion
✔ Helps maintain healthy skin and coat
Nutritional advice Supreme Selective Chinchilla
When you feed Selective Chinchilla to your chinchillas for the first time, make sure you gradually switch from the old to the new food over 10-14 days. In the beginning you need to mix a small amount of Selective Chinchilla with the current food of your chinchilla, slowly reduce the old diet, while gradually increasing the amount of Selective Chinchilla. A sudden change in the diet can cause digestive problems even when you switch to a better quality diet, so be careful!
If your chinchillas are used to a sugary diet, you will notice that it takes a while to get used to the Selective Chinchilla. But hold on, because this will benefit their health in the long term.
Chinchillas need fresh hay every day!
Specifications
| | |
| --- | --- |
| Content: | 1.5 kg |
| Composition: | Alfalfa meal (alfalfa), soy hulls, wheat, soy flour, wheat feed, extruded locust bean, dried parsley, dried plantain, linseed, monocalcium phosphate, salt, calcium carbonate |
| Analysis: | Protein 16.0%, Crude fiber 19.0%, Fat content 3.0%, Inorganic material 7.0%, Calcium 0.8%, Phosphorus 0.4%, Vitamin A 15000 IU, Vitamin D3 1500 IU, Ferrous sulphate monohydrate 152mg, Calcium Iodate, Anhydrous 1.5mg, Copper Sulfate Pentahydrate 20mg, Mang |
| Suitable for: | Chinchilla |
| Particularities: | - |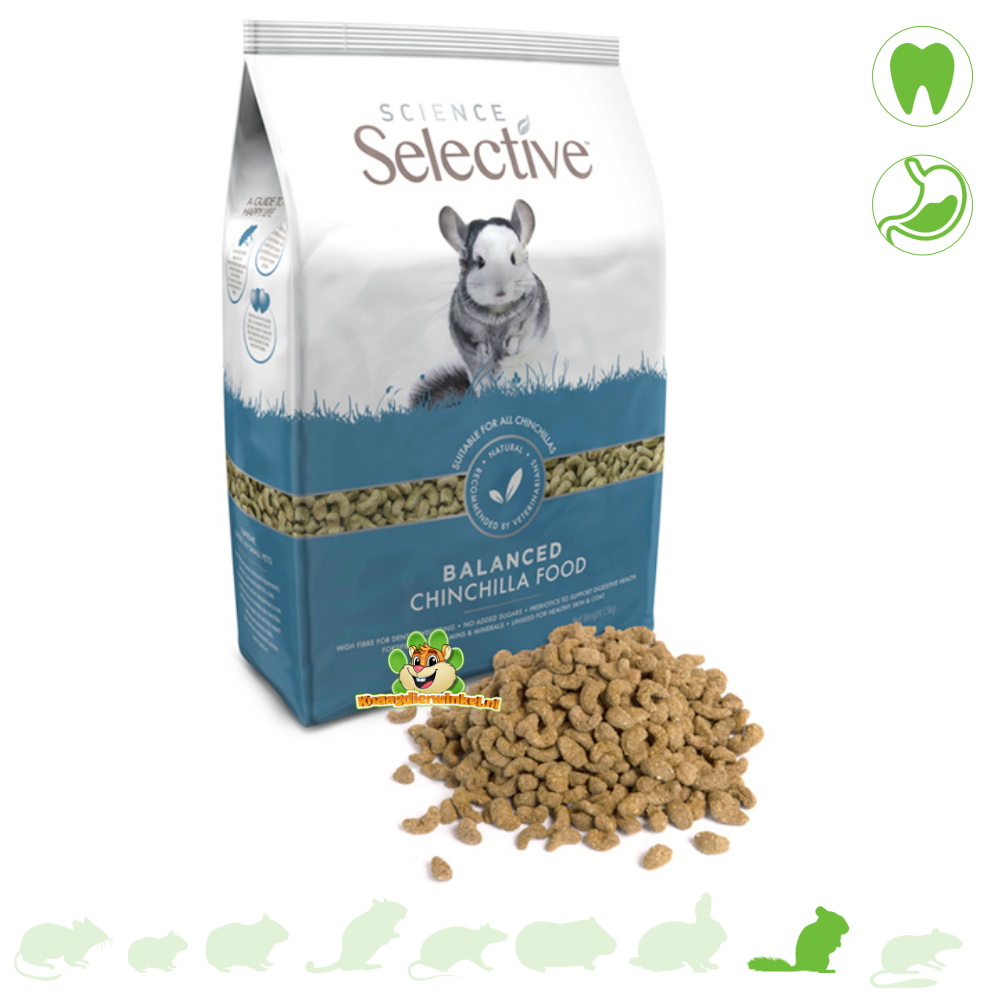 De chinchillas eten het graag, selectief eten is uitgesloten zo krijgen ze alle belangrijke vitaminen binnen, Een echte aanrader!!!
Mijn chinchilla's (een jonge en een oude) zijn er beide dol op. In de opvang kregen ze ook dit voer en waren ze er ook erg positief over.
Er zit precies in wat ze nodig hebben, zonder suikers. De pellets zijn mooi hard (goed voor hun tanden). Mijn chins zijn iedere keer blij als ik hun bakje bijvul!