Ground Cover for Hamsters and Dwarf Hamsters
Buy bedding for your Hamster easily at DRD Rodent Shop®, the online Hamster Webshop for your Hamster. For bedding for your Hamster you are in the right place in our Hamster webshop. You will find different types and brands of soil treatments here
Read more
Buy Ground Cover for your Hamster easily and quickly at DRD Rodent Shop ® The Hamster Webshop for your Hamster!
Ground cover for hamsters and dwarf hamsters should preferably be digable. The animals are real diggers and like to dig tunnels in their enclosure. A thick pack of digable ground cover makes this possible! An additional advantage is that the animals can display their natural behavior in this way and are less likely to get bored. Digging in ground cover is sometimes a day job, where one tunnel has just been completed, another has to be made, so the animals keep themselves busy!
Ground Cover & Hamsterscaping
Hamsterscaping makes it possible to let the animals show their natural behaviour. At Hamsterscaping, the enclosure is set up in an animal-friendly, but very extensive way so that the animals can dig, research and just enjoy being a hamster! We recommend giving the animals a layer of at least 20 cm. 30 cm would be even more fun for Syrian Hamsters (Golden Hamsters).
Bioactive ground cover
We distinguish two types of ground cover when it comes to scapes, namely the normal scape and the bioactive scape or a combination of both. The bioactive ground cover makes it possible to plant fresh plants and provides a living environment not only for hamsters, but also for small bioactive creatures that maintain the environment in the enclosure. We must say right away that a bioactive device is really for advanced users because of the challenges and subtle natural balance. For example, the small critters that live in a bioactive enclosure help to clean up poop and puddles, and the faeces and pee of the critters are fertilizers for the plants. In this way, a stay almost never needs to be changed.
The biggest challenge with a bioactive enclosure is the humidity. If the humidity is too high, parts of the accommodation can start to mold, so we always recommend painting them with a safe clear coat .
A good bioactive soil cover is, for example, the Organic Humus and the Coconut fibre, these two mixed together provide a beautiful substrate for plants and grass and make natural tunnels possible.

Combine ground covers!
It can help to combine ground covers with each other. In this way the ground cover gets more volume and the animals can dig in it even better. Some ground covers such as Cotton & Wood Fiber and Cotton & Hemp are already premixed, but others such as Wood fiber should be mixed with hay, for example, so that they get more firmness.
How much ground cover should I have for my stay?
We have calculated and listed it!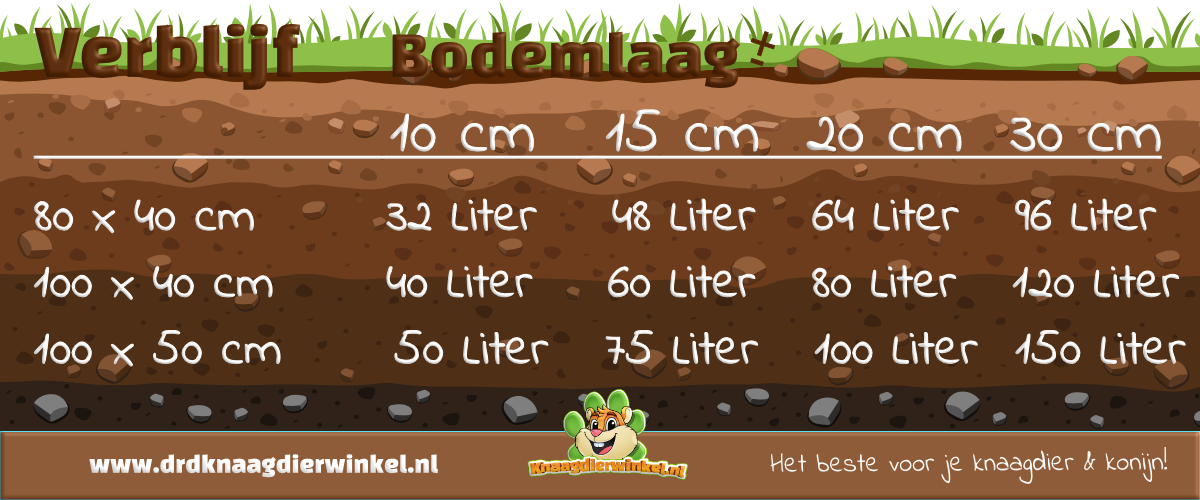 save