Zaterdag verzending!

Altijd 14 dagen bedenktijd

Getest op geschiktheid

Ordered before 5 pm, delivered tomorrow!
Product description
Plospan Wood fiber Ground cover for rodents!
The Dutch Plospan Wood Fiber is one of the best wood fibers for rodents and rabbits. The wood fiber is dust-free thanks to the good dedusting that the sawdust undergoes during production. It is good to know that Plospan produces its litter in an environmentally friendly way. The company is completely self-sufficient.
✔ Thoroughly dusted
✔ Very excavable
✔ Natural color
A big advantage of wood fiber is that it is not too expensive and you get a lot of ground cover in return. Many small rodents love to dig in wood fiber and with a bottom layer of 20 cm the party can really start! Unfortunately, wood fiber is less suitable for animals that have problems with their airways, which is often the case with rats. That is why we do not recommend wood fiber for rats.
Instructions for use Plospan Wood fiber
For small rodents (Mouse, Dwarf Hamster, Hamster, Gerbil)
Apply a thick layer of at least 20 cm in the enclosure and let the animals do the rest. They will dig to their heart's content and make the most beautiful corridors! A hamster change can sometimes last up to three months.
For larger rodents (Guinea pig, Rabbit, Degu)
Spread a layer of about 10 cm thick in the enclosure and tamp it lightly until a layer of at least 5 cm remains. Depending on the rodent, change it as soon as it starts to smell. Only remove the dirty spot from the cage every week and leave the rest. Then refill the cage as needed. Because there is dust in the wood fiber, we do not recommend using it for rats. These animals often have problems with their airways and therefore need a dust-free bedding.

To keep
Keep the ground cover especially dry and cool.
Specifications
| | |
| --- | --- |
| Material: | wood fiber |
| Liter: | 64 Liter |
| Weight: | approx. 4 kg |
| Suitable for: | Rodents, Mouse, Dwarf Hamster, Hamster, Gerbil, Guinea Pig, Rabbit, Chinchilla, Degu |
| Particularities: | - |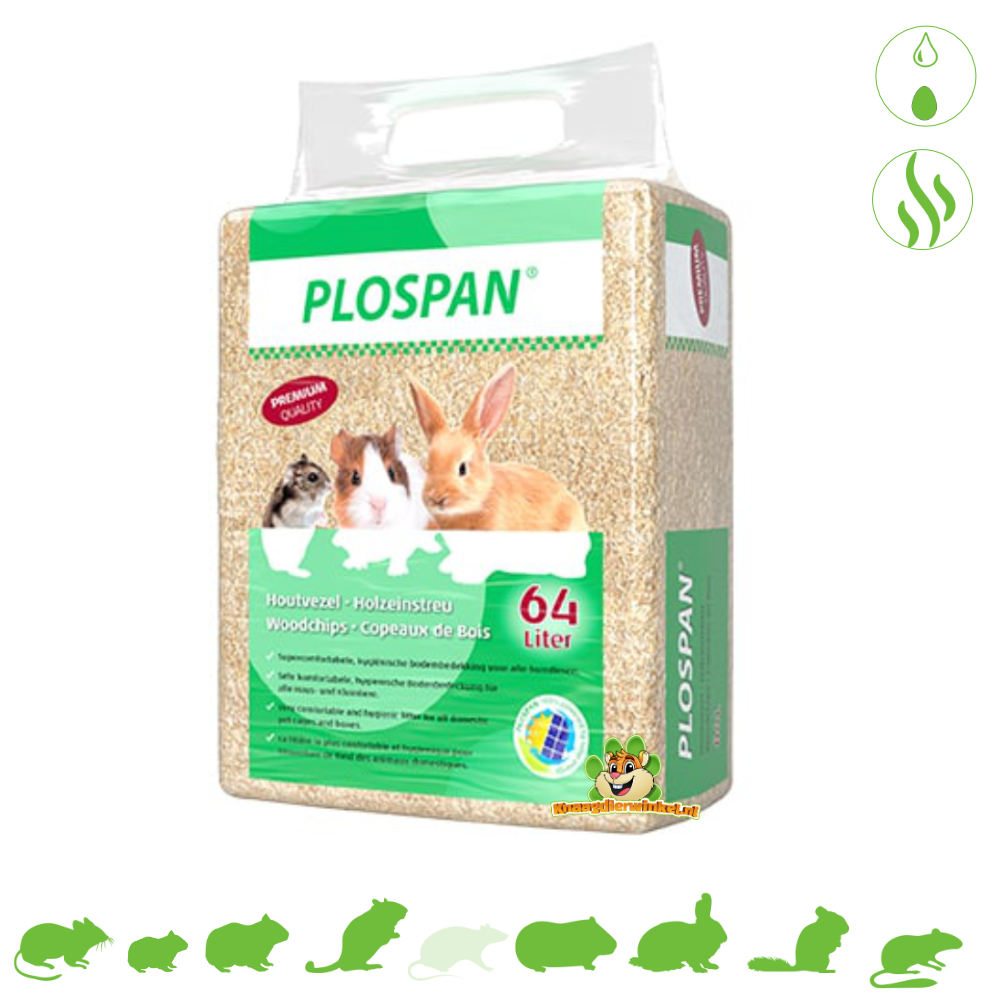 Prima spul, niet te stoffig en zacht!
Inmiddels veel soorten zaagsel geprobeerd en dit is de favoriet, stoft een stuk minder!
Super fijne basis voor een goede graafbodem voor mijn dwerghamstertje. Is zo goed als stofvrij. En doet wat het moet doen.
Prima. Houtvezel zoals het moet zijn.
zeer tevreden, stofvrij en komt veel inhoud uit de verpakking, de kooi is lang reukvrij