Zaterdag verzending!

Altijd 14 dagen bedenktijd

Getest op geschiktheid

Ordered before 4 pm, delivered tomorrow!
Product description
Trixie Playtower for small rodents
The Trixie Play Tower is a very special building for small rodents! The Speeltoren consists of 9 different rooms that are separated from each other by wooden walls. Your rodent can enter and walk through the play tower via two steps and two entrances. The play tower also has a food bowl at the very top and your rodent can sit on top of the play tower via an exit and enjoy the view!
✔ natural wood
✔ three floors
✔ with 9 rooms, 2 stairs and food bowl
✔ with two entrances
✔ plastic window to observe the rodent
The play tower is made of untreated natural wood and is sealed at the front with plexiglass. The nice thing about this play tower is that you can watch what your rodent is doing.

Save
Specifications
| | |
| --- | --- |
| Material: | Wood | plexiglass |
| Dimensions: | 30 × 30 × 10 cm | opening: ⌀ 4 |
| Diameter: | - |
| Suitable for: | Rodents, Mouse, Dwarf Hamster |
| Particularities: | The products are made from softwoods without resin channels. The types of wood we use do not produce resin and are dried for a long time. The glue we use is also non-toxic to animals and consists of a cellulose mixture. |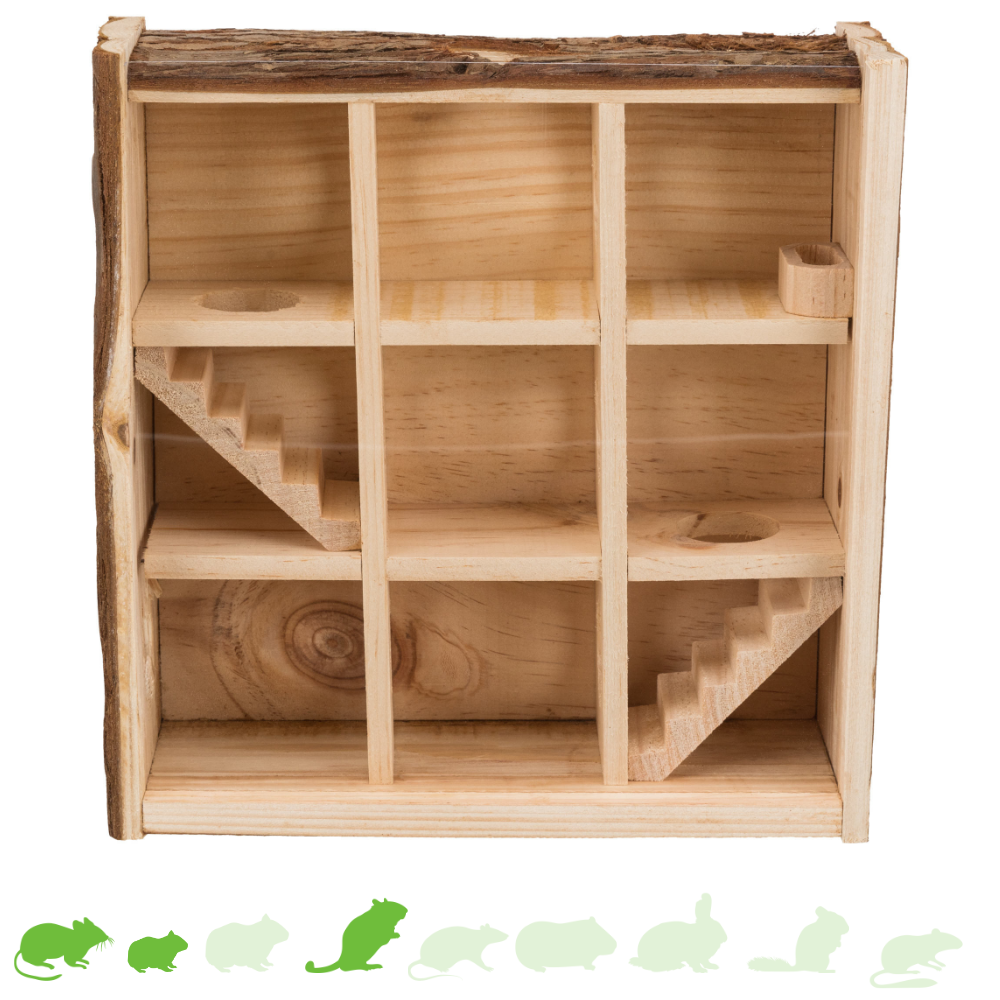 Heel leuke toren, alleen kijkt mijn hamster er niet naar om. Ligt niet aan het product, die ziet er prima uit
Onze gerbils zijn er super blij mee en zijn er dagelijks in te vinden. Ik heb wel het kunststof ruitje eruit gehaald en het doolhof tegen de ruit gezet.
Mijn hamster zit er super veel in top product
een super gaaf ding,
waar de hamster heel blij mee is.
Onze Rus maakt er zeker gebruik van. We doen er regelmatig wat voer in en het is de volgende dag weer weg.
elsjedevisser
05 August 2018
Erg leuk voor n dwerghamster. Maar Syrische passen hier niet in. Ik leg m ook wel eens omgekeerd op de bodem van het hok onder een dikke laag bedding als meerkamerhuis. De plastick deksel laat ik er dan af en de open kant doe ik dan naar beneden zodat ie niet vies wordt. Als ik na verloop van tijd het hok weer ga schoonmaken is het heel leuk en interessant om te zien wat ze er mee gedaan heeft..in een kamertje liggen dan allemaal poepjes..in 1 of 2 kamertjes ligt allemaal eten..en in een kamertje heeft ze allemaal nestmateriaal verzameld en in weer n ander kamertje heeft ze haar holletje..je kijkt zo n beetje in het leven van een hamster zoals die in de vrije natuur zou leven..
Heel leuk ! ze konden wel wat meer opletten met de details. De gaten waar ze doorheen moeten zijn niet goed afgewerkt dus ik heb met een nagelvijl even alles bewerkt zodat er geen splinters zijn. Ook even goed met een doekje schoonmaken en dan is alles verder helemaal prima ! Niet voor grotere hamsters, alleen voor muizen of dwerghamsters.
Wat leuk dat deze ook bij DRD Knaagdierwinkel te koop zijn! Ik heb er eens eentje gehad voor mijn dwerghamster, die vond dat echt super leuk!