EasyClean advance TERRA Ceramic House 20 cm
Grootste Knaagdierwinkel van Europa

Altijd 14 dagen bedenktijd

Zaterdag verzending

Ordered before 5 pm, shipped the same day!
Product description
EasyClean advance TERRA Ceramic House 20 cm
The Rodipet EasyClean Ceramic House is made of high-quality and durable ceramic. The house was developed based on the observations in the northern Syrian agricultural steppe during the Rodenti® expeditions in 2007, 2009 and 2010. The researchers looked at how the animals live in the wild and developed this house based on that. A nice extra is that the roof is removable, so that a nest control is possible. The roof of the house also has a handy recess for fresh food, dry food or treats.
Make a real castle!
The house can be expanded with pipes to make a complete castle! The material and the wall thickness also make the house very suitable for the real rodents among the rodents, such as Gerbils and Degoes.
Particularly in combination with a tunnel tube and a second ceramic building or a ceramic house (not included in the scope of delivery), type-specific constructions can be realized. Just like in the wild, the rodents can live in an underground tunnel system. In the surrounding litter, the animals have the opportunity to pursue their rooting instincts while finding safe and comfortable shelter in the tunnel system.
Wearing nails
The nails are also well cared for as soon as the animals start scribbling in the house. The rough structure of the ceramic provides a wearing effect on the nails.
Did you know?
In the summer months, the cavity on the roof can be filled with a little water. This makes for a great climate, even at high temperatures. The ceramic house cools down through a physical phenomenon: for evaporation to take place, the water molecules need energy to change from liquid to gaseous state. The water takes this energy away from the nearest body in the form of heat. In this way, the body loses heat and cools down.
Easy to clean
EasyClean is also really easy to clean because the glaze layer repels urine, making the house easy to clean. The upper part is not glazed so that the house breathes well and the humidity remains at a good level.
Great entrances!
A fully grown golden hamster can grow up to 7 cm wide with filled cheek pouches. If the entrances to the hamster house are too narrow, the hamster will have to squeeze through. The hoarded grains can damage the mucous membranes of the inside of the cheek pouches, which can lead to abscesses of the cheek pouches.
Specifications
| | |
| --- | --- |
| Dimensions: | - |
| Openings: | - |
| Material: | - |
| Open Bottom: | - |
| Suitable for: | rodents |
| Particularities: | - |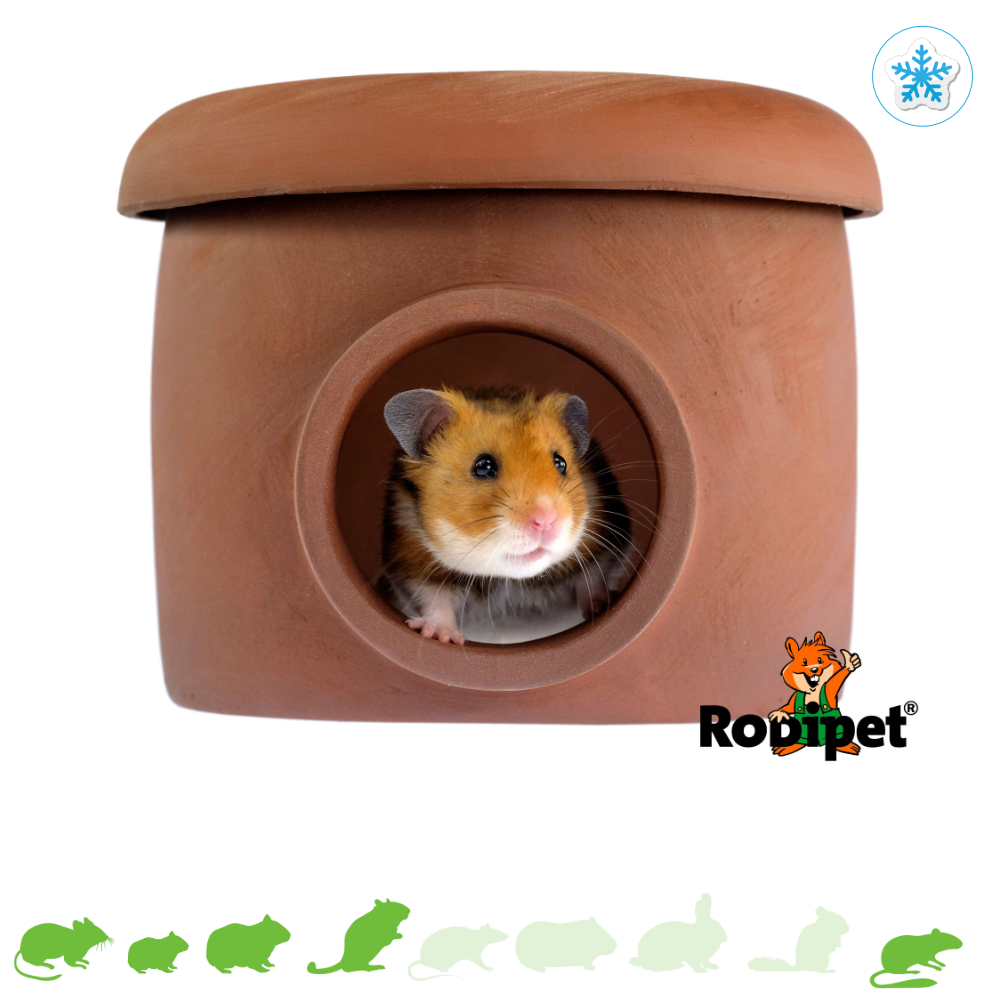 Reviews
No reviews found
Read or write a review