Zaterdag verzending!

Altijd 14 dagen bedenktijd

Getest op geschiktheid

Ordered before 4 pm, delivered tomorrow!
Product description
Classic Drinking Bottle for rodents and rabbits!
The classic among the drinking bottles. These drinking bottles have a stainless steel drinking spout. The drinking spout contains 2 stainless steel balls, so that the bottle cannot leak. The sturdy Classic drinking bottles are made from recycled material. The 75 ml drinking bottles also fit in the Drinky Clamp + Suction Cups and the aluminum drinking bottle holder.
The Classic Drinking Bottles are suitable for all rodents and rabbits, but for real rodents such as Gerbils, Chinchillas and Degus, a plastic drinking bottle is best placed outside the enclosure or in a closed container to prevent gnawing.
User manual Classic Drinking Bottle
Always fill the bottle completely full with fresh water, so that the bottle does not leak.
A drinking bottle gives animals dosed water. The animals have to press against the ball to get water. Each drinking bottle provides water in a different way. One drinking bottle gives water very easily so that it can drip/leak and the other drinking bottle gives water less quickly. These product properties are different per drinking bottle.
Social rodents that live in a group should have several drinking bottles, so that enough water is available for all animals. Dominant animals can claim a drinking bottle that prevents other animals from drinking.
It is best to give young animals a water bowl in addition to a drinking bottle, so that they always have water until they are used to drinking from a drinking bottle.
With every change of drinking bottle, it is advisable to also put a water bowl for the animals until they are used to the new drinking bottle. If the animals are used to a drinking bottle that provides water easily, they may have difficulty with a drinking bottle that provides water less easily.
If the animals do not want to or cannot drink from the drinking bottle, try another one that suits the animals. Every rodent is different and has its own preferences.
Always fill the drinking bottle until it is full and tap the spout to make sure no air bubbles are left behind. If an air bubble remains in the spout, no water will come out of the drinking bottle. Then hang the drinking bottle upright and tap the water ball with your finger until the bottle is watering and your finger is wet. Now you know for sure that the bottle gives water and the animals can drink.
Specifications
| | |
| --- | --- |
| Material: | Plastic |
| Dimensions: | differs |
| Diameter: | Ø4cm | Ø5,5cm | Ø6,5cm | Ø8,5cm |
| Content: | 75 ml | 150 ml | 320 ml | 600 ml | 1,1 Liter |
| Suitable for: | Rodents, Mouse, Dwarf Hamster, Hamster, Gerbil, Rat, Guinea Pig, Rabbit, Chinchilla, Degu |
| Particularities: | - |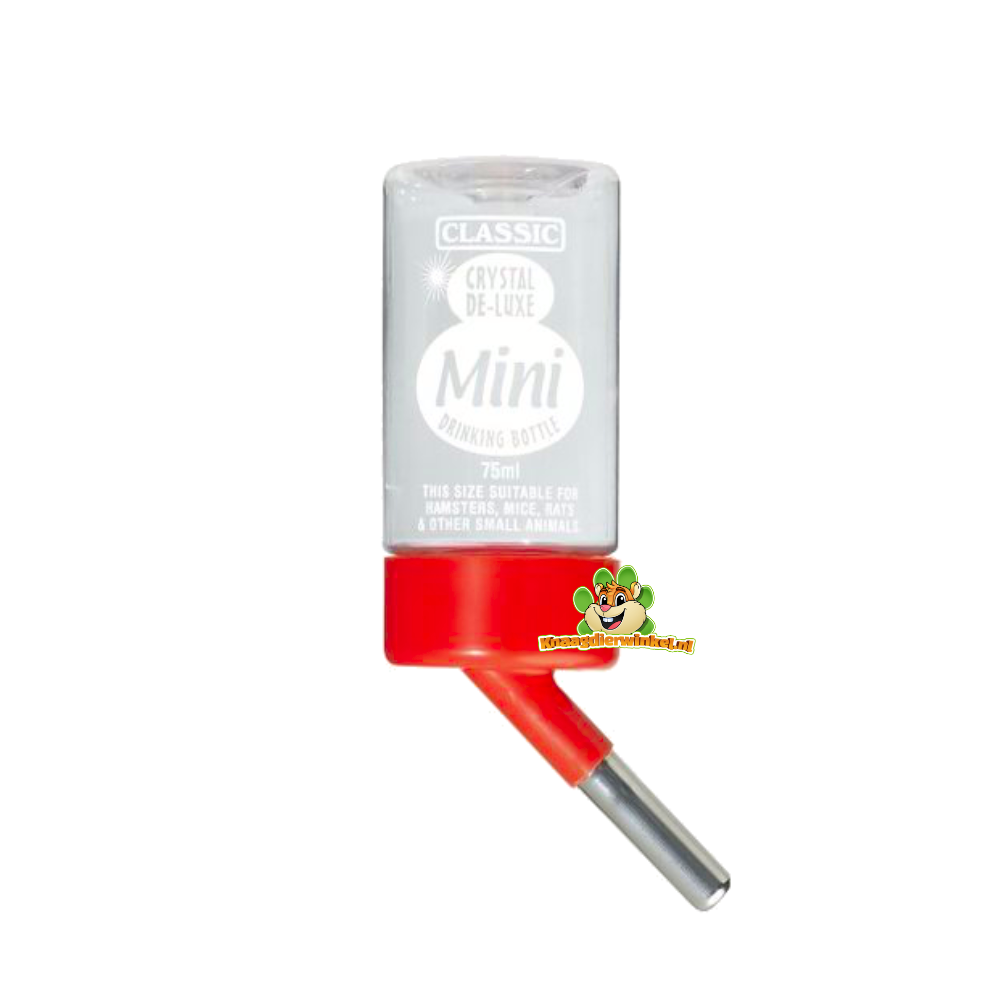 Het is een fijne drinkfles, die goed schoon te houden is. De nippel van de fles blijft ook lang in goede staat.
Elsje de Visser
05 August 2018
Goed flesje..mooi klein maatje en lekt niet. Alleen zou ik liever zien dat ze de flesjes blanco zouden laten met een neutrale dop zodat het wat mooier wegvalt in een natuurlijk hok. Maar hij voldoet uitstekend.
Daniël Z.
03 January 2018
Koper heeft geen omschrijving achtergelaten.
cheyenne h.
03 January 2018
heel fijn flesje , alleen jammer dat het metalen stukje er niet in zat om hem mee op te hangen , nu heb ik er alsnog niet veel aan ..
Koper heeft geen omschrijving achtergelaten.