Grootste Knaagdierwinkel van Europa

Altijd 14 dagen bedenktijd

Zaterdag verzending

Ordered before 5 pm, delivered tomorrow!
Product description
Ham-Stake Hazelnut Gnaw Sticks
Gnawing wood is very important for rodents and rabbits. The ever-growing teeth can cause problems if they don't wear properly. In the wild, rodents and rabbits often gnaw on wood such as the hazelnut. The Hazelnut wood sticks approach the natural gnawing material of the animals and provide mild tooth wear. The biggest surprise is the delicious vegetables and herbs with which the sticks are coated. 100% natural and healthy for the animals!
✔ 100% natural
✔ Helps to wear out the teeth
✔ Supports digestion and gives a lot of nibbling pleasure
Some rodents are very actively gnawing gnaws and others not at all. On the one hand it is a matter of taste, but on the other hand it is a matter of need. If a rodent has no need to gnaw because the teeth stay on length due to the food, hay or other nibbles, then it will chew less wood. It is good to always offer natural gnawing wood so that the animals can always gnaw when they have a need to gnaw.
Gnawing wood is used by rodents to wear down their teeth. Because the teeth of rodents are always growing, they must regularly have something to gnaw so that they do not become too long and grow crooked.
HAM-STAKE USES NATURAL PRODUCTS
It is good to know that Ham-stake glues the vegetables with a natural adhesive derived from the hydrolysis of sweet potato inulin, so without the addition of sweeteners, preservatives and colorants! 100% natural! All Ham-Stake snacks are therefore prepared in a traditional way and that makes them each unique and rich!

Specifications
| | |
| --- | --- |
| Content: | about 50 gram | 18 x ⌀ 1 cm |
| Composition: | Young shoots of the hazel, Parsley, Beetroot, Carrot, Parsnip, Starch |
| Analysis: | - |
| Suitable for: | Rodents, Mouse, Dwarf Hamster, Hamster, Gerbil, Rat, Guinea Pig, Rabbit, Chinchilla, Degu |
| Particularities: | - |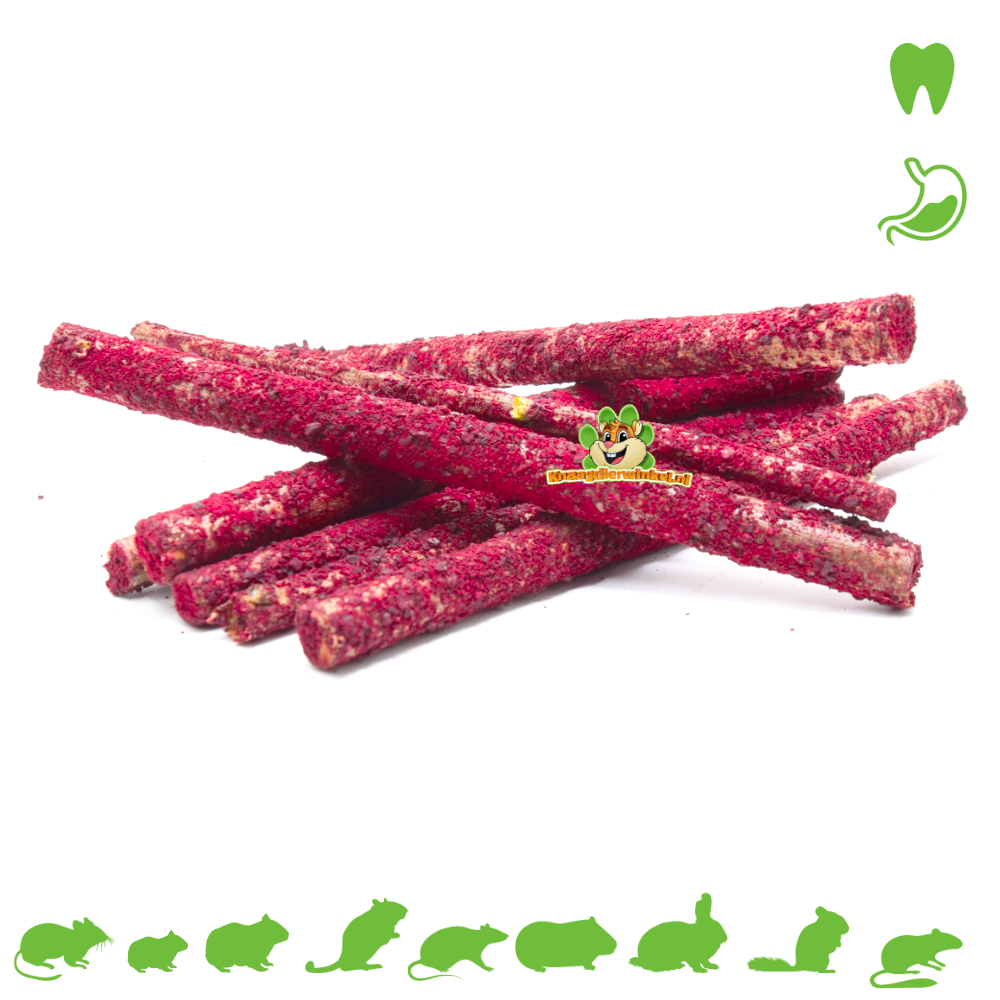 Reviews
No reviews found
Read or write a review