Grootste Knaagdierwinkel van Europa

Altijd 14 dagen bedenktijd

Zaterdag verzending

Soon in stock
Product description
Mixerama Dwarf Hamster Basic menu Natural food
The Mixerama Dwarf Hamster Basic Menu Dwarf Hamsters (Roborovski Dwarf Hamster, Campbelli Dwarf Hamster, Chinese Dwarf Hamster, Russian Dwarf Hamster) is a natural food based on the Kipi concept. The food has been specially developed for dwarf hamsters that are prone to diabetes. Based on this basic mixture, the food can be individually adapted to the hamster's needs. The mixture contains 70% flour seeds and 30% oilseeds.
✔ 100% Natural
✔ Packed under protected atmosphere
✔ Plastic-free packed in cellulose. These bags are biodegradable and can be composted
animal protein
Proteins, which are often given in the form of animal proteins, or insects, are deliberately avoided in this mixture, because the oilseeds already contain calcium and protein. As a rule of thumb, the fatter a grain or nut is, the more protein and/or calcium it contains. Even the smallest grains, such as sesame or poppy seeds, are true calcium and protein bundles. Even the flour seeds up to and including the straw-like grass seeds contain high-quality proteins.
Grass seeds
Loosely, a grass seed mixture (for example: 20 g red fescue, 20 g knuckle grass, 20 g blue grass) can be offered parallel to the main food. Simply sprinkle one to two teaspoons per week through the diet.
nibbles
Every dwarf hamster especially likes the dandelion roots, which they have been working on for a while. It must be available every day, because the inulin it contains takes care of not only the teeth, but also the intestines.
Herbs & Flowers
Suitable and relatively popular with dwarf hamsters is a potpourri of ribwort, nettle, chickweed, birch, hazelnut, lemon balm and especially dandelion leaf. Stems such as parsley, celery or dill also enjoy some popularity. The following mixtures are ideal: 40 g dandelion leaf, 20 g ribwort, 20 g nettle leaf and 10 g chickweed, birch or hazelnut leaves, lemon balm leaves and various stems each.
treats
Pumpkin, cucumber or hemp seeds can be given to the dwarf hamsters separately as a treat. Silver millet on the plume and flax ears is great nibbling fun and a great activity. Sunflower and pine nuts are also allowed, but no more than one stone per day.
Book recommendation
If you want to know more about it, you will find a detailed explanation in the book THE KIPI CONCEPT: Dwarf Hamster Nutrition Handbook with Diabetes Guide for Self-Help. by Eva Kunze.
Composition Mixerama Dwarf Hamster Basic menu
Buckwheat, platah millet, white millet, canary seed, hemp seed, Japanese millet, barley, tree seeds, cardi, linseed, milk thistle seeds, perilla, radish seeds, rapeseed, aniseed, blue poppy seeds, fenugreek seeds, camelina seeds, sesame seeds.
Specifications
| | |
| --- | --- |
| Content: | 500 grams | 2,5 kg |
| Composition: | Buckwheat, platah millet, white millet, canary seed, hemp seeds, Japanese millet, barley, tree seeds, cardi, flax seeds, milk thistle seeds, perilla, radish seeds, turnip rape, anise, blue poppy seeds, fenugreek seeds, camelina seeds, sesame seeds. |
| Analysis: | - |
| Suitable for: | Rodents, Dwarf Hamster, Roborovski Dwarf Hamster, Campbelli Dwarf Hamster, Russian Dwarf Hamster, Chinese Dwarf Hamster |
| Particularities: | Complementary feed |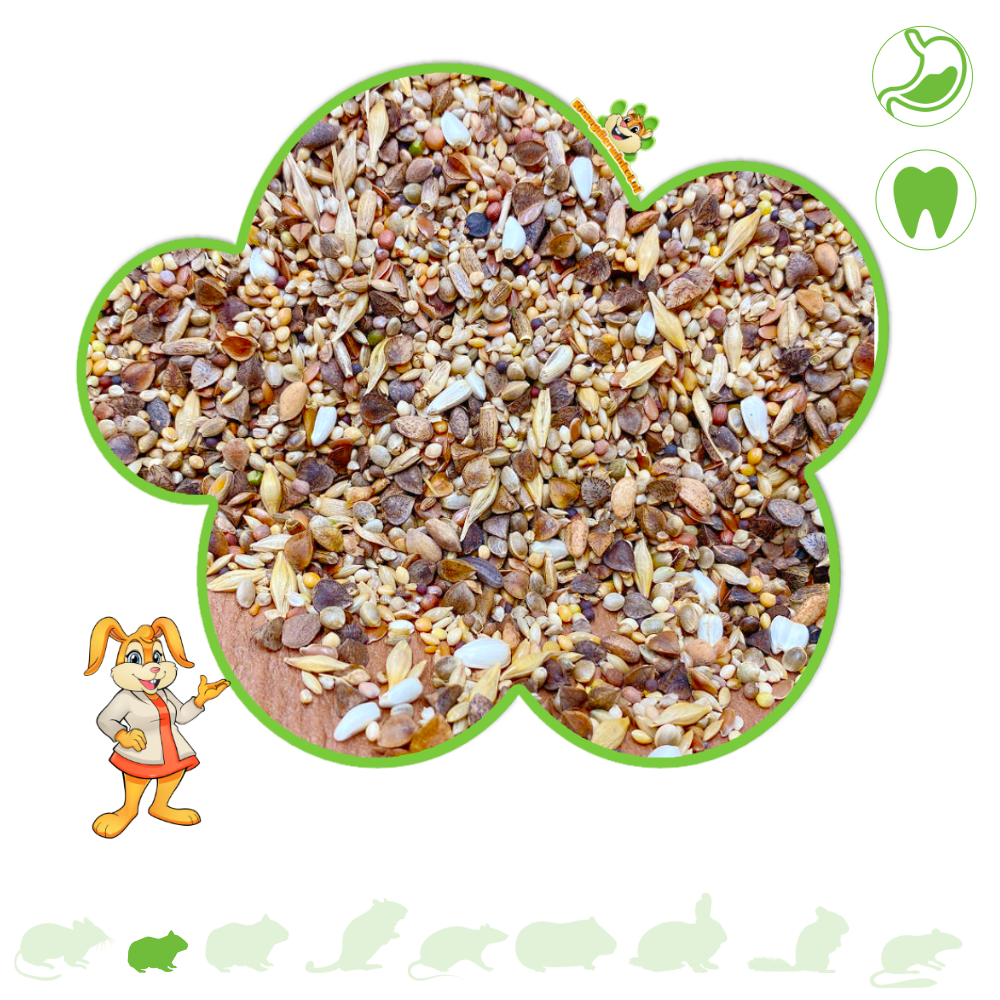 Reviews
No reviews found
Read or write a review