Nessas Roborowski Dwarf Hamster Mix
Zaterdag verzending!

Altijd 14 dagen bedenktijd

Getest op geschiktheid

Ordered before 5 pm, shipped the same day!
Product description
Mixerama Nessas Roborowski Dwarf Hamster Mix
Wild Roborowski Dwarf Hamsters feed mainly on plant seeds. A smaller part of their food spectrum consists of leaves, stems and insects. This food mixture is specially tailored to the needs of the Roborowski dwarf hamsters and, in addition to a rich selection of seeds, also contains a high proportion of grass seeds, which should support the natural urge to search for food.
The staple food contains 68.8% flour seeds, 23% oilseeds, 4.4% flowers and herbs and 3.8% animal protein.
In order to provide the hamster with a natural pet activity, it is advisable to scatter the food in the living area. This way, the Roborowski Dwarf Hamster can collect its own food and is encouraged to exercise.
Fatty nuts and seeds have been deliberately avoided in this basic food. Instead, it contains many small-grain, high-quality oilseeds in the form of plant seeds. Rapeseed, clover seed, carrot seed and the like are rich in minerals and trace elements.
✔ 100% Natural
✔ Packed under protected atmosphere
✔ Plastic-free packed in cellulose. These bags are biodegradable and can be composted
Feeding advice Mixerama Nessas Roborowski Dwarf Hamster Mix
We recommend distributing 1-2 teaspoons of the feed mixture in the litter every day to give your animals the opportunity to search for their food. Supplement the feed mix daily with fresh vegetables, such as cucumber, zucchini, lettuce and much more. In the interest of the health of your animals, do not give fruit and dried fruit, as the metabolism of your dwarf hamsters is not adapted to the high amount of fructose.
Storage advice Mixerama Nessas Roborowski Mix
Keep cool dark and dry. Use within 4 weeks of opening.
We do not recommend buying too much food at once. If a larger stock is needed, always keep it dark, cool and tightly closed.
Composition Mixerama Nessas Roborowski Mix
Grass seeds, platah millet, buckwheat, canary seed, red millet, white millet, mealworms, rapeseed, clover seeds, niger seed, cardi, carrot seeds, perilla, japanese millet, sesame seed, dandelion leaf, hemp seeds, red clover flowers, blue poppy seeds, cornflower seeds, milk thistle seeds.
Specifications
| | |
| --- | --- |
| Content: | 500 grams | 1kg | 2,5kg | 5kg | 10kg |
| Composition: | Timothy, meadow grass, ragweed, grass seeds, plata millet, blood millet (red millet), white millet, manna millet, Japanese millet, buckwheat, canary seed, hemp, cardi, negro seed, sesame, turnip rape, blue poppy seed, perilla, yolk clover seeds, carrot se |
| Analysis: | - |
| Suitable for: | Rodents, Dwarf Hamster, Roborovski Dwarf Hamster |
| Particularities: | Complementary food |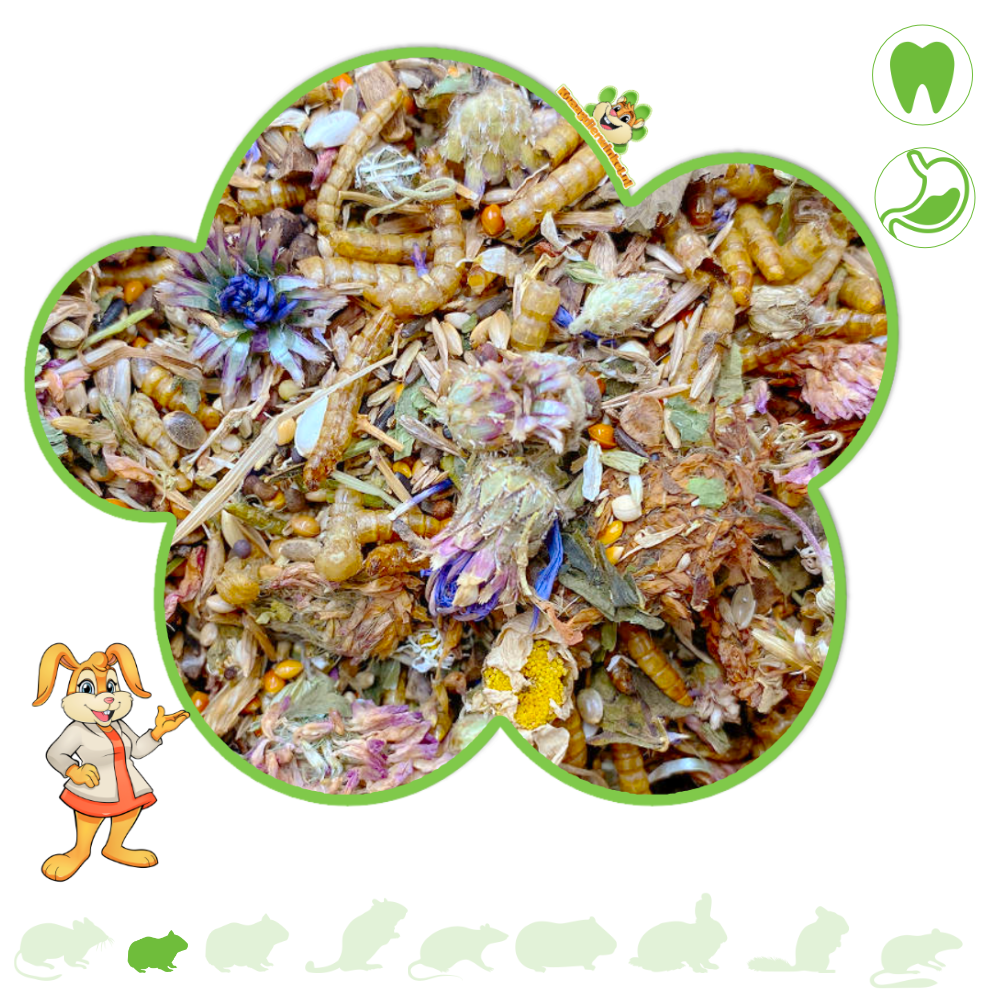 Reviews
No reviews found
Read or write a review