Farm Food Hamster Adult 500 grams
Zaterdag besteld, maandag in huis!

Altijd 14 dagen bedenktijd
Veilig en achteraf betalen

Ordered before 4 pm, delivered tomorrow!
Product description
JR Farm Farm Food Hamster Adult 500 grams
Discover natural food with JR Farm Food Hamster. This unique combination of a balanced, expertly developed complete feed mixture with more than 35 different seeds and four high-quality animal protein sources brings the original nutrition of your hamster to your home. The present farm complex supports the intestinal flora with prebiotic inulin (from the root of the parsnip) and yucca extract reduces the odor of urine. The Farm Food recipe provides all the nutrients, vitamins and minerals that are necessary for the life of an adult animal.
✔ 35 different seeds
✔ four high-quality animal protein sources
✔ with prebiotic inulin
✔ yucca extract reduces the odor of urine
JR Farm is no exaggeration when it comes to the composition of the Farm Food Hamster food!
The content is impressive.
Manna millet, La Plata millet, oats, silver millet, dari, milk grain, buckwheat, wheat, corn, wheat flakes, carrots, spelled, parsnip 2.4%, canary grass seeds, grass plant seeds, red mohair millet, Senegal millet, rice, wild seeds ( consisting of others from clover Alexandrine, dock, daisies, goosefoot, millet, shepherd's purse, chamomile, knotweed, cornflowers, meld, poppy, red swirl, spinach seeds, violets, chick, plantain, German ryegrass, German ryegrass, meadow plume, shrimp, windmill %, Beetroot, linseed 1.7%, silkworm 1.6%, fennel seeds, mung beans, rosehip, milk thistle seeds, mealworms 1%, fenugreek seeds, Gammarus 1%, peeled sesame, amaranth, blue poppy seed, marigold flowers, parsley, hemp seed, strawberries Carrot flakes, tomatoes 0.5%, bell pepper, zucchini 0.5%, cucumber, black cumin, Knaulgrassaat, Lieschgrassaat, Luzern seeds, dill seeds, Yucca 0.2%
Nutritional recommendation JR Farm Food Hamster Adult
Only refill the food bowl if it is almost empty. Give a maximum of as much food every day as is eaten completely within 24 hours.

Specifications
| | |
| --- | --- |
| Inhoud: | - |
| Samenstelling: | corn, wheat, red millet spray 10%, corn flakes, pea flakes, oats, wheat ears 5%, bananas 5%, wheat flakes, red millet, yellow millet, canary seed, grass seed 3.2%, carrots 3.1%, parsnips 2.2%, extracted cornmeal 2%, linseed 1.8%, meal worms 1.6%, spelt, r |
| Analyse: | protein 11.4%, fat content 5.8%, crude fibre 5.7%, crude ash 4.2% |
| Geschikt voor: | Hamster |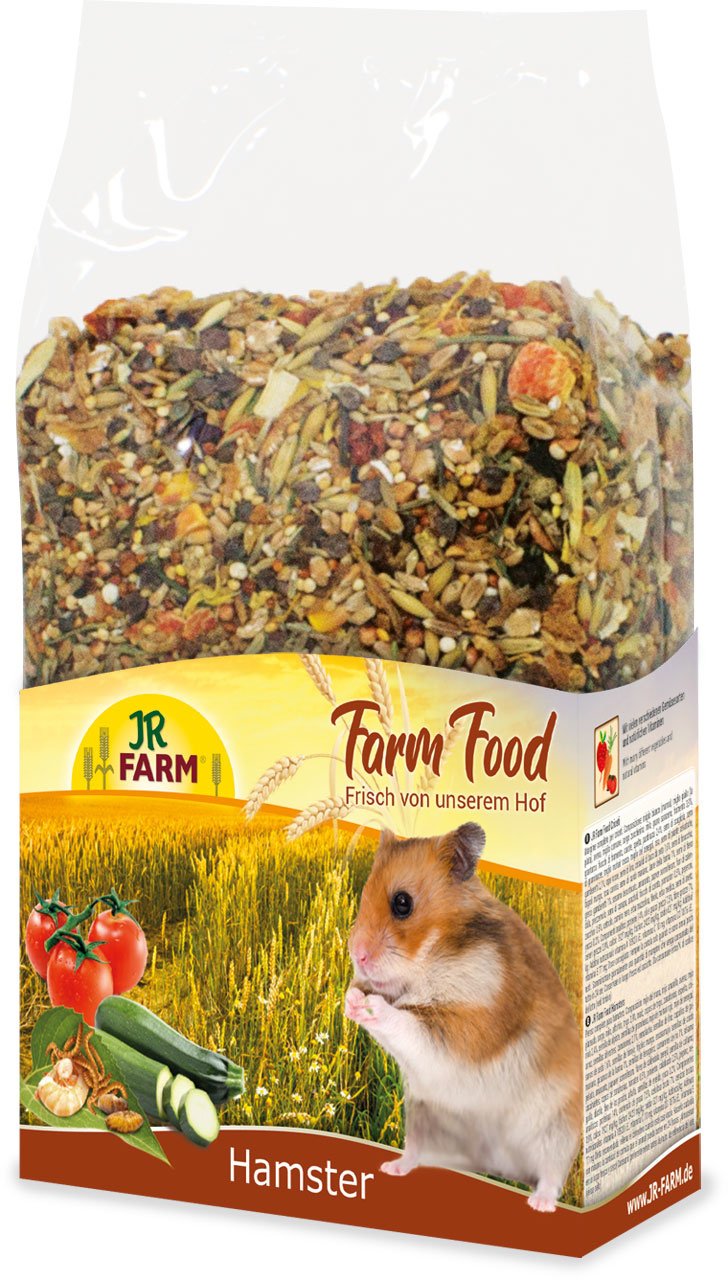 Ik ben er erg tevreden over ...het zou alleen iets meer grovere dingen in kunnen zoals gedroogde groente of fruit...
Naar mijn idee zit er alles in wat een hamster nodig heeft als basis. Je kunt er ook erg lang mee doen
Superfijne voeding voor mijn hamsters! Ze vinden het heerlijk.
Ze vind het heerlijk! Nog maar een keer besteld
Fijn dat de mengeling al redelijk volledig is doordat er bv. ook gedroogde trosgierst / tarwehalmen / meelwormen /... in zitten. Ik gebruik het om zelf een mix samen te stellen door er nog enkele dingen aan toe te voegen en mijn hamster eet er erg goed van!