Zaterdag verzending!

Altijd 14 dagen bedenktijd

Getest op geschiktheid

Soon in stock
Product description
Mixerama Golden Hamster Gourmet Menu
The composition of this natural food is based on the nutritional needs of the Syrian golden hamster. The gourmet menu for medium sized hamsters has a high content of starchy seeds and provides the basic stock with animal proteins. The mixture contains 67% floury seeds and legumes, 24.8% oilseeds, 4% animal proteins, 2.2% vegetables and 2% flowers.
In the wild, hamsters adapt their eating behavior to their natural habitat. In the summer, the food spectrum is more varied and in the winter, the food consists mainly of dried stocks that are displayed in the summer. The basis of the natural diet is a mixture of grains, small seeds, herbs and plant seeds. There are also vegetative parts of plants, such as leaves, flowers and (root) vegetables, but also animal food consisting of insects, spiders and snails.
Hamsters that live as pets can eat a varied and balanced diet all year round. With the composition of this staple food mix for Syrian golden hamsters, the feeding habits in nature are taken up and adapted to the keeping of pets.
✔ 100% Natural
✔ Packed under protected atmosphere
✔ Plastic-free packed in cellulose. These bags are biodegradable and can be composted
Feeding advice Mixerama Nessas Gold- und Teddyhamstermix
Golden hamsters spend much of their time in the wild looking for food. Therefore sprinkle 1 - 2 tablespoons of dry food daily in the hamster's enclosure.
Storage advice Mixerama Nessas Gold Hamster Mix
Keep cool dark and dry. Use within 4 weeks of opening.
We do not recommend buying too much food at once. If a larger stock is needed, always keep it dark, cool and tightly closed.
Composition Mixerama Nessas Gold Hamster Mix
Wheat, buckwheat, rye, barley, oats, mung beans, hemp seeds, milk thistle seeds, barley flakes, maize, mealworms, peas, pumpkin seeds, oat flakes, radish seeds, turnips, spelled flakes, paddy rice, cardi, perilla, sunflower seeds, dari, lamb's lettuce seeds, cornflower seeds, , marigold blossoms, rose blossoms, red clover blossoms, dandelion blossoms.
Specifications
| | |
| --- | --- |
| Content: | 500 grams | 1 kg | 2,5 kg | 5 kg | 10 kg |
| Composition: | Spelled, barley, oats, rye, buckwheat, mealworms, vetch, chickpeas, lentils, mung beans, hemp, milk thistle seed, perilla brown, radish seed, rapeseed, spelled flakes, barley flakes, oat flakes, maize, paddy rice, wheat, lamb's lettuce seeds, cucumber see |
| Analysis: | - |
| Suitable for: | rodents, Hamster |
| Particularities: | Complementary food |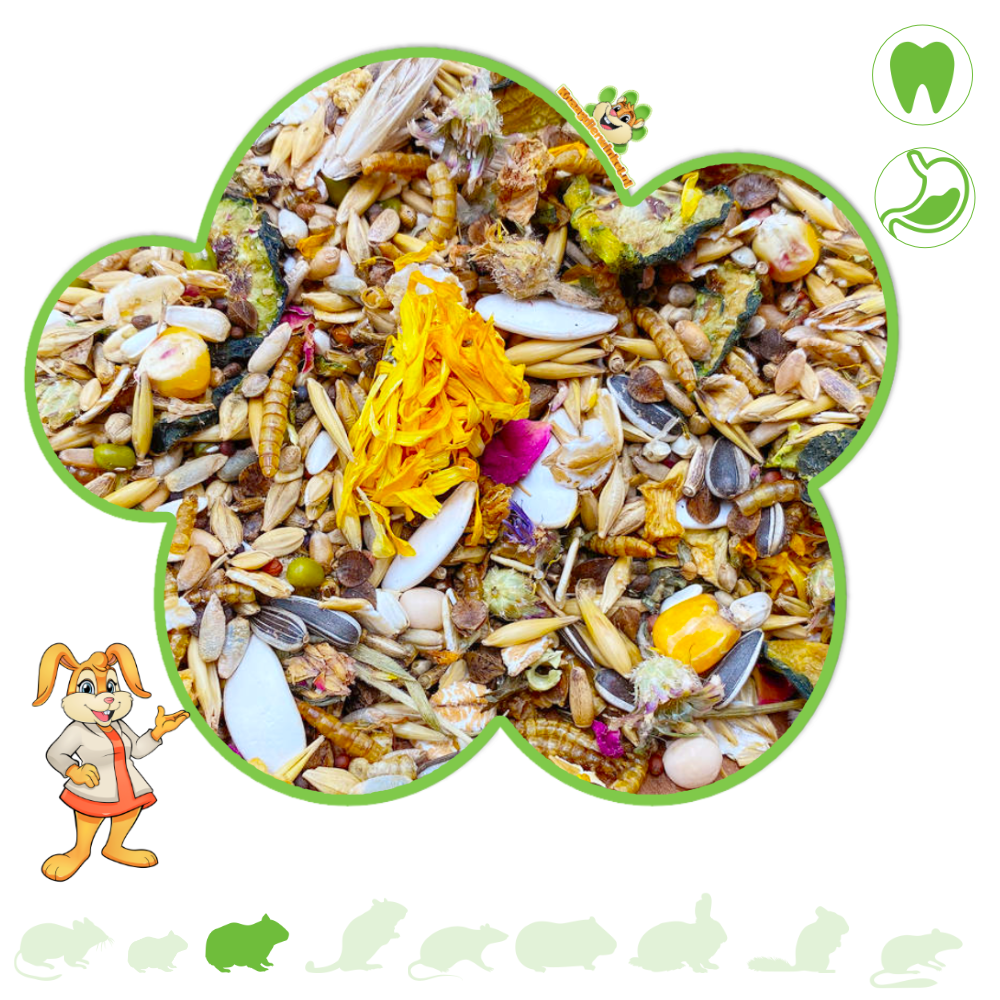 Beter dan verwacht, zelfs beter dan op de foto, veel variatie en een lekkere mix. Hammie is er blij mee
Wel kort houdbaar dat is minder