Hay rack Flamed with Lid 25 cm
Zaterdag verzending!

Altijd 14 dagen bedenktijd

Getest op geschiktheid

Ordered before 4 pm, delivered tomorrow!
Product description
Trixie Hay Rack Flamed with Lid for rodents and rabbits!
This beautiful hay rack from Trixie is flamed and has a removable lid. The rack can be placed stably in the enclosure and the animals can always easily reach their hay. Especially for guinea pigs, this horn pigeon is very pleasant and ergonomic because the animals do not have to look upwards, they always have their hay at eye level.
✔ Flamed wood
✔ To fill with hay, grass, etc.
✔ Lid prevents the animal from climbing in
✔ Prevents contamination of the food by faeces and urine
✔ Wider distance between bars at the bottom for a natural posture while eating
✔ For creating the most natural living environment possible
This hay rack is suitable for use as a basic hay rack.
A good hay rack
A good hay rack should be made in such a way that the rodents can get their muzzle part between the bars, but this usually only works very well with vertical bars (because most animal noses are not that wide, but they are high / long). However, the animals should not be able to put their heads through, otherwise their heads could get trapped between the bars. If you see that the head of your rodent can pass through the bars and get trapped, take the rack out of the enclosure and choose a rack with a smaller distance between bars.
How wide the bar distance should be depends on the animal species, roughly the following distances are common for the following animal species:
Degus: 2.5 to 3 cm
Chinchillas about 2.5 - 3 cm
Guinea pig: about 3 cm
Dwarf rabbits: about 3 - 3.5 cm
Medium sized rabbits up to about 4 cm
Large Rabbits: up to about 4.5 cm
Specifications
| | |
| --- | --- |
| Size: | 25 × 18 × 22 cm (lxwxh) | spacing bars: 3 cm |
| Suitable for: | Rodents, rabbits, guinea pigs |
| Particularities: | - |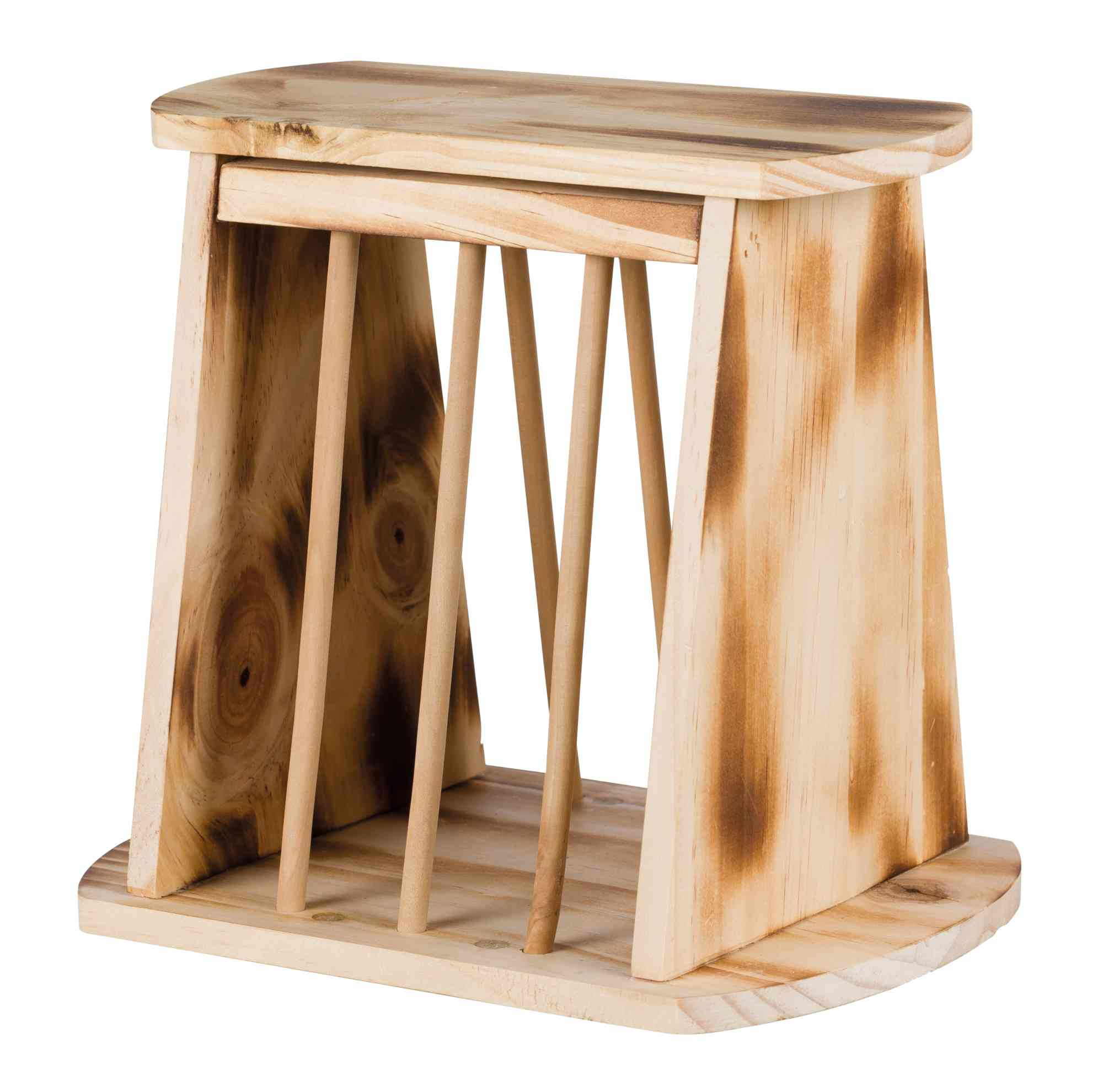 Super fijne hooiruif. Ik heb er nog een bak onder gezet zodat het hooi niet overal naartoe gaat.
Suzanne
01 September 2019
Heel erg handig. Heel blij mee. Je kunt het overal in het hok neerzetten.
Eindelijk een hooiruif waar ze niet in kunnen klimmen en die niet zoveel rommel maakt!